The Bands
PLEASE REFER TO THE DISCOGRAPHY SECTION FOR FURTHER INFORMATION ON MANY BANDS NOT LISTED IN THIS SECTION

THE NUMBERS

Nick McAuley
Angelo Bruschini
Wayne Kingston
Lee Gardener
Bowie influnced new wave - way ahead of their time. The band recorded for Heartbeat Records, regrettably their only output was a track on the Avon Calling LP and another on the 4 Alternatives EP. Angello Bruschini later joined the Rimshots, The Blue Aeroplanes and currently plays guitar with Massive Attack.
THE X-CERTS
Pic taken by Caryne at Trinity Hall, Bristol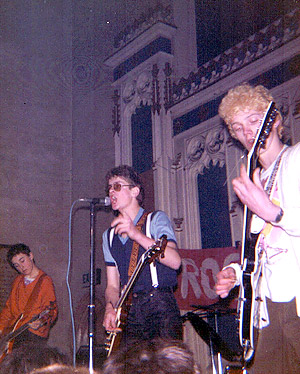 » THE X-CERTS DISCOGRAPHY
Clive Arnold
Simon Justice
Phil Lovering (TAFF)
Neil Mackie
LATER
Clive Arnold
Kevin Mills
Chris Bostock
Neil Mackie
Clash influenced punk rockers. The original line-up recorded two tracks for Heartbeat Records and featured on Avon Calling and the 4 Alternatives EP. Taff left to join the Review but is best remembered for forming Disorder who released many records and became one of the leading 80's Punk bands. The line-up and style changed with the introduction of Kevin Mills and Chris Bostock from the Stingrays. The band are featured on the Bristol Recorder 3 and released a single for the excellent Recreational Records. The band spilt when Chris Bostock was whisked off to London to play with Johnny Britton who by then was managed by Bernie Rhodes the Clash's manager. The songwriter Clive Arnold became an actor, Neil Mackie joined the Crazy Trains before playing with Andi Sex Gang and Kevin Mills left for London to form the Specimen later to play with Flesh for Lulu.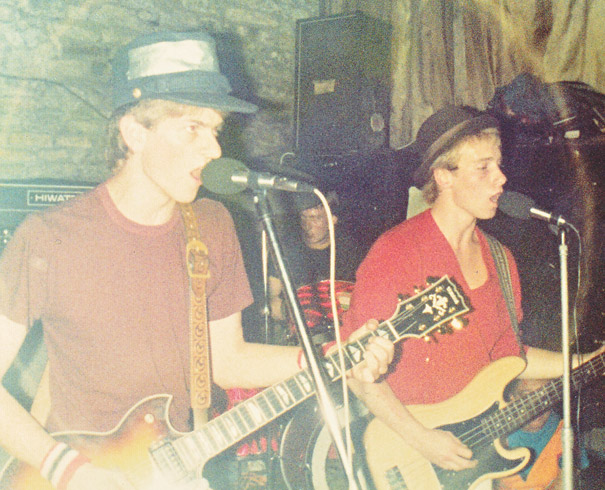 Pic taken by Barbara Darby at The Stonehouse
JOE PUBLIC
Kevin Leadbetter
Rob Marche
Mike Smith
Shaun McLusky

Later
Kevin Leadbetter
Rob Marche
Mike Smith
Thos Brooman

Later
Rob Marche
John Shennan
Geoff Alsopp
Nick Sheppard
APARTMENT
Alan Griffiths
Richard White
Emil
Later to be The Escape
Brilliant, weird, strange, secretive. Alan Griffiths very influenced by Television should have been massive but way ahead of his time. Recorded for Heartbeat Records, a single and a track on Avon Calling. Later Alan became the Escape signed to Phonogram and now works with Roland Orzabel from Tears for Fears.
THE A.T'S
Dave Eccles
Stig Manley
Neil Deamer
Russ Crook
Paul Fennell
Later to be Umo Vogue
Debbie Marlow
Russ Crook
Stig Manley

Pop band, mostly from Bath, signed to Rialto Records and released one single. Neil Deamer is the brother of Clive who plays with Portishead amongst others. Stig and Russ released one single for EMI as Umo Vogue. Stig formed Crustation and released records for Cup of Tea Records, he is currently playing with Hazel Winter.
THE HYBRIDS
Davey Woodard - Guitar and Vocals
Chris Galvin - Bass
Jimmy - Drums
(Davey and Chris)
LATER TO BE
THE BRILLIANT CORNERS
When someone asks you to look into the past and tell it like it was there's always a temptation to make it sound better, to re-invent, maybe make oneself sound more important than one was. I will do none of these things.
Everyone knows about 76, Punk!! It was also the year Chris persuaded me to buy a guitar. Naturally I did because he was in the brainy class and he must have had a good reason for asking me to do this.
The reason for having a guitar was to turn an amp up loud and pretend you were Hendrix and oddly enough for that time Ted Nugent. That's when I knew I would have to learn to write songs. What also inspired me was seeing this kid called Damon from school playing in a punk group called The Pigs. With a click of the fingers this non-descript lad from 4S was transformed into a god! And I wanted some of that! Bristol bands that meant something to me then were The Media and The Cortinas. By 78 Chris and myself and a 13 year old called Jimmy were in a band called The Hybrids. We were unashamedly Jam copyists with a bit of Kinks, Clash and Stones thrown in for good measure. There was this great little pub called The Stonehouse where Bristol's handful of mod/skin/punks hung out to watch their mate's bands. We had no mates but because I would always smash my amp up people liked us. We began to play the place on a regular basis and to my surprise became quite popular. We used to play with a band called Thin Air who really were like the Jam, many years later Thin Airs singer Paul Sandrone would play in the last line up of The Brilliant Corners. Fitting in a strange way.
Another band I remember back then was Concrete Contraption, now they could play proper but they were crap! Interesting to note that Si John of Reprazent fame started life in this band. You could see an interesting band every other day at The Stone house. Today it's an office block.
I can't remember exactly when or even if this is totally right but Jimmy who played drums left because his mum was either fed up of taking us to gigs, me and Chris throwing up in the van (Jimmy couldn't get drunk while his mum was around) or us buying a Doctor Rhythm drum machine.
When you're sixteen and playing live every other week you develop fast. In the space of a few years The Hybrids had become two boys and a drum machine not too surprisingly we sounded like Echo and the Bunnymen meets Joy Division. We played places called Mistys Nite Club and the Ace of Spades where I snogged my first fan. She was very drunk and threw up in my mouth while we were wriggling tongues. We went to a gig every night. I don't know where the money came from; well I do actually, um, stolen goods. We discovered amyl nitrate, speed, dope, and sometimes sex.
When I left school I got a job as a lab technician. It was while doing this I met a lad called Dan who played in a band called The Glaxo Babies, they had a record out and had been played on John Peel. I was awe struck! Dan would bring his guitar into work and at lunch times he would show me things called dis-chords which totally blew me away. He also told me to check out Captain Beefheart which I did not get at all. Around this time I saw The Pop Group play which I did get, and Essential Bop and Art Objects and all those Fried Egg bands that people referred to as the Clifton Scene. At that time I had a real problem relating to the so-called Clifton Scene. The people in those bands made me feel dumb me and Chris had working class chips on our shoulders. I would see these people in the Dugout but I had nothing in common with them. I never got invited to parties or happenings. This lot were educated and pretentious and boy were we jealous!
There were loads of bands hanging out at the Dugout but I think The Hybrids were the only ones that danced to soul at The Turntable Club and slid on our jackets at Romeo and Juliet's to James Brown, but that's another story.
Davey Woodward.
(HYBRIDS, BRILLIANT CORNERS, EXPERIMENTAL POP BAND)
THE CORTINAS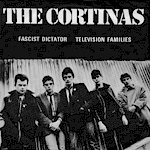 Jeremy Valentine
Dexter Dalwood
Nick Sheppard
Mike Fewins
Daniel Swan
THE CRAZY TRAINS
» THE CRAZY TRAINS DISCOGRAPHY
John McLean
Paul Grudzinski
Jon Chilcott
Barry Cooper
Neil Mackie

Later to be
(The Crazy Bones)
John McLean
Paul Grudzinski
Mike Crawford
Chris Gregory
Jim Drakett


Managed by Mike Tobin who also managed Stackridge. Neil Mackie's band after the X-Certs. They should have been massive, signed to Spellbound Records in 1984 a subsidiary of CBS. Jon Chilcott later joined Vice Squad and then Apache Dropout. John McClean and Paul Grudzinski are still gigging as the Crazy Bones.
THE ESCAPE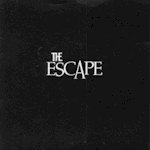 Alan Griffiths
Stuart Morgan
Emil
LATER
Alan Griffiths
Stuart Morgan
Nicky Holland
ELECTRIC GUITARS
» THE ELECTRIC GUITARS DISCOGRAPHY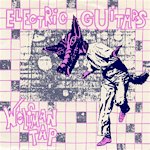 Neil Davenport
Richard Hall
Andy Saunders
Matt Salt
Dick Truscott
ELECTRIC GUITARS - Interview
It's noon and there isn't a lot happening in the dilapidated Redland house which until recently served as HQ for the Electric Guitars. I had been let into the house by Rachel, who was setting about clearing up some of the debris in the kitchen - the result of five ravenous souls returning in the early hours after a recording session in London. But of the five Guitars there was as yet no sign, Rachel informing me that Andy was tucked up in bed in his flat somewhere in Clifton, Matthew was out jogging - well drummers must keep fit! - and the others were away in the Land of Nod.
After a couple of cups of tea my patience was finally rewarded by the appearance of a haggard and drawn Richard staggering into the kitchen, followed shortly afterwards by an equally worse for wear Dick. An adequate reflection of the perils of trying to become rock stars, I take pity on their condition and wait a few minutes more before plunging into that time-honoured journalistic ritual of discussion of developments and problems. Fortunately once life-giving fluids and the first cigarette of the day had been consumed the grey matter made a brave attempt at re-assembling themselves and some form of coherence asserted itself.
Electric Guitars were formed two years ago and made their recorded debut on the first volume of the innovative and imaginative 'Bristol Recorder' disc/magazine. The four Guitars contributions were, as with the other, recorded 'live' and display a more jagged and XTC-style attack than the more sophisticated and varied angle they use now. (As a point of interest the record is due to be re-released this year due to the Guitars popularity). 'Magic Surfaces' and 'Dumb Words' rarely feature on current outings, but the inimitable hassle in 'Le Camping' is still a stage favorite and 'Continental Shelf' appeared on the flip-side of their first single for local label Fried Egg - now sadly somewhat hard-boiled and dealing more with Shoes for Industry output. 'Health' is a wicked dissection of the calorie and cholestorol conscious fads of the jogging and fitness freaks and was an over-looked gem from last year and one of the reasons for its poor showing was a lack of effective promotion and distribution.
The follow-up 'Work' has of course faired far better having figured in the lower reaches of the indie singles chart and has received a respectable volume of radio exposure - a fact that can largely go down to the efforts of Recreational Records, run from the back office in Revolver Records. In spite of its instant appeal 'Work' did create some confusion in the mind of one reviewer - yes.Barney Hoskyns - due to the split recording credits, and behind its production lies a tale of amusement and frustration.
Dick: "The single was initially recorded with Denis Bovell. He was fun to work with but wasn't the right sort of producer for our kind of music really. For one thing the bass and bass drum sound were all wrong. Things weren't helped by the studio being flooded after we'd done our first session! That delayed further recording by a couple of weeks and after that Denis seemed to lose his enthusiasm, and certainly his normal spontaneity in the studio.
It seemed to us that his energy and interest only extended to a limited period, and with the way he works it's more a question of bursts of inspiration rather than a consistent application. It was a shame, so in the end we had to finish off the single in Steve Street's SAM Studio which is where we rehearse, and the single sounds as good as it can be given the circumstances but isn't completely what we wanted."
There are several parties interested in the Guitars distinct brand of mutated reverberations, and this has led to several visits to London to record demos. Fortunately with the groups finances being in a perilous state the money to do this has been put up by the companies concerned, such as EMI and Pre. But in spite of this Richard wasn't altogether satisfied with the arrangements and the results. "It was ridiculous," he said "in the EMI studio we were given just enough time to enable us to finish putting down the music and vocals, and in the end we were left with just half an hour to mix down each track. Still we didn't pay for it and the experience won't all be to waste."
While Richard was speaking a breathless Matthew came in and quietly sat down on a chair in the corner of the room. Even though his Feelies-style coiffure was extremely out-of-sorts he was suitably refreshed by his exertions, his mind was alert and he quickly picked up on the conversation. "Do you want to know about one of the songs we recorded?" he asked me. "It's called Ja-Ja and has Andy and Neil reading extracts from The Empire Strikes Back over a lot of 'star-track' voices. It really came out well and I think it's one of the best things we've done." So what were the other songs you've recorded then? Matthew continued: "Well if my memory serves me right we did several of the newer songs like 'Lovely Statues', 'Beat me Hollow', 'Language Problems' and 'Voice of Sound'." (These songs were also done for the Kid Jensen programme and broadcast on December 15th last year)
The Radio One session will be the culmination of processes which have enables the Guitars to reach a wider audience than has been the experience of other talented Bristol bands in the past. One of the most significant break-throughs for them last year was supporting the Thompson Twins on their twenty-date British tour last year. This came about through Neil and Dick meeting the band at the Granary and when the Twins commented that they were pissed off with the standard of the local support acts they were getting lumbered with Neil suggested the Guitars would be interested and would be a sympathetic foil to the Thompson Twins equally energetic stage act. This tour in its aftermath led to some flak being aimed at the Guitars, the accusers saying that they ripped off the Twins. Dick strongly disagreed and pointed out that although one or two features may have rubbed off it was a reciprocal process, and that was an inevitability considering the two bands were on the road together for three weeks. For example in a more physical form clothes and instruments were swopped round freely, and at some gigs so were the musicians! These jibes are really total non-starters and best treated with the scorn they deserve.
"What we do tends to be an anti-response; for example a lot of bands are very static on stage, so we decided to be very active. It was very difficult to break down our inhibitions at first. What you say about Neil seeming to be aggressive isn't strictly accurate. He had less of a problem because he was a martial arts instructor at one time, and he's into throwing himself around on stage. Also he's not hampered or restricted by having to hold and play an instrument. It's good fun for Neil as he likes revving up an audience anyway, particularly if their reactions to us are too sluggish!"
Matthew laughed and commented on how different the content and approaches of the two groups are, admitting there were some similarities but highlighting the emphasis the Guitars put on vocal arrangements:
"It's not so much a question of what we sing, as some of the lyrics are in a deeper sense quite banal, but it's more down to how they're sung. A similar point was made by Elvis Costello on that Southbank programme and it's an important disitinction to make.
Dick: "I think we will be using Jo and Wendy a lot more too, especially on the older songs as having them singing gives the songs a new lease of life. We tried them out on stage first of all at a gig at the Venue which worked quite well and since then as long as we get the sound balance right its been sounding better and better."
In fact the Electric Guitars are by now as familiar to London gig-goers as they are in Bristol, having spent many evenings in the capital, supporting the likes of U2 and Our Daughters Wedding, as well as headlining in their own right. The 'Wedding' gig took place at the Venue and is an evening they would sooner forget as they came up against the narcissic and hyped aspects of the biz which disgusts anyone with integrity.
Richard: "ODW were this hip synthesiser group from the States who took five hours over their sound-check, and during most of that time were sitting around eating McDonalds and generally pratting around. We were getting so fed up with hanging around that we almost decided to push off and forget about the gig. Fortunately we didn't as although we weren't able to do a proper sound-check we played well and were told afterwards that we'd blown them off stage!"
Perhaps not a surprising result considering the fact that the Guitars 'live' are a powerful combination of an invigorating instrumental capability mixed with an action packed physical presence. It's a busyness which has spilled over into the business and right now the band are being checked out by prospective managers and involved with the never ending battle with the bank manager. But they are keeping cheerful and patient, certain that the right offer will come along. Dick wryly commented, mindful of how many other bands in the past in their position have said the same thing:
"We've not been hasty and taken the first offer that came our way. We did come very close to signing something a few weeks back and we're very glad we didn't as now we're in more of a position to take the highest bidder with the least strings attached. ! hope."
Interview by Dave Massey (Taken from his Future Days Fanzine)
ESSENTIAL BOP
» THE ESSENTIAL BOP DISCOGRAPHY
Steve Bush
Simon Tyler
Danny Cotterill
Dave Robinson
Phil Howard
Mike Fewins
Essential Bop was one of those 'post-punk' bands that flourished everywhere in the immediate aftermath of the tidal wave that had not long before engulfed things like facial hair, lengthy solos, baggy trousers and Tender Expressions of Love. Castigated at the time for 1) being students (well, a few of us were) 2) using keyboards (we certainly did) 3) being 'arty' (if only they knew); and 4) for not hanging out enough with the avante-garde brigade (where are they now ?) we endured the taunts and eventually managed to garner quite a following - more by accident than design.
At the time (1979) the local competition was pretty fierce. The Pop Group were busy working on their 'We're weird, us' act, which was going down jolly well, The Art Objects were starting to motor along nicely, and bands like the Exploding Seagulls, The Spics and The Glaxo Babies were packing 'em in. In such company we were very much 'pigeons in the outfield', but by hanging in gamely we sort-of flourished. In those days Bristol had plenty of places to play, and a DJ was a person who played a few records before (and after) the Real Thing, not someone whose name appeared on the masthead above those of the people who'd actually created the music.
In the years that followed all manner of low-rent Spinal Tapisms transpired as we slithered up and down the greasy pole that is/was popular music. Sometimes we played great, other times we sounded like an explosion in a roadie's underpants. We wrote and recorded songs that were by turns pathetic, pretentious, presentable and - occasionally - perfect.
Our singles featured in the independent charts and the great Paul Morley trekked down to the sticks to interview us. Suddenly our butts were kissable within the BS postal area, and possibly elsewhere. Cor!
A US tour was offered, and we arrived in New York in August of 1981 just as everyone else was leaving to escape the heat and humidity. Still, we had a laugh (when we weren't fighting with each other) and the Yanks dug us. In the end the fighting overcame the music and we bowed out at the Peppermint Lounge, NYC, never to play live again. The return to Bristol was so depressing that I can recall the horror to this day. Coming back to the same old grind in Thatcher's grey Britain was too much to take, and we knocked it on the head.
Around this time virtually every rock musician in Bristol decamped to London because bands from Bristol just couldn't get arrested, whilst those from cities like Manchester and Liverpool seemed to get signed on the strength of their vowel sounds. We, too, had a crack in the Smoke - rehearsed, did some recording. But the thought of climbing that hill again was just too much, and we let it die for good.
Now the world has caught up with that unique Bristol combination of angst and irony, and hails it as some kind of miracle. Truth is, it was there all along. Whilst Essential Bop embodied much that was indulgent in that so-called 'New wave' era, we did 'give it plenty' and swam against the tide, using a wide variety of strokes. If you were there, all I can say is "sorry", but If you weren't you certainly missed something, and if you can remember what it was, please let me know.
(Steve Bush April 2000)
EUROPEANS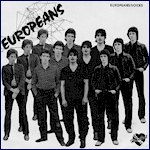 Jonathan Cole
Jon Klein
Stephen Street
James Cole
The biggest selling indie band from Bristol in their time? The band spilit when Rialto Records signed Jonathan Cole as a solo artist. Jon Klein disappeared off to London with Kevin Mills from the X-Certs to become the Specimen and created the Batcave, he later joined Siouxie and the Banshees and recorded on three of the albums. John was lucky to get this far having jumped from a window whilst in The Europeans and broken his neck! Steve Street joined Apartment and Interview and was fortunate to play Top of the Pops with a band called The Planets. Steve retired as a bass player and recorded just about every band in Bristol as an engineer/producer - he later worked for Tears for Fears.
JUAN FOOTE 'N' THE GRAVE
» JUAN FOOTE 'N' THE GRVE DISCOGRAPHY
Stuart Gibb
Jim Maclean
Tony Heyes
Andy Pinner
Bryan Cox
Snakey Lineton
Billy (Ogmore) Phillips
MISDEMEANOUR
Kevin McFadden
Bob Watson
Steve Capaldi
Keiron Wright

LATER

Kevin McFadden
Bob Watson
Lyndon Perry
Phil Rice
Formed from the ashes of Vitus Dance. They were managed by U2's tour manager and should have been huge.Kevin McFadden was a prolific song writer and brilliant front man but maybe a little too Bruce Springstein influenced for the UK.
NO DEPOSIT
Paul Poundbury
Mike Crafer
Mark Cooper
Roger Garbett
Simon Davies

Released one single for Shoc-Wave Records.
THE PIGS
Kit Gould
Eamonn McAndrew
Nigel Robinson
Ricky Galli
Bristol based band. One single Youthanasia / They Say / Psychopath/ /National Front (New Bristol Records 1977). Another band that sounds like it could play but adopted the punk stance. Pick of the bunch is 'Psychopath'.
THE POP GROUP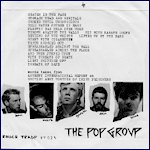 John Waddington
Mark Stewart
Gareth Sager
Dan Katsis
Bruce Smith
The Pop Group Photos by John Spink
The Pop Group Photos by Tim Williams
We are all prostitutes sleeve designed by Rich Beale later in Head, Apache Dropout, Pregnant and currently Don Mandarin.
Featured Track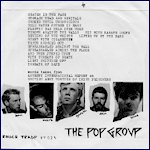 The Pop Group
Kiss The Book
I was driving home from work today, listening to The Pop Group, when it suddenly struck me as to how influential music can be on your moods and emotions, and how it's so capable of lifting you up when it seems like yet another shitty day of mindless labour and shitawful music has yet again drained your enthusiasm for engagement with the rest of the human race. You see, I work in this big CD distributor warehouse and just about all I hear all day is death metal and techno. Now I have nothing against either genre per se, but they're just not what I want to hear: they simply don't connect with me. They communicate nothing. As my parents would say, it's just a bunch of noise.
So I'm driving home from work, wind blowing in my face, blasting out the Pop Group's awesome Y LP when it hits me: I've always loved this record, it's got such a creepy, angry yet liberating vibe. I'm feeling better now, almost inspired. Hell, I'd have to say it's one of the greatest albums ever! Why has practically no-one ever even heard of it? Why do my work colleagues scream in terror when I put it on the stereo in the warehouse?
The Pop Group are admittedly an acquired taste, yet for those of whom they're the right flavour, they're one of the greatest bands of all time. I first bought Y when I was 20, after years of hearing it being name-dropped incessantly by everyone from the Minutemen to the Birthday Party to Jello Biafra, and it went under my skin instantly like a nasty rash. I mean that as a compliment. I was going through one of my classic uni-student/art-dada/music-terrorist phases at the time (I mean, surely you've experienced that yourself?!), an embarrassing confession, for sure, but the Pop Group was the right music for the right time. They yelled and screamed of injustice and frustration, they spat on the world in disgust, they ranted and raved about Cambodia and The Bomb, and their music was an ungodly, falling-apart mix of dub, Funkadelic, Beefheart and some sort of barely contained dada-esque noise. I was hooked, soon to be obsessed, and whaddya know, here I am 6 years later to tell you about them. So, who were they?
Ready information on the Pop Group is scarce, to say the least. I've not once read a comprehensive article on them so I'll just fill in the gaps and tell you what I know. Featuring five youngsters (we're talking high-school kids here) from Bristol, England, they formed in 1978 and fairly quickly rose to semi-fame, to the point where they supported Pere Ubu that very year on their summer tour. Inspired by everything from Rimbaud and Burroughs to Yoko Ono, Ornette, Last Poets, James Brown, Can and John Cage, The Pop Group's main intention was to go beyond the boring stalemate that most British punk at that point had become, to exceed the musical, lyrical and aesthetic cliches of the genre. You could say they were a classic example of a band that was both inspired by, yet in open contempt of, punk rock, or at least what had become of it.
Signing to Radarscope Records in 1979, a fly-by-night label linked up to Warner Brothers, they released their debut 7", "She Is Beyond Good and Evil." Not the classic it should've been, my advice is to skip the A-side, a dubby, scratchy ode to Nietzsche that sounds a touch too "new wave" to these ears and head straight for the flipside, the aptly-titled "3:38" (it goes for that long), an excellent Can-ish instrumental that's part aggro-dub and part screaming, belching keyboard effects. Somewhat comparable to This Heat's first LP, it still sounds totally ahead of its time. A tough record to find, but well worth it.
OK, now we're onto their debut LP, Y, once again released on Radarscope and one that was finally given a shamefully belated re-release on CD in 1997. If you can find the original vinyl, which ain't easy, snap it up quick because it comes with an awesome, and mighty huge, collage poster with their lyrics and various chilling images of the time (Cambodians, Vietnam Vets, various UK/Irish atrocities) and the curious front cover featuring an African tribesman with the band name messily scrawled to the side of him is frame-worthy. Before I say anything of this LP, I should say that I hope it's the intention of every band that makes a record that they should make a record like this. By that I don't mean it should sound anything like it, but rather that any truly great album should stand up against the test of time, be capable of being picked up years later by a curious potential fan and bowl them over in the process. Y sounds like a late '70's post-punk record, but it doesn't sound dated; its themes, its rhythms, its sense of anger, despair and frustration are timeless. And no, it's not "depressing"; on the contrary the ultimate statement it makes is of a desire to lift its head above the misery it speaks of. From "Savage Sea", a creepy violin/piano opus on side A: "Why should heroes always die in battle. Take the violin, we're exiles".
I must have listened to this record nearly a thousand times (I've gotta get that CD reissue one day) and I can still say that it sounds unique, no other record possesses such a bizarre sense of paranoia and loathing. What were these young British teenagers thinking when they made it? There are some obvious sonic comparisons, certainly Pere Ubu's Dub Housing LP of the same period comes to mind, as well as the Birthday Party and the Minutemen (two bands very heavily influenced by Y), yet The Pop Group were all over the place: songs stop half-way through like the band made a mistake, then start again, recording levels go up and down, and instruments fade in and out like a musical collage. At times it sounds amateurish, sloppy, like the Shaggs attempting post-punk, but then everything comes together so tightly on classic moments likes the phenomenal "We Are Time," a song which truly rates as the stand-out of the album, a seven-minute anthem of biblical proportions, that you're left wondering why other parts of the record are such a mess. But it works: from the avant-funk of the opening "Thief of Fire" to the tribal dub of "Blood Money" to the ending coda "Don't Sell You Dreams", a Birthday Party-ish scrape'n'drone featuring a very sparse guitar and drum accompanied by singer Mark Stewart's wailing of the title over and over.
Yet it's also undoubtedly the lyrics to the record that give it such an edge, an edge that was perhaps lost on their subsequent recordings where their sense of outrage became more literal and straightforward in its sloganeering. There's no clear messages given here, no references to anyone in particular and no real finger-pointing; everything is spoken in riddles like they've arisen from the subconscious. Check "Thief of Fire": "When you're stealing from a nation of killers / Do I trust myself? / I'm like a tramp in a cage / Flowers in Moscow / Losers take all / All lovers betray". I'm tempted to rip out the "rock poet" line of baloney here but I shall refrain. However, if I was to use such a line, this'd be the place. Y is a record few know about. One of the most influential records you've probably never heard in your life.
If my sense of chronology is correct, I believe the band then moved to Rough Trade and released the classic "We Are All Prostitutes" 7", undoubtedly their finest single moment. I have a few hundred 7" singles; they're tucked away in a dusty old box and every once in a blue moon I'll have one of those "singles frenzy" days where I'll play a whole bunch of them in succession. A lot of those records are real good, of course, but fer chrissakes, who can be bothered with the things and now that I think of it, when was the last time I actually bought a 7"?! Anyway, not only is this very 7" the one that I ALWAYS spin on a single-frenzy day, but it also gets the occasional spin just for the hell of it. In fact, I'd say it's the best damn 7" I own.
Beefing up their sound considerably - and propping up their political mouthpieces even further in the lyrical department - this is three minutes of pure urban angst channelled through a unique blend of punk, jazz, funk and noise. Starting with a wolloping, distorted guitar for the opening verse, it then evolves into a bizarre funk-disco rant before finally falling apart and collapsing into a chaotic stew of yelling, violin and saxophone. The lyrics? Try this on for size:
We are all prostitutes
Everyone has their price
And you too will learn to live the lie
Aggression
Competition
Ambition
Consumer Fascism
Capitalism is the most barbaric of all religions
Etc., etc., you get the idea. Subtle it isn't, but then again it never fails to get me fisting the air like a fool come play time, so the job is done. Once again produced by reggae "legend" Dennis Bovell (who also did Y, after an aborted session with John Cale), this li'l sucker clears rooms for all the right reasons. The B-side? Try this for a title: "Amnesty International Report on British Army Torture of Irish Prisoners", which of course is about... well, one guess only. Essentially a bong-hit jazz-noise mess with Mark Stewart quoting the very report in question over the top, it annoys yet soothes, though a far superior "song" version appears on the We Are Time out-takes LP, and for a bit of trivia, the one and only Mike Watt covered this on some Animal Rights benefit record a coupla years back. Sleeve, lyrics, music, content, effort: all a resounding A+.
Up next for perusal is the For How Much Longer Do We Tolerate Mass Murder? LP in 1980. Many people like this period of the band better. Myself, I like it all, and this era of the band is, I guess, more "listenable", as their musicianship tightened up to the point of becoming a fairly white-hot avant-funk-punk outfit sounding a bit like a speed-freak version of Ornette Coleman's Prime Time or James "Blood" Ulmer's LP's from the period. The cover denotes a fairly radical change in direction for the band that follows through to their lyrics as well: this time they're pissed off. No more subtleties, no more "poetry", the message is direct. If possible, get the limited-edition LP version of this, which comes wrapped in a huge newspaper featuring various clippings on the atrocities of the day. Also available is a non-limited version with only a basic album sleeve (much easier to find, and much cheaper), or if you're lucky you'll stumble across a Japanese CD that also contains their follow-up LP, We Are Time, though I believe that particular item was deleted a few years back.
You could say this record has a groove; in fact, you could quite easily dance to it. That's my theory. To demonstrate this theory, I once played this at a party at my house a few years ago. Within a couple of songs my brother walked up to me and said, "What the hell is this? People don't want to hear someone whinging about Cambodia and Third World starvation... put on the Ramones!!" Point taken. I still say you can dance to it, though lyrically and thematically this is about as "heavy" as a record gets. Look at those song titles: "Forces of Oppression", "Feed the Hungry", "Justice", "Rob a Bank". Now before you start thinking this is all a little heavy handed and been-there/done-that, think more along the lines of, say, the lyrical populism of the Minutemen or the, dare I say, "Situationist"-inspired lyricism of the Gang of Four than the dour humourlessness of Crass and their ilk (no disrespect to Crass, but you know what I mean). For my two cents, it's the music that matters here, and this is definitely their strong point. Gone is the sloppiness and rampant experimentalism of Y to reveal a tight, disciplined unit that punches out their funk like a punked-up James Brown circa 1970 meets Yoko Ono of the same year.
The musical potpourri contains a mixture of spacious dub ("There Are No Spectators"- now what was I saying about Situationism...), collaged tribalism ("One Out of Many," actually an old Last Poets vocal dubbed over a funky mess), raucous Ornette-ish free jazz ("Communicate"), anthemic agit-punk ("Rob a Bank") and seriously righteous near-disco chant ("Justice," my fave). By this stage the band were playing CND (Campaign for Nuclear Disarmament) rallies and generally heeding the call for revolution in no uncertain terms, and whilst this is all respectable behaviour and their music suffered not one bit (like I said, many people prefer this LP over the first) in the meantime, it's the sense of surrealism of the first LP that I miss. Still, for the record, this may be the best place for newcomers to start as it's the most accessible, song-based collection of tunes they released.
Up next is their split 7" with the Slits, "Where There's A Will", that's right, also from 1980. The Slits you know about: the late '70s all-female punk-dub outfit with John Lydon's stepdaughter (strange but true!) Ari Up on vocals, and their contribution is pretty OK, but let's talk about the Pop Group. By this time Mark Stewart and a few others in the band had hooked up with the Sugarhill Gang in New York, the seminal proto-rap ensemble that would later feature on many an On-U Sound record (as would Stewart), their enthusiasm for what was then considered this strange new transatlantic music shines through with a near hip-hop flavour to the proceedings, though all played on real-time instruments of the bass/gtr/drums variety. Actually, a friend of mine claims that the basic riff from this is taken from an old Grandmaster Flash/Sugarhill Gang song, but whatever the hell, it moves along to a very satisfying beat - anti-conscription words and all - and let's not forget how influential The Pop Group were in incorporating this element into their music, especially in 1980. Only years later with the whole trip-hop phenomanon has the world given The Pop Group their due credit as such innovators. Graced with a nice, and yet again, overtly political sleeve ("Fight Conscription," photos of Middle Eastern terrorists), this Rough Trade-r is a pain in the ass to find, but again, well worth it.
This is where things get sticky. Exactly when did The Pop Group split up? I've read 1980, 1981 and 1982. I'm pretty sure it was 1981. 1982 seems a bit late: post-Pop Group happenings were going on by then, and since I've read of gigs by the band throughout the year 1981, I'll assume they certainly hadn't split by 1980. All that said, their last effort, their We Are Time LP, from 1981, is considered a posthumous effort and is indeed a grab-bag effort of assorted demo songs and live tracks. Whilst such a description may lend the assumption of unwanted-dogthrowaway material that isn't worth the time of day, such is not the case here.
We Are Time features various live versions of songs from Y, such as "Thief of Fire" and "We Are Time" - both of which sound excellent and powerful, especially the latter, which emphasises their most obvious Beefheart/free jazz leanings with sax going mad - several never-released live tracks ("Genius or Lunatic," "Spanish Inquisition"), and numerous previously unreleased studio efforts ("Kiss the Book," "Sense of Purpose," "Trap," a different version of "Amnesty Report," all of which are exceptional and worthy in their own right of being released as "official product"). Curiously, many of these tracks were recorded in 1978, though they sound vastly different to the sort of material that wound up on their debut LP. Musically, everything moves along in the same direction set by the For How Much Longer... LP: a tight, angular unit steeped in punk, dub, free jazz, funk and Beefheart. Musically, such references have almost become a cliche in this day and age, as every band and their mother go on about their deep love for Miles Davis and Stockhausen and Lee Perry and whoever else, but context is the point here.
The Pop Group were not following a well-trodden blueprint, they were helping to create it. Sure, there were contemporaries like The Fall and Pere Ubu who were mining similar territory, or obvious roots in their sound like the Last Poets, Ornette Coleman and Red Crayola, but it was their unique synthesis of these influences, coupled with their sense of naivety, commitment and passion that makes The Pop Group still stand out today. There were other exceptional bands of the day that combined radical politics with inventive music, whether it was done in a surreal manner like the Swell Maps or in an overt manner like the Minutemen, and brilliant as both of those bands may've been, there's a certain undecipherable angle to The Pop Group's work. Their lyrics, their sounds, are presented in riddles not merely for the sake of being "artistic." Rather, they beg you to decode them.
Don't call me pain
My name is mystery
Don't call me pain
This is the age of chance
Don't call me pain
Being afraid is power
T-O-R-T-U-R-E
- "Don't Call Me Pain" (off the Y LP)

I'm not here to dissect their discography and give a blow-by-blow description of their "career". All that is interesting, but it doesn't compare to the unique power that their recordings possess. Some music has a truly mystifying quality, like it was borne from another planet, and no matter how many times you listen to it, whilst it may instantly CONNECT, you still can't sort out the puzzles it presents. What do the cryptic lyrics on the Pop Group's debut LP mean? Why the amateurish cover, huge collaged poster and awesome mess that is the music contained within? I'm no closer to "figuring out" The Pop Group than I was when I first heard them. But what is there to resolve? I feel like one of those thousands of kids who'd sit around for hours trying to decipher what Dylan was saying on Highway 61 or Bringing It All Back home back in the '60's.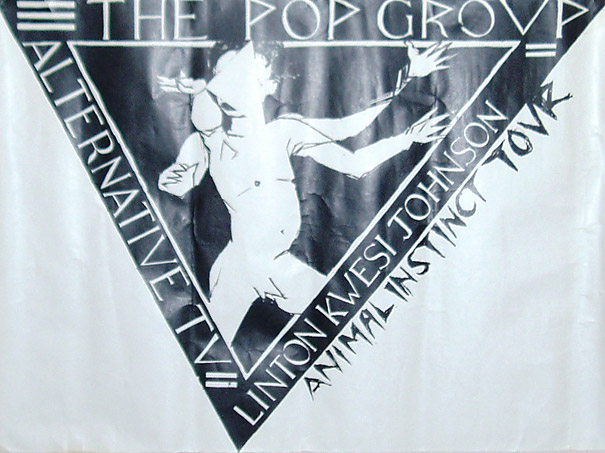 I saw Dylan play live here earlier this year and he made perfect sense, so maybe if I'd seen The Pop Group live back in 1980, like many others did, on one of those classic post-punk bills featuring the likes of Pere Ubu and Nico, would they make perfect sense to me now? Would they actually hold any fascination for me? Wouldn't I just consider them another one of those cool post-'78 agit-punk bands that was one out of many? Sometimes mystery can be one of the best qualities about a band. Mystery surrounding The Pop Group is becoming less so: now it's been widely written on what a huge influence they were on the "trip-hop" scene of Bristol; how guitarist Gareth Sager had a child with Neneh Cherry and his subsequent success with Rip, Rig and Panic; we read of drummer Bruce Smith's long tenure with Public Image Limited; and then we hear of singer Mark Stewart's seminal solo records and his long-time involvement with the On-U stable of artists.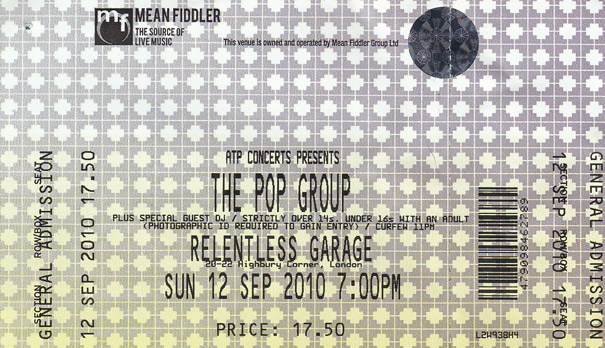 I'm glad they're finally getting some well-earned respect; posthumous noteriety can't "take them away from me," as we often feel when our of our favourite bands gains a wider audience, because their music will always mean so much to me. It's not just the sense of anguish and intensity of their records that's appealing - after all, such feelings are most often the last thing I want to experience when listening to music. I'll leave the constant desire for overwhelmingly "intense" sounds up to the death metal/noise crowd; rather, it's the feeling of connecting with other minds. It's literally exactly that: communicating. Maybe I just heard their records at the right time in my life - that's often the case with one's favourite music - but I can honestly say that The Pop Group's music is now permanently implanted in my mind: I can't rid myself of what I've heard. Their music is scorching, unrepeatable, timeless and essential.
Dave Lang 1977
PRIVATE DICKS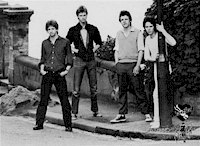 Gavin King
Paul Guiver
Huw Davies
Mark Seabright
Released one single and a track on the Avon Calling LP for Heartbeat Records.
THE TRAITORS
Mike Carvalho - guitar and vocals
Gary Worgan - bass
Gary Wintle - drums
The Traitors from the Gloucester area played fast new wave music and the ska sound of 'Mexico' on 'Bristol Beat - The Stonehouse Tapes 1980' was not representative of the band but perhaps reflected the times, hence its inclusion. Mike went on to found Ayto and performed excellent songs with Karen McKee such as 'Going Home'. He is on youtube now with his latest project, 'Sisters In Grease'. www.youtube.com One of those unrecognised talents.
RECORDED DELIVERY
» RECORDED DELIVERY DISCOGRAPHY
Charlie Jones
Grant Brain
Dave Gapper
Ger Bernardo
Charlie Jones later played with Hey Belaba who were Scott Davidson's band, Scott later joined Bros and the Pet Shop Boys and is now Bristol City Football Club Chairman. Charlie later signed to Magnet Records with Neil Taylor from Sneak Preview.
RIMSHOTS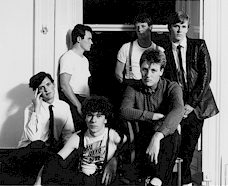 Mike Darby
Simon Heathfield
Mike Furzeman
Rich Bentley
Angelo Brushini
Nick Waring
The Rimshots were a pop/reggae band. They released two singles one for Shoc-Wave and another on Spectro Records. When the band spilt Simon and Angelo joined the Blue Aeroplanes who had previously been the Art Objects. Mike Darby and Fuz formed the Long March with Bill Waine and Eddie John. Mike later managed Fear of Darkness, Love Jungle, Rita Lynch and currently runs Sugar Shack Records and Management. A great band who could have made it if only they'd sacked the singer!!!!
SOCIAL SECURITY
Simon Blackmore
Dominic White
Bill Sargent
Simon Cartledge
THE UNDEAD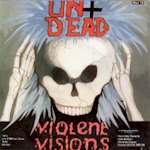 Al Scarlett
Phil Sick
Sid Simmonds
Dick Dangerous
Martin Ham
Punk band formed from the ashes of Volitile Romance. Recorded two singles and an album for Riot City Records.
VICE SQUAD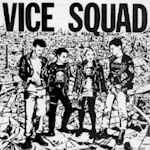 Becki Bondage
Dave Bateman
Mark Hambly
Shane Baldwin
Later
Lia
Dave Bateman
Jon Chilcott
Shane Baldwin
Sooty
Any keen peruser of the many punk reference tomes lining the shelves of discerning bookshops will, if they care to look at a Vice Squad entry, see something along the lines of "Vice Squad emerged from the ashes of local garage bands TV Brakes and The Contingent". To be fair, this statement isn't entirely untrue, but it is a little misleading. Our singer Beki certainly did form a band called The Contingent long before Vice Squad, but it never got past the rehearsal stage, while the TV Brakes, the first band formed by myself (on drums) and guitarist Dave Bateman, played a lot of local gigs and wrote many of the songs that were later used by Vice Squad.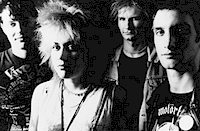 Just to be contrary, the first Vice Squad recording (with the erstwhile Mark Hambly on bass) is the last track on this CD, "Nothing", which appeared on the Heartbeat Records "Avon Calling" compilation (Heartbeat HB 1) in 1979.
After the success of the Brighton compilation "Vaultage '78", regional collections were in vogue, and "Avon Calling" sold well, but the best part was that John Peel took a shine to our track and played it to death on his Radio 1 show.
We had two other strokes of luck in 1979, playing our debut gig as last minute additions to a Rock Against Racism bill at the Bristol University Anson Rooms on 12 April (where Heartbeat boss Simon Edwards spotted us), then supporting The Damned and The Ruts at the Bristol Locarno. These events were a staggering contrast to the TV Brakes days, when we considered ourselves lucky to secure gigs at the local Railway Preservation Society, and even the local Borstal, and meant that we soon picked up a sizeable local following.
The problem, though, was that most of our new friends verged on the psychopathic, and we were quickly banned from playing most venues in the South West of England. In 1980 we managed just 6 gigs, but at the last of these, another Socialist Workers Party benefit (this time "Rock Against Thatcher") Simon Edwards suggested that we join forces and form a new label for our debut single. Dave came up with the name Riot City (after the violent scenes occurring in the St Pauls area of our city, and others around the country), and early 1981 saw the release of "Last Rockers" (Riot 1).
I tracked down Sounds journalist Garry Bushell, in a pub near the paper's offices, and he championed the record in its pages, while John Peel again gave us his support, opening his show with it several nights in a row, though he always moaned about Dave's "irritating" guitar bit at the end. To our amazement, the initial pressing of 1,500 (which we had thought foolhardy on Simon's part, reckoning 1,000 would have been pushing it) sold out straight away, and "Last Rockers" went on to sell over 22,000 copies, reaching No. 7 on the Indie Chart. I don't suppose Rod Stewart was quaking in his snakeskin boots, but that's a lot of records, however you look at it.
Emboldened, we went back to Cave Studios (where "Last Rockers" was also recorded) with a new song, "Resurrection", which became our second single (Riot 2). This sold roughly the same number of copies as its predecessor, and bettered it on the Indie Chart, reaching the No. 4 spot after entering the chart on 30 May.
The success of the two singles upped our profile considerably (as today's marketing people would no doubt put it), and resulted in some choice live shows, like a support slot with The Damned at The Lyceum and a short tour with the UK Subs.
Somewhat reluctantly, the other music papers began to take notice of us, and though their coverage was often disparaging, we quickly realised that it didn't really matter what they said, as long as they let people know we were out there. Add to all this a John Peel session, which he repeated several times on his show, and it's not surprising that other record labels were soon sniffing around.
In the Punk Credibility Stakes, choosing to sign to EMI was a bit of a risk, and we certainly came in for a bit of flak from the Punk purists, but as the Angelic Upstarts and Cockney Rejects were already signed to the label (like us, on the Regal Zonophone imprint), we felt in good company.
Our first recording for EMI was the debut Vice Squad album "No Cause For Concern", and it was an unmitigated disaster. Foolishly, under the guidance of our then manager, Ian, we went into a studio whose only merit was that it was cheaper than Cave. The album (ZEM 103) was actually quite successful, reaching No. 32 on the national album chart in October, but the fact that I can't bring myself to include one track from it in this collection should give some indication as to how woeful the finished result actually was.
More than a little ashamed of ourselves, when EMI suggested that we try their Manchester Square studio for our next recording, the single "Out Of Reach", we felt in no position to argue, but if anything, the results of that session were even worse.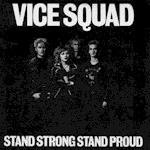 For that reason, the version of "Out Of Reach" included here is the one that was recorded for our second album "Stand Strong Stand Proud", rather the single version (Z 26) which, ironically, was our only national single chart "hit" reaching No. 68 in February 1982.
The b-side tracks were "(So) What For The Eighties?", which is represented here by a far superior four-track demo version recorded just before the Manchester Square session, and "Sterile", which is taken from the single as the peculiar mix, which was very heavy on vocals and drums but light on guitar and bass, by a happy accident seemed to suit that song rather well.
Tracks 9 - 13 are my favourites from the aforementioned "Stand Strong Stand Proud" album (ZEM 104), produced by our new co-manager Sooty, which was slightly preceded by the "Stand Strong Stand Proud EP". The EP (Z 30) failed to chart, despite a gushing Single Of The Week review by Steve Keaton in Sounds (the fact that we included four tracks, reducing the volume level to such an extent that it couldn't be played on the radio probably didn't help), but the album entered the national chart on 22 May and rose to No. 47.
We spent the summer touring Europe, the USA and Canada, before returning to the UK for a month-long tour to promote the "State Of The Nation EP" (Z 34) in October. I've included the a-side track "Citizen" here, plus one of the b-sides, "Scarred For Life".
"State Of The Nation" turned out to be our last release with Beki on vocals. She announced her intention to leave the band early in 1983, when preparations for our third album were already well underway, and we were immediately dropped by EMI. They kept Beki on their books for a short while, releasing the first single by her new band Ligotage, then she too was shown the door.
As you can imagine, these were difficult times for Vice Squad, but we recruited a new vocalist, Lia, Sooty joined the band as second guitarist, and we signed a one-off single deal with Anagram. "Black Sheep" (ANA 16) was only really intended to announce the fact that we were still among those present, but to our surprise it sold very well, (helped in no small part by heavy airplay on Radio 1 by DJ David Jensen, and a session on his show) entering the Indie Chart in December and climbing to No. 13.
This success led to a more long-term deal with Anagram, who released the follow-up single "You'll Never Know" (ANA 22) in 1984, not to mention heavy touring around the UK and a memorable trip to Lisbon, Portugal, for a brace of gigs at the newly opened Rock Rendezvous club.
However, most of that year was spent recording, at last, our third album, "Shot Away" (GRAM 14).
Working with a small budget, using "down-time" at SAM Studios, the album was a long time in the making, but the finished result was everything we had hoped for: a Punk album with a Rock feel that showed we had progressed musically but not lost track of our roots. Well, I think so anyway.
Mark left the band roughly halfway through the recording of "Shot Away", and was replaced by our friend Jon Chilcott, formerly bassist with The Crazy Trains, who played on the remaining tracks. This led to a little confusion as a track from the album, a cover of The Sweet's "Teenage Rampage", was issued as a single (ANA 26) shortly before the album appeared, and Jon's photo was on the cover, though Mark actually played on the song. The single entered the Indie chart in January 1985, and reached the No. 44 slot. To our chagrin, "Shot Away" failed to chart, though Spike Sommer awarded it five stars in the 2 February issue of Sounds, concluding his review with the pleasing, if ungrammatical words, "Five stars is not enough". It made little difference, though, as by then Vice Squad were no more, and Dave, Jon & I had already launched a new band, Sweet Revenge. But that's another story.
Tracks 16-24 on this CD include all the Vice Squad #2 singles, plus the best b-sides and my (admittedly biased) favourites from "Shot Away".
To conclude: It was hardly a bed of roses, being in Vice Squad, but I wouldn't have missed it for the world, and I think we knocked out some pretty good stuff along the way.
(Shane Baldwin April 2000)
VIOLENT BLUE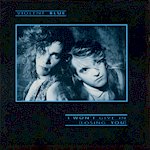 Neil Taylor
Charlie Jones
Phil Andrews
Tony Heyes
Neil and Charlie were signed to Magnet Records, released one single and faded. Neil had been in Tears for Fears and is best remembered for the brilliant guitar solo from the Everybody Wants To Rule The World track. Neil still plays as a session musician and has worked with Climie Fisher and Alison Moyet to name but a few. Charlie joined Robert Plant's band.
TALISMAN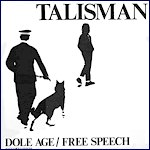 Mr Bill Bartlett
Des Joseph
Leroy
Des (Lazarus)
Donald
Brendan
Lady luck smiled happily on Talisman last year; two excellent singles, 'DoleAge'/'Free Speech' setting the pace and 'Run Come Girl'/'Wicked Dem' stepping up the revs; two Radio one sessions: T.V appearances on Beeb One and Two; and an increasing gig work-load, culminating in a short, snappy and successful week of dates in Holland. But luck has been one of the ingredients in their recipe as they have been aided by the more solid pre-requisites of good material, instrumental competence, hard work and diligent management, the latter now provided by Recreational Records supremo, Chris Parker.
Talisman have moved on to that crucial stage where finally day-jobs have been given up and a professional status attained - the step forwards where there can be no looking back. It's taken them two years to come to this situation and it's not always been a smooth journey. Progress was interrupted by Bill Bartlett's decision to leave the band, and his replacement on keyboards, Chris Potter, is an interesting example of the YOP scheme ultimately finding an unemployed young person a full-time job. Chris was previously involved in the 'Freedom City' production, which was funded by the Manpower Services Commission and has toured all over the country. His recruitment retains the one-third white two-thirds black balance of personnel, a feature which created some eye-brow raising from some quarters in Talisman's earlier days.
Bassist Dennis explained that: 'When the band first started and we had Brendan and Bill, people in St Pauls were saying 'why have you got white guys in the band?' and between us in the band there was a period of non-communication. We would just play without trying to come together, but as we got to know each other the magic worked through.'
Brendan: 'Now the black and white thing doesn't come into it. We just think of each other as being in the situation where we HAVE to work together - as musicians and as people. We have a good time together and it seems to flow quite well.'
Within the potent hubbub of Talisman's music they mix a range of styles. I hear a Carlos Santana feel to Leroy's liquid lead licks, complementing the wailing sound of Brendan's sax and harmonica punctuations, and a fluid jazzy inflection to some of the bass/rhythm unison phrasing. The basis of the music is very firmly in a reggae mould, but with lots of flexibility and space between the instruments. The rhythms are varied, broken down and reassembled, with the drums and guitars weaving in and out of each other, and the keyboards and sax providing the richer tone of colours. This approach is accentuated by the visual aspect of the set; Brendan and Chris flanking the three front men, while Donald stays hidden behind his drums driving the music ever FORWARD. When we were discussing how the groups direction developed there was some disagreement between Desmond and Dennis about this process.
'There was a lot of conflict at first about what we were doing,' said Desmond, 'and whether it was right and I don't know how we overcame that.' But as far as Dennis was concerned 'it just happened that we wanted to play something different. We didn't strive to play JA reggae and I'm glad we didn't because I think now we're in the forefront of what we are doing in England.' In terms of the 'new wave' of Brit-reggae? Dennis again: 'Yes. We didn't know if black people would accept it as it was up-tempo, and then there was also the way we play our music, with the voices jumping in and out and the bass and drums doing the things they do.'
Brendan took up the point: 'We didn't know how well it was going to be received or what was going to happen, but now we find ourselves going off to festivals and gigs and people have heard us on the radio and come and see us. We're now strong enough and mature enough in the band to make an impression the first time we play somewhere. People don't realise of course the background work that's gone into putting us where we are now.'
Talisman have managed to overcome the perennial problem for Bristol bands: getting some attention from record company and music press personnel, in the right places, especially of course London. Matters have not moved as quickly as perhaps they would have liked but the group are quite happy for the moment with their relation with Recreational. 'It's possible that our first single 'Dole Age' would have sold more if we had been with somebody bigger,' said Brendan, 'as it would have got wider promotion. As it was it sold 5000 copies so we're pleased with that all things considered. But the fact that Chris Parker has been involved with us from the start, and is WITH us, is very important. In spite of the problems we've been getting nation-wide publicity through TV and we've played all round the country supporting some big names.' (It might be added too that another useful aid will be Talisman's appearance on HTV's new 'Jangles' show starting in February, where the band will be performing 'Nitty Gritty')
Interest has certainly been stirring in the A & R departments, but another factor urging caution and patience from the band is the way in which British reggae bands have tended to be treated by record companies. Dennis is quite emphatic about where Talisman stand on this question and what they are looking for.
'They (companies) are waiting to see what kind of deal they can get. For us it can't be something like Steel Pulse or The Regulars got because in the end they got nothing. They were just taken on, signed up and nothing was done for reggae music. We actually want something done for the MUSIC, and we're not just in it for the money. We want reggae pushed out and say: yeah! The black music in this country has got a standing now. None of the guys in the business is willing to stand up and be the first person to put some bread behind that. That's why I think public demand will bring us up as we're the first kind of band who are generating that kind of wider feed-back, considering the music we play, unlike say Steel Pulse, Black Slate or even Aswad.
It's this forthright and determined attitude which spills over into the content of the songs, and has caused some misinterpretations from the likes of the BBC. Brendan explained that they considered 'Wicked Dem' to be unsuitable for radio broadcasting, when they were about to record their session for the Richard Skinner programme. 'They'd checked it out and told us that it was anti-police, which was wrong as it's against authority when exercised arbitrarily for the sake of it.' Perhaps the Beeb were being sensitive in the light of the summer riots but happily the song was recorded for a Peel session. More likely they were put off by the 'live' presentation of the song when the noose that Dennis wears on stage is used to illustrate the injustices which 'Wicked Dem' highlights. But then they might understand better.
Many of Talisman's songs do convey strong feelings, like 'Dole Age' and 'Free Speech', or personal emotions in 'I A'int', and Desmond, as chief lyricist, pointed out in the recent repeat of the BBC West documentary on the band, 'I have a message and the only way I can get it out is to write. Society isn't free and although we're told it is, the reality is different. We're governed by laws telling us what we can and cannot do, can or cannot say and I want real free speech. You have to keep making compromises. You can never go out and say exactly what you feel. That's what 'Free Speech' is all about, without pointing any fingers or calling any names. It's telling people what you feel about what's going on but in a SUBTLE way.'
I quite like too the positive maxims which Dennis mentioned were his by-words. He regards his role as 'trying to communicate, while others try to exterminate', and his message for politicians, and the Home Secretary, in the light of Brixton, Toxteth and Scarman is crystal-clear:
'Hey Mr Whitelaw, tell us your plan,
Do you see a future for the black man?
I see politicians playing a dangerous game
So put your house in order and we'll do the same.'
It's been precisely that kind of 'problem' area, like St Pauls, that Des and Denn have lived in or near. They are well aware of the problems that community face and also the progressively harder struggle for black musicians in particular, to establish, build up and maintain a band: the lack of rehearsal space, and equally important, the lack of a focus of the sort of clubs like Bamboo and Blue Lagoon, closed down in the last few years, used to provide. But in spite of the odds stacked against them, it's encouraging that Talisman (and Black Roots) have been able to become significant forces in the current reggae outfits pushing out.
Of the two it's probably Talisman who have the greater commercial potential; certainly they have an easier field for 'cross-over' both in terms of content and stance. Their audience is as mixed as their line-up and it's a rare occasion that those at their gigs can stay rooted in their chairs. The maxim which Brendan applies invariably comes true: everyone leaves a Talisman gig with a smile on their face. And Denn's experience of reaction is even more graphic. 'One girl came up to me after a gig and said - you know, you make me sweat!'
Interview by Dave Massey (Taken from his Future Days Fanzine)
GLAXO BABIES
Geoff Alsopp
Dan Katsis
Rob Chapman
Tom Nichols
Tony Wrafter
DREAMS INTERRUPTED.
In the Autumn of 1977 both Sounds and NME ran free Musicians Wanted ads. I placed an ad in both which read 'Musicans wanted to take over where the Velvet Underground left off.' It wasn't meant to be presumptuous. If I'd placed the same ad six or seven years later it would have attracted a bunch of Jesus & Mary Chain copyists. If I placed the same ad now, god knows who it would attract. People who want to make music for car ads perhaps. But in 1977 it was a way of attracting like minded individuals from those select few who knew, and cared, who the Velvet Underground were.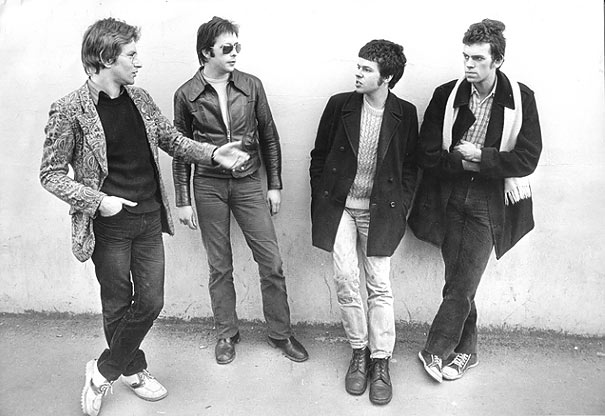 The Glaxobabies with Simon Edwards (Head of Heartbeat Records).
And it worked. A handwritten letter from Tom Nichols arrived in the post, inviting me down to the Dockland Settlement in City Road, St Pauls to check out his band. The Docklands was only five minutes walk from where I lived in Montpelier. It was a youth club during the week and on saturday nights they had bands on and a reggae disco. I'd seen the Stranglers there a couple of years earlier when they all had long hair. I'd danced to Uptown Top Ranking there six months before it was in the charts. The Docklands was a cool place.
They had a rehearsal room for hire upstairs and on a cold November night in 1977 I walked in and there in one corner of this vast unheated room stood Tom Nichols and Dan Catsis, a bass amp and a guitar amp. 'We've got one that goes like this' they said. 'And one that goes like this' And so on, as they proceeded to play these angular little sketches to me. Some lasted three or four minutes. Some no more than 30 seconds.

The Glaxobabies with Simon Edwards
(Head of Heartbeat Records).
They seemed a bit reserved and self conscious as they ran through the material. Dan, intense and hunched and fresh out of art school. Tom, tall and aloof and fresh out of school. I thought they were fucking magnificent. Half of it sounded like Trout Mask Replica and I knew straight away that I'd found my Magic Band.
They didn't even ask me to sing. With my suedehead crop and my long leather Superfly/Shaft coat (or my SS coat as Dan interpreted it) they thought I looked the part. I asked where the drummer was. 'He hasn't turned up' they said. Drummers and time keeping, eh?
Downstairs in the bar they weren't half as intense as first impressions had suggested. Ice was broken. Drinks were drunk. We spent half an hour pissing ourselves as we recalled old Monty Python sketches and agreed that the series they made without John Cleese was brilliant.
Dan explained that the band name came from these ads he'd xeroxed while at art college. Gl*xo made baby milk powder, the stuff you're weaned onto after mothers milk, or sometimes the stuff you were on instead of mothers milk. The caption under the photo of a smiling child said 'smiling one year old Gl*xo baby'. When you xerox a xerox of a xeroxed xerox you end up with a very distorted image and after a while he'd created this grotesque facsimile of a child, but underneath it still said 'smiling one year old Gl*xo Baby. The juxtaposition appealed to me immediately.
Three weeks later we had our first gig, someones Christmas party at, appropriately enough, the Docklands. This was a bit of a bummer as The Hamsters (aka the Sex Pistols) were supposed to be playing at the Bamboo Club in St Pauls that same night as part of their secret tour, and I'd fancied seeing that. But as chance would have it the club mysteriously burned down the night before the gig, as clubs often mysteriously do.
For the Docklands gig we hastily assembled a rudimentary set of eight songs, including a couple of Beatles and Stones covers. Toms Mum had rather fetchingly sewn the name of the band into the back of his jacket, Rubettes stylee. It was all very homespun and raw. Afterwards, me and Dan went back to my flat and stayed up all night on amphetamine sulphate talking about how great we were.
We continued to rehearse at the Docklands and played our second gig at this notoriously hardcore punk venue called the BQ club. About 50 safety pinned clone-punks stood and watched us in grudgeful silence. Hardly anyone clapped. Some surly anthropoid at the side of the stage kept unplugging us, so the sound went off every five minutes. We were just glad to get out of there without getting our heads kicked in - or electrocuted. A year later people started coming up to us at gigs, saying 'saw you at the BQ club. You were great.' Half of them added 'we thought you were really heavy. Really intense.'
I suppose we were. We were fairly isolated from the 'scene' at first. We didn't really know anybody. Tom knew some of the Clifton crowd, an amiable Cortina or two, and later on when we got more 'accepted' it was nice to go round their houses after we got back from the pub. They all had trendy middle class parents, that Clifton lot, none of whom minded you skinning up in their pine kitchens. But initially we were outcasts and that was our strength. A rumour went round in the early days about all the warring and bitchy factions in the Bristol music scene. You know the sort of thing. 'What about band A?' 'Oh, they hate band B?' 'What about band C?' 'They hate band D'. 'What about the Gl*xo Babies' 'Oh, they hate everybody.' We didn't, we just didn't know anyone, but we were happy to indulge the myth. We weren't part of any clique. That's why we didn't sound like anybody else.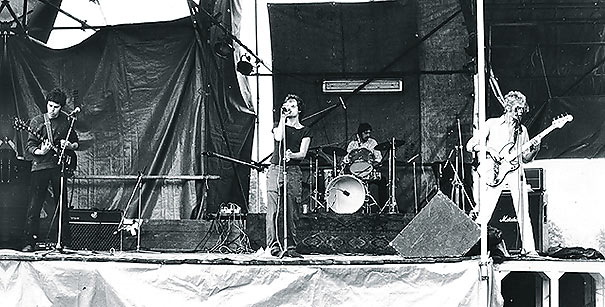 Glaxos at Ashton Court
In March 1978 we played our third gig at Redland Teacher Training College, supporting The Only Ones. It was our most prestigious gig to date and the place was packed. The Only Ones guitarist John Perry came up to us afterwards and said he thought we were really good. That gave us a kind of validation and confidence. We didn't really know if we were any good or not. We knew we were different though. When we played that night, half the room immediately drifted off to the bar and half the room came straight down to the front. That tended to happen a lot when we played.
Around this time Tom found us this amazing rehearsal space in a cave cut deep into the Avon gorge. You reached it through a series of headbumping kneegrazing unlit tunnels with water dripping down and stalactites and shit. Ok I made the bit up about the stalactites, but it was a truly unique environment to work in, warm and womb like and soundproofed to the nth. We started rehearsing there three nights a week. That's when we started to get really fucking good.
In the entire time we were together we only played about half a dozen gigs outside Bristol, and only twice in London. One of these was at the Rock Garden in Covent Garden in the summer of 1978 supporting a group called Resistance, a nice bunch of lads with a sharp pushy manager. We were terrible. Three of us took too much sulphate before we went on. Me and Tom spent most of the set rigid with speed blam, with our backs to the audience. Dan, being the only together one that night, was deeply embarrassed cos loads of his old art school mates had turned up to see us and we sucked big time.
We slouched off back to Bristol with our tails - and our half chewed lips - between our legs. Initially there had been talk of us doing two gigs at the Rock Garden with Resistance, but we assumed that they wouldn't want us back for the return date. A couple of months later we get a phone call from the band. 'Er, where were you last night? Did you forget the gig?' They thought we were great and wondered why we hadn't shown up. That was us all over. Still riddled with doubt. We knew we were different but we still weren't sure if we were any good.
We also played the Ashton Court Free Festival that summer. We were first on the bill, saturday lunchtime. Our performance that day seems to have gone down in Bristol punk legend. All I can remember though was gazing out through my blue tinted mirror shades at a field full of disinterested hippies. That evening, however, we played one of the most bizarre gigs of our lives.
Our drumer Geoff Alsopp had got us a gig in a pub out in the badlands of Kingswood where he lived. The hours between our lunchtime performance at Ashton Court and the evening gig were filled with hedonistic excess of monumental proportion. You know that Dennis Leary sketch? 'Lets get an eightball. It'll last all weekend. An hour later. Same four guys. Letsgetanothereightball. Letsgetanothereightball'. That was us that saturday. I think three seperate trips were made from the outskirts of Bristol back to drug central in Ashley Road to satisfy our fighter pilot cravings. Now, throw a room full of Bristol Rovers football thugs and an aggrieved pub landlord into the mix and you have the makings of something very combustible. Altamont on cider. We got our heads down and played our avant-weird music for 45 minutes while some increasingly volatile football hoolies harrassed our girlfriends and threw bottle tops and beer at us. Relieved to have got through the set we headed for the bar, where the landlord told us in no uncertain terms that we were 'contracted' to play for 90 minutes. Reluctantly returning to the stage the Rovers fans resumed their beligerent touching up of our girlfriends while snarling 'eer, play some Pistols, play some Clash' at us.
So that's what we did. We bluffed our jittery amphetamined way through approximations of White Riot, Pretty Vacant, Janie Jones, and anything else that we could half remember from the Pistols-Clash songbook. And they fucking loved it! A truce was declared the moment we went into White Riot. Mass pogoing broke out. Some of them even bought us drink afterwards. I can't be sure but they may even have stopped trying to tit up our girlfriends.
We played several gigs like that. Gigs that are about as far from the official punk blueprint as you can get. On another of the few occasions we ventured out of Bristol we played the annual barn dance in a Gloucestershire village called Iron Acton. The stage was on a 12ft high raised platform in a huge shed that smelt of stale cows milk and sileage. The clientile seemed to consist of everyone who lived within a 20 mile radius. Local dignitaries, well dressed ladies trailing their best evening gowns through the farmyard mud, rural bikers, children. A very English scene.
The promoter, I kid you not, thought that 'new wave' was country music and had booked us and a clutch of other spikey haired malcontents on that very premise. No one seemed to mind. The bands were just a sideshow anyway, no more or less important than the hog-roast or the draw for the raffle. I remember about half an hour before we played we were sitting in a quiet adjacent meadow, discretely enjoying a pre-gig spliff or two, when Tom said 'it feels strange to be sitting here like this, when in half an hour we'll all be going (approximates gl*xo style noise) nah-nah-nah-nah-nah.' And as we gazed at the idyllic splendour of the rolling Gloucestershire hills it did sum up the incongruity of the situation. But Toms opposite observation still couldn't match the surrealism of the gig itself. The TV show Tiswas was very big at the time, and about halfway through our performance I gazed down from the raised stage to see an entire chapter of rural bikers doing the 'Dying Fly' on the floor below. For the unacquainted, the dying fly was a dance popularised by Tiswas where you basically lay on your back and waved your arms and legs in an approximation of the actions of, er, a dying fly.
I don't know if you were expecting lots more stories by this stage about us hanging about backstage with Pere Ubu, or sitting around deciphering Wire lyrics, but believe me you have not lived until you have played your music in a cow shed full of rural bikers who are all doing the dying fly!
When our modicum of success came it came very quickly. We went from zeroes to ones in a matter of months. We'd heard on the grapevine that one local promoter had dismissed us with the words 'who'd want to write a song about a **** like Bruce Lee?', so it came as a welcome surprise when in December 1978 Simon Edwards asked us to demo some tracks for him. We ran through the four songs that eventually appeared on the This Is Your Life EP, plus Avoiding The Issue. Dan was a tad detached and uninspired that night and I had an excrutiating stomach bug which necessitated crouching in foetal agony between every number, but Simon still liked what he heard anyway. Within a couple of months we were recording our first EP at Crescent Studios in Bath. I remember Geoff pointing out the exact spot where Eddie Cochran had been killed on the way there. By March 1979 we had an indie chart number one (although this was in the days before there was proper documentation of such things so you won't find verification of that fact in any punk encyclopedia or chart file. How very Gl*xo!)
Within weeks we'd done a Peel session, played the John Peel roadshow at Bristol Polytechnic (possibly our best ever gig) and wiped the floor with the Human League at The Anson Rooms and Adam and The Ants at Salisbury Art College. Although still a couple of years away from his warpainted pop-star prime Adam was already a star in his own head. I recall that he had his own dressing room even then and his band spent so long preening their way through the soundcheck that we were deprived of one. We were also ordered to play for 20 minutes maximum! By then it had become a bit of a speciality of ours to wipe the floor with headlining acts who had pulled rank or pissed us off mightily and that night we played the angriest most intense 20 minutes of music we'd ever come up with. We returned to our dressing room to find a couple of members of The Ants entourage' sniffing glue out of crisp packets. How terribly punk.
Although we'd formed during the punk era, and were all partial to the odd bit of new wave noise, none of us were that enamoured with its overall agenda. We were of that scene but not in it. We didn't sound particularly punky, the reference points in our song lyrics were not in the least bit punky. And I'm pretty sure that no other band had a guitarist who was prone to playing the guitar with a vibrator! The posters and flyers that Dan individually designed for our gigs, and which we discretely pasted around Clifton, St Pauls and Montpelier in the dead of night, didn't look like anyone elses. We all despised the orthodoxy and aparthied that punk rapidly engendeared. A couple of memory flashbacks to illustrate the point; one day early in 1978 I went round to Dans flat and as I walked up the stairs I could hear music playing. You could usually hear music playing when you went round to Dans flat. One day it might be Chrome or Throbbing Gristle. Another day it might be some Vietnamese folk anthology he had borrowed from Central Library. On this occasion though I was assaulted by the unmistakeable strains of The Edgar Broughton Bands' Wasa Wasa, a record I probably hadn't heard for 7 or 8 years. 'Far out' I exclaimed sincerely and unironically as I walked in the room. (We didn't have irony in those days, at least not the corrosive last-refuge-of-the-intellectually-bankrupt irony you get now. We meant everything we said, maaaan!) It wasn't the done thing to be be listening to The Edgar Broughton Band in 1978, and it certainly wasn't the done thing to be saying 'Far Out.' Not in public anyway.
Similarly a few months later we were in the pub after a Cave rehearsal when Chic's Le Freak came on the jukebox. I spotted Toms foot tapping under the table and we began this hushed almost surreptitious conversation about the virtues of Rogers and Edwards immaculate stripped down funk. 'I didn't like that yowsah yowsah one but this is great.' 'Yeah, listen to that bass.' It seemed absurd that we should be having this clandestine whispered conversation in case some mohair-clad twat might overhear us and use it as evidence as crimes against the new wave, but that's how things were a bit.
In the early days we had a seige mentality that shored us up against those kind of people and that kind of thinking. That all started to change once we had a record out. People who wouldn't deign to speak to us before now wanted to make our acquaintance and be on our guest lists. Indeed a 1980 compilation of those early Heartbeat demo's and other Gl*xo miscellany was called Put Me On The Guest List, after a gig at Tiffany's in Bristol where, disgusted by the room full of freeloaders and liggers who seemed to make up half the audience, I'd changed the lyrics of Who Killed Bruce Lee from'put me in the picture' to 'put me on the guest list'.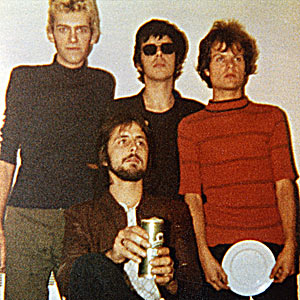 For a while after the EP release we carried on in our own sweet isolated way. Sounds sent a local hack called Rab to interview us (our one and only encounter with the national music press.) Airey Neave had been blown up in the House of Commons Car Park by the IRA that very afternoon and me and Dan spent most of the interview discussing that instead of answering Rab's questions. Meanwhile Tom spent much of the interview cross-questioning me on the meaning of my lyrics. In one respect this was typical of our self-analytical approach. On the other hand it was a portent of things to come. Within a matter of month the original incarnation of the band was dead and buried.
First of all our original drummer, Geoff Alsopp was sacked. Not so much for musical differences as personal ones. Geoff was a bit of a veteran on the Bristol music scene - god, thinking back on it he must have been at least 28 years old! - he wore a defiantly un new-wave beard, had played in everything from pub bands to country bands and had a telepathic understanding with Tom. That's why our rythmn section was so shit hot. He could also roll a very quick and potent joint, especially when using someone elses stash! Unfortunately some of his friends were nobheads. The nadir was reached during a seemingly endless van journey back to Bristol after a gig at Dingwalls, when we had to keep stopping the van every 20 minutes to let one of his beer monster mates puke out of the window. It sounds trivial from a distance but when you've been in close creative proximity for the best part of 16 months these things start to stack up.
Tom's Dad had opened a record shop by this time, the snappily named Geoff Nichols Music, and we'd started hanging out in there all day. Tom helping out behind the counter. Me and Dan scouring the second hand racks and depriving legitimate customers from using the turntable. After a long prolonged 'you do it' 'no, you do it' conversation it was left to me to do the dirty deed and pick up the phone to tell our drummer his services were no longer required. 'I'd been sort of expecting it' was Geoff's sanguine reply. Within a month I'd be on the recieving end of a similar phone call.
From hereon in it get personal and I'd better prefix the rest of this story with a huge 'the following account does not necessarily reflect of the views of the rest of the band' disclaimer, scrawled in 36 point lettering. In blood. The demise of the original Gl*xo's was largely a result of a massive ideological rift that developed between me and Tom. He was becoming increasingly disenchanted with what he percieved as the nihilistic content of some of my songs. For my part I perceived a certain 'sniff of the barmaids apron' approach to jazz developing within the unit. I was and still am vehemently opposed to this tendency, and detested the way it spread like a rash through post-punk music in the late seventies and early eighties. Jazz is a life long apprenticeship, not a stylistic indulgence and I thought our strengths as a band lay elsewhere. My days were clearly numbered.
The widening rift between me and Tom culminated with me walking out on the band after the first recording session of what should have been our debut LP. The circumstances of this have been a huge source of regret and hair shirt donning over the years, particularly between me and Dan, who both came to realise rather late in the day that neither of us had ever subsequently found such a satisfying working relationship. The amount of times I'd say 'I've got this lyric that goes like this' and Dan would say 'I've got this tune that goes like this' - and they'd fit! - was uncanny.
The whole situation seems doubly regrettable with hindsight, because during those early summer months of 1979 we were really starting to cook as a band. Our new drummer Charlie Llewellyn, who had previously been in Gardez Darkx, pleased us immensely when, at his first rehearsal, we asked him to 'play like Neu' and he locked effortlessly into that primitive motorik pulse that was one of our guiding principles.
We also acquired the services of a sax player around this time. Tony Wrafter had previously been in a band called Peru. Indeed, as Tony himself sheepishly recalled, they were one of those bands who had pissed us off by pulling rank when we were accidentally double booked for a gig at the Stonehouse pub. 'We've played Bath' they said, settling matters once and for all as to who should headline. We touched our forelocks and dutifully blew them off stage. Again, this gig seems to have gone down in Gl*xo folklore, partly because I smashed a wine glass while we were performing and finished the set covered in blood. It wasn't intentional self-laceration of the Iggy Pop or Julian Cope variety. I was just so intensely wrapped up in the performance, and numbed with Totterdown bikers bathtub speed, that I forgot I was clenching the glass in the first place. Didn't feel a thing
'Have you noticed' observed Dan, at some point during this period, 'how most groups start off with a small set and add more and more songs as they go along? We seem to have less and less.' And it was true. In the early days we had anything up to 17 songs in the set. Now we had it down to about six, all of which lasted 8 to 10 minutes. We were turning into Can!
Geoff Alsopps last session with us had been in May 1979 when we appeared on a local BBC West TV show called RPM. We were asked to perform the four songs off our EP and in order to accomplish this complex task we were required to 'rehearse' all morning, and then ponce around all afternoon in front of a stage set straight out of The Lulu Show, circa 1969, while a hairy chested producer in an open denim shirt impressed us with his fake sincerity, a floor manager fed us really naff stage instructions, and bored and jaded technicians halted proceeding every two minutes because camera five had zoomed when it should have panned, or whatever. We got word that up in the control room they were hating us. The feeling was mutual. In fact such was the dispiriting effect of having to play our entire bloody EP a dozen times in one day that we immediately dropped it from our set. By the summer of 1979 our live set consisted of Burning, Flesh, (which had both been there in one form or another since the very first gig) an increasingly dub reggaefied version of Bruce Lee, It's Irrational, She Went To Pieces, and a new song called Christine Keeler (which had made its first spontaneous appearance in entirely ad-libbed form as our third encore at the John Peel Roadshow gig.)
Hanging out in Geoff Nichols Music one day, I answered the phone. It was some agent guy. 'God, you people are hard to get hold of. I've been trying to track you down for ages' said this exasperated voice. 'Would you like to play some gigs with the bands I represent?' 'Maybe. Who you got?' I replied.
'The Leighton Buzzards?'
'Er, no thanks.'
'The Cure?'
Cups phone.
'What do we think about the Cure?'
Agreeable nods all round. Killing An Arab had just come out. We were partial to a bit of rock and roll Camus.
'Yeah, we'll play with the Cure'.
So we played with the Cure in Cheltenham. It turned out to be our penultimate gig. Me and Tom argued in the back of the van all the way there. We played a stonker of a set though and as we sat in our dressing room afterwards two unassuming young guys dressed in black hesitantly hung around the door and told us they thought we were great before nervously melting away into the throng. We assumed they were fans.
Having never seen the Cure we went out to watch the main act. The two unassuming guys in black were Robert Smith and Lol Tolhurst.
On June 25th 1979 we went into Crescent Studios to begin recording our debut LP with the ideological differences between me and Tom still unresolved. It was as depressing an occasion as I can ever remember. The band improvised away happily while I sat around like a spare part, waiting to sing some of our songs. During a break in proceedings me and Tom were sitting in the lobby and started arguing again about the bands musical direction. I clearly remember seeing Tony out of the corner of my eye, scurrying off up the stairs to tell the rest of the band that it had all kicked off again.
Somehow in the middle of all this we managed to fit in a version of Christine Keeler. It was nothing more than a token run through to appease me, and I cocked up my diction in a couple of places ('hopening and closing the same old doors' indeed!) Tony played some blinding sax on it though and a few months later it was Record Mirrors Single Of The Week. But by then there wasn't a band to promote it.
The day after the session I phoned Tom in vaguely conciliatory mood to see if there was anything we could do to patch things up. I had the early Pink Floyd in mind and cited it as an example. Syds songs coupled with long exploratory improvisations. 'We're not compromising' said Tom. And that was that.
A few months later I picked up a fanzine in Rough Trade called Allied Propaganda and was walking along Portobello Road reading it. The Gl*xo's album Nine Months To The Disco had just come out and there was an interview with the band. 'Rob was a good guy' Tom said. 'but he was into songs and we werent'
They'd put inverted comma's around songs'.
I hope you enjoy these songs. I hope you enjoy all of it. We all did. For a while.
Rob Chapman January 2006

(Text is taken from the sleeve notes of the Glaxobabies album 'DREAMS INTERRUPTED' - www.heartbeat-productions.co.uk)
THE DIRECTORS
Dave Masters
Richard Jacobs
Mark Roberts
John Simpson
Recorded one track for the Avon Calling LP.
SNEAK PREVIEW
Neil Taylor
Jimmer
Embrain
Lyndon Parry
Recorded one track for the Avon Calling LP. Neil later joined Tears for Fears and formed Violent Blue. Lyndon Parry joined Misdemeanor.
STINGRAYS
Russ Mainwaring
Chris Bostock
Sean McClusky
Paul Matthews
Brilliant Punk/Rockabilly three piece. Chris Bostock left after recording their first single. Sean McClusky also played with Joe Public before leaving with Chris for the bright lights of London with Johnny Britton and Bernie Rhodes. Sean later played with Joboxers who had some hit records namely Boxer Beat.
I loved the Stingrays. When they played with us (which they often did at venues as diverse as The Stonehouse and Trinity Church) I usually enjoyed their set more than ours. They were - I suppose - a bit like Bristol's equivalent of The Ramones. A rockin' unit with an advanced sense of irony. Such qualities probably made them unfashionable with Bristol's 'rocknoscenti' of the day, most of whom were trying to sound like bad copies of Albert Ayler (and - unfortunately - succeeding), but this only made me like them more. Listen to the guitar solo in 'Countdown' - wowee! It lifts my wig to this day. Where they are now, I dunno, but I'm jolly glad they were there and that I could be there, too.
(Steve Bush)
THE VARIOUS ARTISTS
» THE VARIOUS ARTIST DISCOGRAPHY
Jon Jo Key
Robin Key
Christian Clarke
John Langley
The song writing talent of Jon Jo Key. Allegedly they were offered to sign a production deal with Trevour Horn at ZTT- if only they hadn't turned him down! They released one single for Fried Egg Records and the Solo album on their own label. Jon Jo and Robin became Either/Or and released one single in Holland before signing to Virgin as Lovetrain and releasing one LP and three singles. Christian signed to CBS with Steve Bush from Essential Bop as A Pair of Blue Eyes. John Langley the best drummer ever from Bristol joined the Blue Aeroplanes with his brother Gerard and signed with Ensign Records before leaving to play with Strangelove who signed with Food Records. John is currently playing with Witness who are signed to Island. The Various Artists were a brilliant pop band and should have been huge.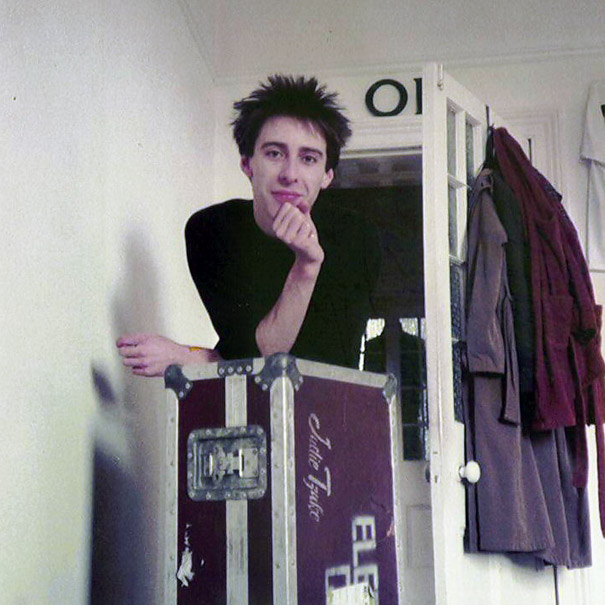 DOUBLE VISION
Neil McDougall
Ed Ash
Hilda Ash
Dan Stevens
Melanie Dicks
Paddy Grigg
A white reggae band led by Melanie Dicks daughter of Alan Dicks who was Bristol City Football Club manager at the time. They recorded one track for the Avon Calling LP.
VITUS DANCE
Mark Bryne (SOOTY)
Kevin McFadden
Malcolm Young
Keiron Wright
Signed to the same management company as XTC. They recorded a brilliant session for John Peel. Kevin McFadden later formed Misdemeanor whilst Mark Bryne aka Sooty formed Voice of Nature before later joining Vice Squad and running a recording studio. Sooty would have recorded most of the Bristol bands from the 80's onwards.
THE MEDIA
Thos Brooman
Johnny Britton
Rachel Morgan
Bob Hooton
Punk/Rn'B band. Thos Brooman/Bob Hooton set up Wavelength Records and the Bristol Recorder. Thos now runs the internationally renowned Womad organisation. Johnny Britton left for London with Bernie Rhodes for fame and fortune taking with him most of the best musicians from the city thereby spilting up numerous bands
THE REVIEW
Mike Eagle
Phil Lovering (TAFF)
Later to be UNITY STATION
Mike Eagle
John Foster
Sarah McCombie
Simon Rippin
Later to be THE DRISCOLLS
Another band that wanted to be the Jam. Mike Eagle had a great song writing talent. Simon Rippin ended up playing with Misdemeanor for a while. Unity Station released two singles whilst the Driscolls had many releases.
TVI'S
John Scofield
Alan Griffiths
John Kelly
Paul Smith
Tim Norflox
This band featured John Scofield from Shoes for Industry, Alan Griffiths from Apartment joined for a while. John Kelly later recorded with Alan as the White Hotel. Tim Norflox went on to form the Startled Insects with Richard (UK Scientist) and Bob Lock.
Graduate
John Baker
Steve Buck
Andy Marsden
Roland Orzabal
Curt Smith
Graduate members Roland Orzabal and Curt Smith are no doubt best known for the work they did as part of another rock group, Tears for Fears. The band Graduate formed in 1979 in Bath. Early on in its existence the line up consisted of guitarist and keyboardist Roland Orzabal, guitarist and singer John Baker, flautist and keyboardist Steve Buck, drummer Andy Marsden, and Curt Smith on the synthesizers and bass. These artists actually picked the name for their group from a film by the same name. It seemed a fitting choice seeing as how they opened each ach with a cover song from the movie.
The Graduate members did the normal local club circuit gigs, growing a fan base and improving as they went. Soon the band moved on from the club scene to national touring, opening for other acts. In 1980, only a year after joining forces, the guys recorded a debut album, Acting my Age, under the Precision Records label. There were more tours after the album, giving the band a chance to make new fans in a number of countries, but real success and popularity stayed just out of reach.
The members went back to work in the recording studio in 1981. A number of demo tracks were recorded for a sophomore album that was to be titled Ambition, but the finish product never came to be. Two decades later the debut album was released again, with the bounce added of those demos, including "Oh U Boys,"'' "I See Through You," "Premature Baby," "Happens So Fast," "Christ Look Upon Us," "Think Of Me," and "Only The Best."
A short two years after the birth of the Graduate, things came to a sudden end. The guys moved on to other musical endeavors though. Smith and Orzabal started a new group, the above mentioned Tears for Fears, and landed a contract with Mercury Records.
Graduate 'Ever Met A Day'
Graduate 'Live Shots for RPM'
CREATURE BEAT
Mathew James
Simon James
Andrew Andrews
Jim Winstone
Nigel Harrison
New Wave band who released one single on their own label.
THE TOYS
Tony Curtis
Chris Hawkins
Reg
Richard Dawson
New Wave band who released one single on their own label.
Chaos UK
Chaos UK are an English hardcore punk band formed in 1979 in Portishead,near Bristol. They played fast sloppy hardcore punk rock initially. Consisting of Simon on vocals Andy on guitar Kaos on bass and Potts on drums (although they have been through many different line ups over the years with Kaos and Gabba as the only consistent members). Their lyrics deal with topics such as unemployment, economic recession, drinking, killing babies, distrust of government, the police, and authority in general.
In their 20 year career Chaos UK toured the world (including a Japanese tour which produced the Live in Japan album) played with bands such as Napalm Death, Corrupted Ideals, Final Conflict, Extreme Noise Terror, Oi Polloi, The Exploited, Swinging Utters, Misery, and many others. They also released over 20 LPs, EPs, Singles, Splits, and live albums.

Releases
• Demo (1981)
• Burning Britain E.P. 7" (Riot City. Riot 6, 1982) #8
• Loud Political & Uncompromising 7" (Riot City. Riot 12, 1982) #27
• Chaos UK LP (Riot City, 1983) #16
• Short Sharp Shock 12" (COR/Weasel, 1984)
• Just Mere Slaves 12" (Selfish, 1984)
• Chaos UK/Extreme Noise Terror split LP (Manic Ears, 1986)
• Chipping Sodbury Bonfire Tapes LP (Slap Up/Weasel, 1989)
• Headfuck 7" (Desperate Attempt, 1989)
• Head on a Pole 7" (Desperate Attempt, 1991)
• Enough to Make You Sick LP (Vinyl Japan, 1991)
• Chaos UK/Raw Noise split LP (Vinyl Japan, 1991)
• Live in Japan LP/CD (Cargo, 1991)
• Total Chaos LP/CD (Anagram, 1991)
• Death Side/Chaos UK split CD (Selfish, 1993)
• 100% Two Fingers in the Air Punk Rock 12"/CD (Slap Up, 1993)
• Secret Men 7" (Slap Up, 1993)
• Floggin' the Corpse CD (Anagram, 1996)
• King for A Day 7" (Discipline, 1996)
• Morning After the Night Before (Cleopatra, 1997)
• Heard it, Seen it, Done it CD (Discipline, 1999)
• Chaos UK/Assfort split 12" (Discipline, 2000)
• Kanpai CD (Discipline, 2000)
• Chaos UK/FUK split CD (HG Fact, 2007)

29. Reissues
• The Singles LP (Riot City, 1984 - includes first two 7"s) #31
• Short Sharp Shock CD (Anagram, 1991)
• Radioactive Earslaughter/100% Two Fingers in the Air CD (Anagram, 1993)
• The Best of Chaos UK CD (Anagram, 1999)
• Enough to Make You Sick/Chipping Sodbury CD (Anagram, 1993)
Compilations
• Punk and Disorderly LP (Abstract/Posh Boy, 1982) "4 Minute Warning"
• Riotous Assembly LP (Riot City Records, 1982) "Senseless Conflict"
• UK/DK LP (Cherry Red, 1983) "No Security"
• Digging in Water LP (COR,1986) "Kill your Baby" a different/faster version
• Punks Not Dread LP (Sink Below, 1991)"For Adolfs Only", "Bone Idol", "Brain Bomb"
VULTURES
Steve Fanger
HEADLINES
Martin Moss Vocal, Guitar
Greg King Bass, B.Vocal
Harris Northover Guitar
Mike Kimber Lead Guitar
Rob John Drums
GARDEZ DARKX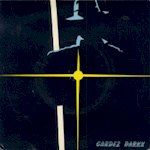 Latif Gardez
Dave Collard
Julian Dale
Paul 'Billy 'Summers
Robbie Cole
Amazing singer/songwriter Latif Gardez. Latif moved to London and signed with EMI and later Virgin, he recorded and released two albums under the name Mystery Slang. The single Bliss remains an indie classic.
THE SPICS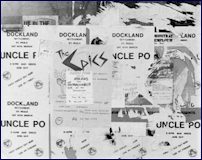 Thos Brooman
Nick Sheppard
Nick
John Shennan
John Carley
Mike Crawford
Wendy Partridge
Sarah Partridge
Jo Swan
The Spics released one single for Wavelength Records. Thos also played with the Media and Joe Public.Nick Shepard was in the Cortinas and later Joined the Clash. John Shennan later joined Joe Public and recorded some tracks for the Bristol Recorder First Edition. John Carley formed the Radicals. Wendy and Sarah Partridge later joined the Electric Guitars before moving on to Shriekback. Jo Swan took great photos and sang bluesy/jazz. The Spics were a big band with a big sound the leader Mike Crawford went onto record a solo album and an Apache Dropout album.
ART OBJECTS
Gerard Langley
Bill Stair
Robin Key
Wojtek Dmochowski
John Langley
Jon Jo Key
Led by the enigmatic Gerard Langley. The Art Objects were a beat combo fronted by a poet. Many of the members played in the Various Artists at the same time. They released two singles one for Fried Egg and one single and an LP Bagpipe Music for Heartbeat. They later changed their name to the Blue Aeroplanes and to date have released 12 albums and toured extensively making them one of Bristols biggest ever bands.
COLORTAPES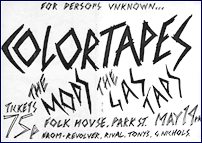 Tony Clydesdale
Kevin Evans
Mike Fewins
Danny Petworth
They released one single for Wavelength Records and featured Mike Fewins from The Cortinas in their lineup.
SHOES FOR INDUSTRY
» SHOES FOR INDUSTRY DISCOGRAPHY
Basset Davies
John Scofield
Andy Boot
Tim Norfolk
Steve Lonnon
Lazlo
Chrystal Theatre group. Actors in a band could it be true. Two singles and an album for Fried Egg Records they also became John Peel favs. Very strange, very weird, odd and ecsentric but very amusing.

Interview
The second assignment for my newly purchased 'interviews' cassette recorder. A long walk up to the leafy avenues in Clifton and entry into a palatial pad, but at this point normality ends. I was in this situation thanks to a chance meeting with this ordinary enough chap at the Granary the night before, he said something about playing for a group called Shoes for Industry, so an interview was arranged. Little did I know that I'd acceded to deal with a collection of the looniest individuals that any aspiring journalist is ever likely to come across. Discussion of musical/lyrical content, influences, favourite cafes and all the usual stand-bys were the signal for loud guffaws, so pre-planned questioning was out.
More important topics were what constituted "the Elaine Page mould" the Club Sandwich Incident and, perhaps understandably, shoes. These were remarked upon when Paul Davis (vocals, guitar and sax) commented on how his preferences had influenced the course of his career, and how my choice would adversely affect my own. Following the E.M Forster principle of "there is a pair of shoes which best reflects the individual spirit and will be a crucial aid to life-chances. Forget gurus, enlightenment is at your feet!
The greatest show of sartorial unity was the sanyassin-like all-red garb of John Schofield (drums/syndrum), never off-duty like the others, although Andy (Boot) Leighton (Guitar) retains his 'professional' Doc Martens. They come in useful for his work as Administrator for the Crystal Theatre, and were also handy in the past when he edited the re-born International Times. Funnily enough I'd called round to his flat in London a few years back to discuss the possibility of being a regional correspondent, but inevitably he wasn't in. Another coincidence was that the recent SFI mini-tour of Holland and Germany was arranged by the same agent my own band were planning on using. Apart from the hassles at the last gig in Rotterdam the tour was a success and the lads found the identity/fashion confusion of some of the German audiences most intriguing. For John the punks there were just 'hippies with extremely radical hair-cuts.'
According to Andy SFI have now entered a crucial phase now that individual members can play their instruments properly! "We've now got to the stage after two years together that we can play a bit. When we first started the emphasis 'live' was on the visual, to disguise the fact that we couldn't play - essentially we were trading on the weirdo side. It was impressive in that context, but it meant we were a bit jerky on record."
Their debut 'Talk like a Whelk' LP goes a long way to contradicting that belief, and its certainly an admission which is invalid now. I listened to three new tracks recorded recently at Crescent Studio and they constitute a marked progression on earlier structures and material. In particular 'Trousers' has a definite 12" disco potential, the song building with a nice blend of synthesisers and percussion while 'Luxury' provides a menacing wall-of-sound backdrop to icy Davis lyrics. It was an unsettling experience as on T.V screen at the same time was a flow slow motion film of the birth of a nuclear fireball, and it resembled a human brain.
After ritualistic incantations of Allen be Praised the symbolic squad of Turkish hit man manifested itself in the shape and sound of Paul urging swift movement to the pub. Escape from their seminary was now possible, but on the way home I realised I'd left the recorder lead in Paul's car so (oh no!) I will have to call again at Andy's flat.
Interview by Dave Massey (Taken from his Future Days Fanzine)
GAS TAPS
Dig Lole Guitar
Simon Cartledge Bass
Tom Campbell Guitar
Olly Campbell Lead voc
Pip Trenchard Backing voc, tambourine, dance
Philip Denny Backing voc, sax
Pat Evans Drums
Pat Evans later joined the Cas Carnaby Five and Chaos UK.
THE UNTOUCHABLES
» THE UNTOUCHABLES DISCOGRAPHY
Mark Clements
Phil Price
Will Hutchings
Jerry Tremane
One single for Fried Egg Records produced by Wilko Johnson. Bristols answer to Doctor Feelgood.
CIRCUS CIRCUS
Ian Mullard
Marcus Smith
Mike Smith
Simon Fish
Recorded three tracks for the Bristol Recorder First Edition.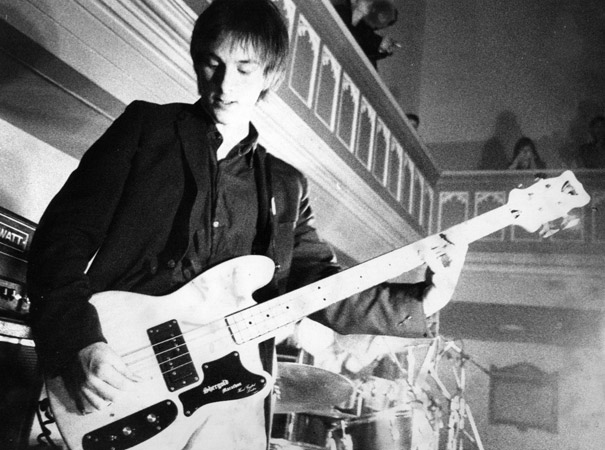 FISHFOOD
Andy
Howard Purse
Doug White
Danny Duck
Recorded three tracks for the Bristol Recorder Second Edition. Howard Purse went on to form Animal Magic.
VOLATILE ROMANCE
Alister Scarlett
Phillip Rice
John Baily
Andy Denning

Ali went on to form The Undead and record for Riot City Records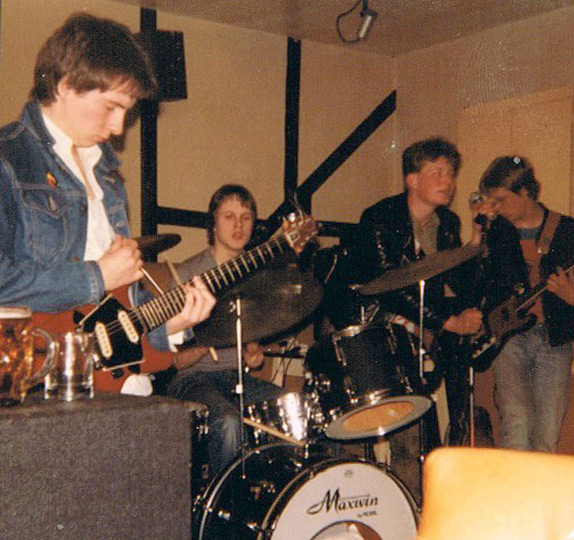 OUT OF ORDER
Paul Sandrone
Bill Waine
Phil Olerenshaw
Really thought they were the Jam! The band changed they're name to Thin Air before spilting up. Paul Sandrone is currently signed to Polydor with Raissa - a brilliant songwriter even from the age of 14 which was his age when Out of Order started. Bill Waine formed the Long March and is currently playing stand up bass in a rockabilly band.
Pic by Ken 'Winx' Barnes
Supporting The Jam at the Locarno 9/12/1980
THE FANS
George Smith
Barry Cook
Tony Bird
Rob Williams
Rob Williams now plays in The Wise Children.
EXPLODING SEAGULLS
» EXPLODING SEAGULLS DISCOGRAPHY
Nick Jacobs
Fred Bolton
Sue Bolton
Julian Chadwick
Tony Orroll
WILD BEASTS
Andy Franks
Martin Norie
Rob Andrews
Ken Wheeler
Andy Franks is now Tour Manager for Depeche Mode. Ken Wheeler runs Sound Conception recording studios in Bristol.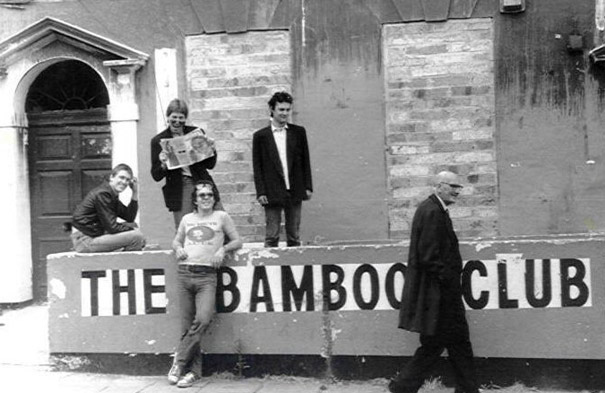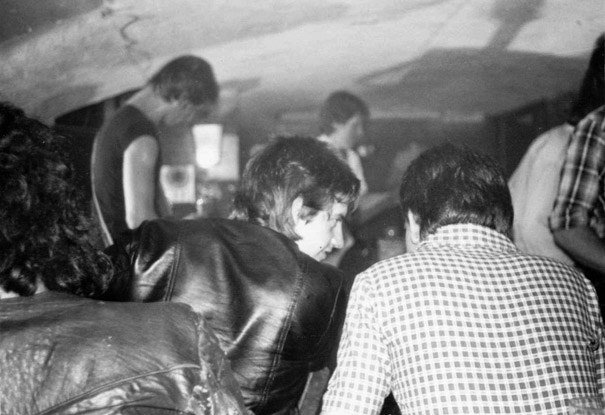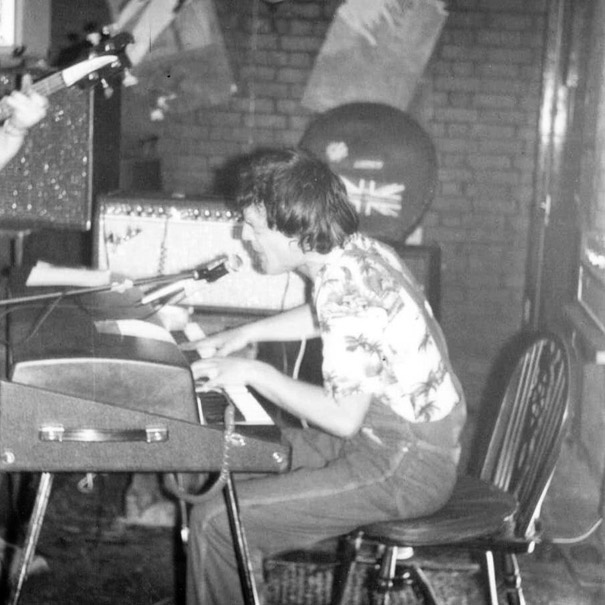 MAYFAIR
Mayfair 1979 to 1983.
Formed as a garage band in the summer of 79 in the wake of the Who's movie Quadraphenia and the Mod revival.
Started playing gigs in and around Bristol the Christmas of 79, and played regularly at the old Bunch of Grapes that went on to be the Stonehouse, and later the Electric Stonehouse, were also regular performers at Trinity Hall, Hope Chapel, and the Green Rooms.
The early 80's music set from Mayfair, was a collection of songs written by the band and covers from the Kink's, Beatles and various Motown and Northern soul artists.
In 1980 Mayfair were a 5 piece band, Johnny Locomotion/Vocals, Rob Colledge/ Bass, Mark Placito/Lead Guitar, Dave Hale/Rhythm guitar & Tony Pierce/Drums.
During 1980 the band gained strong local popularity and were regulars on the Bristol circuit.
At the end of 1980 several musicians left the band, and the band reformed as a 3 piece with Johnny Locomotion on Bass/Vocals, Rob Colledge on Guitar/Vocals and Conway Wynne Jones/Drums, a new music set was put together and the band started to gig again at the start of 81. The new music set comprised of songs written by Johnny L /Colledge with only a small amount of covers, the band continued to play the local circuit, and were now regularly playing to audiences in Birmingham, Worcester, Swindon, Gloucester & Cheltenham. Mid 1981 Mayfair also added Jon B on Saxophone which added a new dimension to the band and gave the music a more soulful feel.
During this period, Mayfair played some memorable gig's in Bristol as support acts to the Alarm and Amen Corner, at the Bierkellar. They produced several demo tapes with the bands own songs which included Traffic, The Legend and Strange little World. During 1981 Mayfair were interviewed live on BBC radio who also played the bands track "Traffic".
Mayfair also played the "Battle of the Bands" at Trinity Hall, and have several tracks on the re-released "Bristol Beat" the Stonehouse tapes. At the "Battle of the Bands" , Mayfair were spotted by a panel judge from the rock band "Status Quo" and were invited to London.The band turned down the opportunity citing "musical differences', had they gone, how this might have changed the future for Mayfair is anybody's guess.
In 1982 Mayfair were again playing locally and further afield, and played several gig's with the London band "Small World" the song writing duo of Locomotion/Colledge both heavily influenced by R&B from the 1960's continued to write strong material for the band and were on the verge of bigger things when the toll of combining music with family and work commitments finally took their toll and Mayfair disbanded in early 83.
Commenting at the end of the bands reign, Locomotion stated, we have no regrets, we stayed true to our roots and beliefs, we've all had a fantastic few years, it was hard work, worth it, but I don't want to do it again!.
In thanking their fans at a farewell gig in Bristol, at the end of the show Mayfair invited the remaining audience to follow to a large Italian local restaurant where they footed the bill for Pizza and beers for all, well over 100 people were in attendance and the band paid out over 800.00 pounds, a lot of money back then.The band knew many of the fans had travelled far and wide to support the act during those years, coaches with fans from the Bristol Area, Gloucester & Weston Super Mare were regular to support Mayfair, and it was a final "thank you".
Johnny Locomotion Dec 2010

Mayfair Video

http://www.youtube.com/watch?v=cC3BCstj8Gc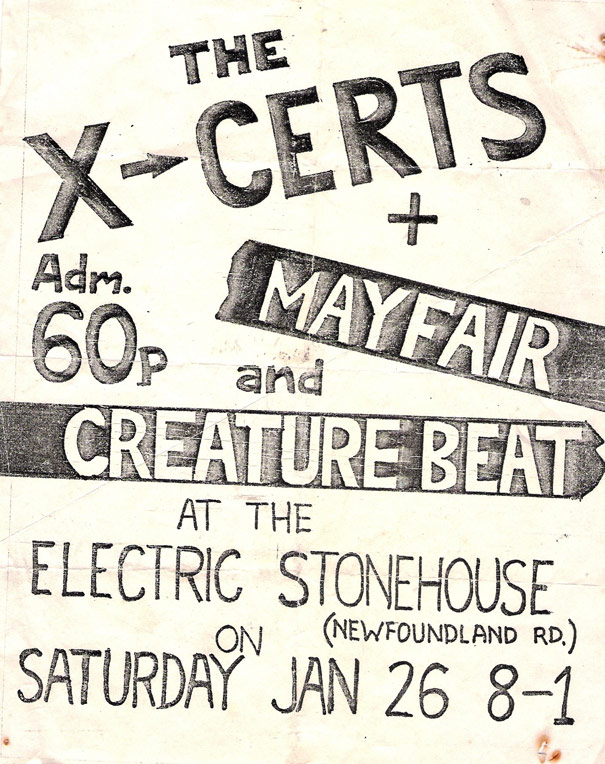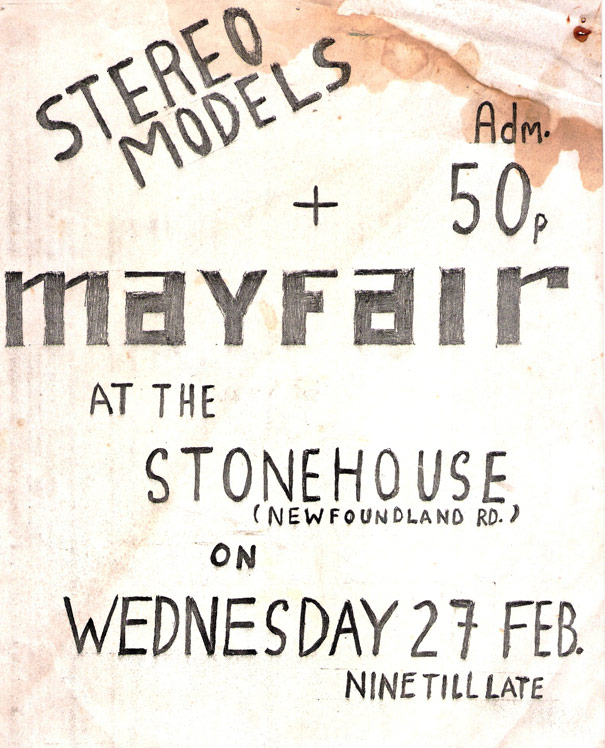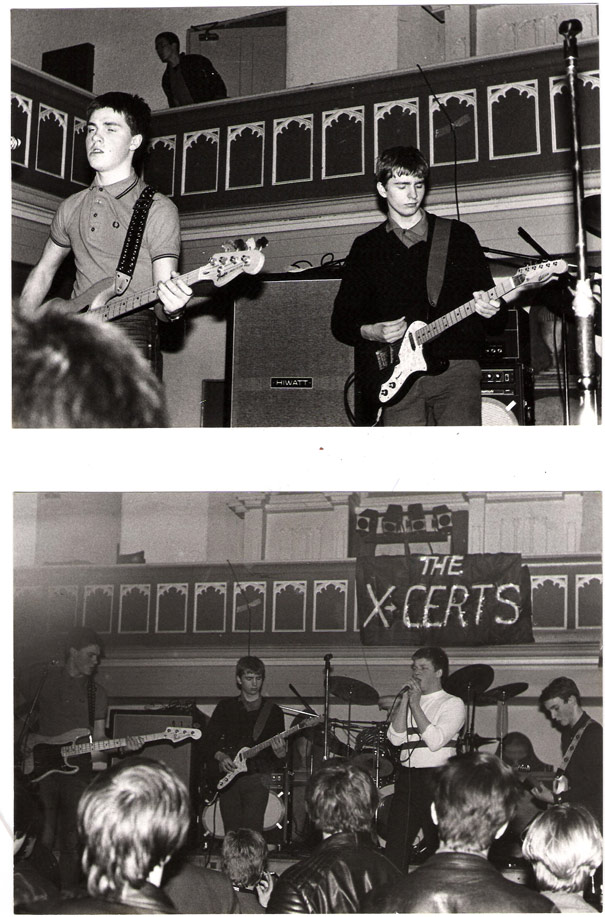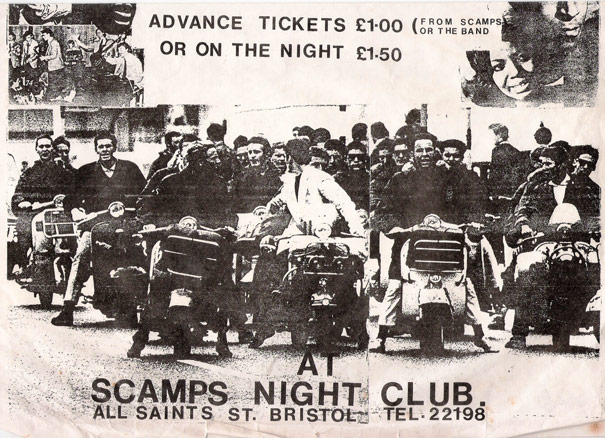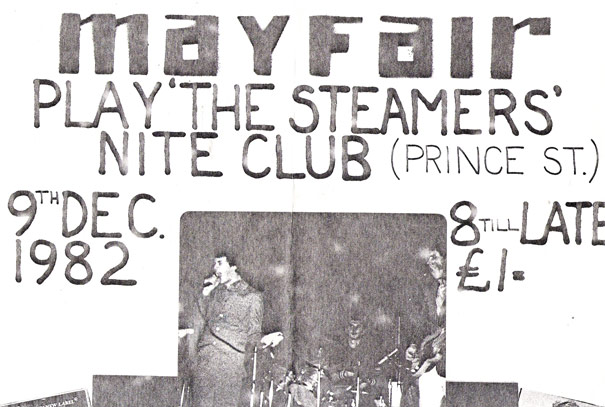 BLACK ROOTS

Black Roots were a powerful and potent force in the British reggae music scene throughout the Eighties and left a legacy of no less than ten albums and more than eight singles before bowing out of the public eye in the mid-90's. Hailing from the St Paul's area of Bristol, the original eight-member band were formed in 1979 and quickly gained a large following by touring almost non-stop around the country, playing their brand of 'militant pacifism' roots reggae in the nation's major colleges, universities and festivals. They attracted the attention of television with appearances on BBC2's Neighbours, BBC West, HTV West and Rockers Roadshow and popular radio, where live studio sessions for Radio 1's In Concert (broadcast April 1982), John Peel, David 'Kid' Jensen and Peter Powell, led to a BBC Radio 1 sessions LP. Their first releases were on the Nubian Records label and an EP containing Bristol Rock, Tribal War, The Father and The System preceded their first single, in 1981, Chanting For Freedom. Jon Futrell in Black Echoes, labelled them; "Quite simply, Black Roots are the next great hope for reggae in this country," while John Peel was quoted; "If anyone tells you that there is no such thing as good British reggae, first tell them that they are a herbert and then listen to Black Roots." John Peel's Radio 1 session, aired on 27 May, really helped the cause, with Confusion, What Them A Do, Chanting For Freedom and The Father performed live.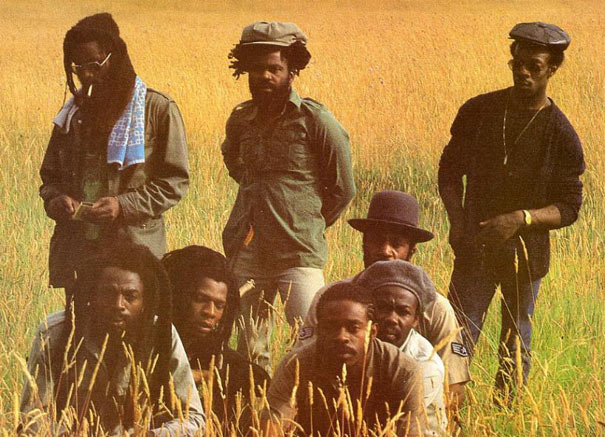 Black Roots line up for the debut album in 1983
Their debut album, entitled simply Black Roots and released in 1983 on the Kick label, saw them make their mark immediately on the national music scene, with the leading black music paper Black Echoes declaring, "a blinding debut album from the best of the new British reggae bands." It was a highly acclaimed debut for the group which consisted of Delroy O'gilvie, Cordell Francis, Errol Brown, Jabulani Ngozi, Trevor Seivwright, Kondwani Ngozi, Derrick King and Carlton 'Roots' Smith. Six of the band were Jamaican-born, while Smith and Seivwright hailed from Bath and Newport respectively. The Ngozi brothers were Rastafarians, as was lead vocalist Delroy O'gilvie, who shared the front spot with Errol Brown. The group's first single on the Kick label, Juvenile Delinquent, was taken from the album and released in the same year, bubbling just under the national singles chart. They also completed some tour dates in Europe as support to UB40. Their appearance on Rockers Roadshow, a ten-part tv showcase series for Channel 4 and the brainchild of Mikey Dread, was a great success with the band playing four songs live, opening the show with a tribute to one of the UK's first immigrant slaves, Scipio Africanus, buried in their home city of Bristol. A second John Peel session, on 14 November, was aired with Far Over, Struggling, Africa and Blackheart Man performed.
Tribal War
1984 was a momentous year for the group in terms of national exposure to a wider audience. They released their second album, The Frontline, which featured a series of melodic tracks, projecting the band's philosophy, 'one love for all, one aim and one destiny'. It also included the title track The Frontline, which had been composed at the request of BBC tv for a new television comedy series of the same name, based on the relationship between two black brothers, one a policeman, the other, a street-wise dreadlocked youth. The opening sequence of the show featured the band performing the song. Although the series was not a major success, it gave Black Roots an additional springboard and they followed that up a year later, with the release of their third album, In Session, a compilation of live recordings from sessions on both the John Peel and David Jensen radio shows. Tours in support of Eek A Mouse, Dennis Bovell and Linton Kwesi Johnson solidified their European fanbase, whilst a performance at the Womad '85 festival alongside Toots & The Maytals further cemented their widespread UK support.
The line-up of the band had remained constant from their earliest days. O'gilvie and Brown shared lead vocals, Francis played lead guitar, King on bass and the older Ngozi brother, Jabulani, played rhythm guitar. Seivwright on drums, Smith on keyboards/vocals and Kondwani Ngozi on congas and vocal harmonies completed the regular line-up that continued to gig across the country to adoring audiences. Album number four was released early in 1987, under the direction of Neil Fraser, aka the Mad Professor. All Day All Night continued to confirm Black Roots' place at the top of the British reggae tree and it also spawned another single, Seeing Your Face. Helping out on the album was the horn section of Vin Gordon (trombone), Mike 'Bammie' Rose (tenor sax and flute) and Max Carrot (trumpet). Simon Buckland in Echoes reported, "Here with the Mad Professor in the production seat, they have a deeper, even more substantial sound than before, with vocal harmonies developed and worked on, attention paid to keep the feel 'just so', tight, and a brazen horn section...to serve as the gilt edge." In addition to the album, the band's record company, Nubian Records, also released a video of a live performance at The Studio in Bristol, and an album of dub cuts, titled Ina Different Style.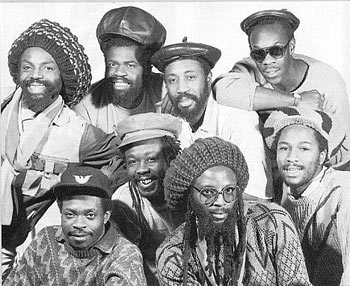 Black Roots pose for the camera in 1988
Neil Fraser was at it again, less than a year later when he engineered a truly live album, Live Power, when the band were recorded at a gig at the Moles Club in Bath on 22 September 1988. This came about as a direct result of fans of the band asking for a live album, seeking to capture the power and strength of Black Roots' tight, vibrant and entertaining stage performance on vinyl. The album was a mixture of old and new and a bridge between the past and the present and it contained the band's next two singles, Suzy Wong and Start Afresh. Echoes' Simon Buckland wrote, "...they've got some serious power in their ranks, and this live album is probably more representative of the band than anything they've committed to wax to date. This is Black Roots."
The first changes to the line-up since their formation took place before the group's next album release in 1990. O'gilvie left to begin touring as a solo artist, backed by his own band, One Drop, while Seivwright and King also departed. That left Black Roots as a five-piece band for their sixth album release, Natural Reaction, again produced by Neil Fraser. They were helped out by members of Black Steel on bass, drums and additional keyboards and the album was recorded at Ariwa Studio in London. It wasn't long before the band stopped touring and apart from regular reunions in the studio, Black Roots as a live performing band ceased to exist. In 1991, they got together with Neil Fraser to release Dub Factor: The Mad Professor Mixes alongwith Black Steel and the horn section from the All Day All Night album. Two years later, they revived fourteen of the songs that the band had made their own with the release of an eighth album, With Friends. This was recorded at the Coach House Studios in Bristol under the direction of Dub Judah. Black Roots had slimmed down to the Ngozi brothers, Errol Brown and Cordell Francis and the album also featured guest singers Delroy O'gilvie, Trevor Dixon, BB Seaton and Mikey Forbes, alongwith Senouci Hardy (bass) and Dub Judah on drums, percussion and keyboards, in the absence of Carlton Smith, who had left the band.
The remaining four band members reunited again in 1994 for the release of Dub Factor 2: The Dub Judah Mixes, a thirteen track album that repeated the line-up of the previous release a year before. The tenth and final album, Dub Factor 3: Dub Judah & Mad Professor Mixes (1995) finally brought the curtain down on Bristol's finest exponents of reggae and without doubt, one of Britain's best loved performing bands of the Eighties.
Juvenile Delinquent
Whilst Black Roots have lain dormant since the mid-90's, former lead singer Delroy O'gilvie fronted Cornwall-based reggae band Orange Street in the second half of the decade and was later backed by five-piece band One Drop. With changes in the line-up they renamed themselves the Justice Crew, as a statement of protest against racial violence and have kept the Southwest of England entertained with regular live performances since. In addition, as a promoter, he has kept reggae alive in the area by staging sound system dances. Word reached me in 2003 that Delroy and the rest of the Black Roots band were planning a comeback, with the possibility of a UK tour in the offing. Nothing has materialised yet but Delroy released a new solo album, recorded in Kingston, Jamaica, called Farm Digging in August 2005 and the possibility of a Black Roots reunion tour is still alive. In May 2004, the French re-issue label Makasound released a compilation of the band's first two albums on a fourteen-track CD titled On The Frontline with extended versions of Blackheart Man and Move On. To obtain copies of Farm Digging and On The Frontline, contact Solo Music in Exeter on 01392 496564.


Delroy O'gilvie and his new cd, Farm Digging
Black Roots Interviews
# To read interviews with Black Roots, click on the above link. If you have any additional information on Black Roots, or photographs, I would love to hear from you.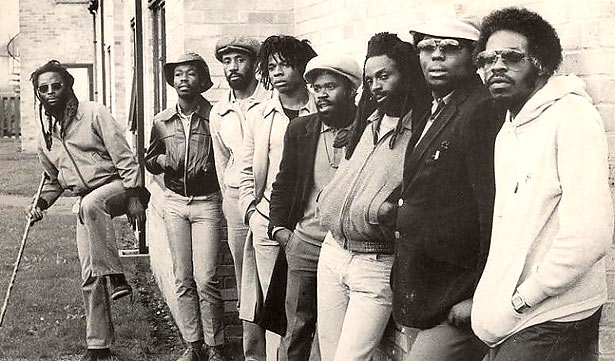 Black Roots in 1981: LtoR; Kondwani Ngozi, Cordell Francis, Carlton Smith, Trevor Seivwright, Delroy Ogilvie, Jabulani Ngozi, Errol Brown, Derrick King.
Black Roots Discography
Black Roots Albums
Black Roots
The Father, Survival, Juvenile Delinquent, What Them A Do, Opportunity, Tribal War, Africa, Move On. Released 1983. Producer: Black Roots and Denny Vidal.
The Frontline
War, Signs & Wonders, Frontline, Far Over, Blackheart Man, Struggling. Released 1984. Producer: Black Roots and Denny Vidal.
In Session
Confusion, Survival, Juvenile Delinquent, What Them A Do, Move On, Opportunity, Tribal War, Africa, The Father, Chanting For Freedom. Released 1985. Producer: Black Roots.
All Day All Night
Realize, Pin In The Ocean, Release The Food, Freedom, Poor Children, Spare The Rod, Conman, Seeing Your Face, All Day All Night, Suffer Me Not, Mighty Lion, Childless Mother. Released 1987. Producer: Neil Fraser aka Mad Professor.
Ina Different Style
Realize, Reality Dub, Release The Food, Folitrickshun Dub, Freedom, Dub Free, All Day All Night, Pressure Dub, Seeing Your Face, Children Mother, Fertility Dub, Suffer Me Not, Apartheid Dub, Suzy Wong, Move On, Pretenders Dub, Let It Be Me, Strugglers Dub. Released 1987. Producer: Mad Professor.
Black Roots - Live 2010 'Release The Food'
Live Power
Juvenile Delinquent, Realize, All Day All Night, The Father, Suzy Wong, Oppressor, Start Afresh, Release The Food, Black Roots Skank (Mix Me Down). Released 1988. Producer: Mad Professor.
Natural Reaction
Natural Reaction, Drive The Road, Barriers, Home Once More, Tip Toe, Guide Us, Living With Jah, Voice of the People, Where Did I Go Wrong, Strange Land, She Wants, Dub of the People, Dub Us. Released 1990. Producer: Mad Professor.
Dub Factor : The Mad Professor Mixes
Dub Reaction, Sufferation, Dub Express, Guidance, Hold On, Situation Dub, Set Me Free, Kool Con, Murder Dem, Lion Dub, Tear Down The Walls, Diamonds & Pearls, One Step Dub, Dub For The Children. Released 1991. Producer: Mad Professor.
With Friends
Juvenile Delinquent, What Them A Do, Survival, Confusion, Move On, Release The Food, Mash Them Dub, Opportunity, Tribal War, Africa, The Father, Chanting For Freedom, Let It Be Me, Jah Jah Dub. Released 1993. Producer: Dub Judah.
Dub Factor 2 : The Dub Judah Mixes
Take Heed, Not Into War, Just Look Back, The People Dub, Moving Dub, Jah Jah Dub, Mash Them Dub, Dub The Youth, Warning From Jah, Now Is THe Time, Chant It Dub, Show Them Dub, Take Heed II (Outro Mix). Released 1994. Producer: Dub Judah.
Dub Factor 3 : The Dub Judah & Mad Professor Mixes
Wipe Away the Tears, Warning, Burn the Wicked One, Conscious Man, In Captivity, Rise Up, Remember, Jah People Come, Love Your Freedom, Driving On. Released 1995. Producer: Dub Judah.
On The Frontline
Frontline, Juvenile Delinquent, Africa, Blackheart Man, Move On, War, The Opportunity, Far Over, Struggling, What Them A Do, Signs & Wonders, Tribal War, The Father, Survival. Released: 2004 by Makasound. Producer: Black Roots.
Black Roots 12" Singles
(A) Bristol Rock, Tribal War (B) The Father, The System
(A) Chanting For Freedom (B) Confusion, What Them A Do
(A) Juvenile Delinquent (B) Struggling
(A) The Frontline
(A) Seeing Your Face (B) Conman
(A) Suzy Wong (B) Pin In The Ocean
(A) Let It Be Me (B) Move On
(A) Move On (B) What Them A Do
(A) Start Afresh (B) Reality Dub, Face Dub
(A) Zoom (B) Boom Dub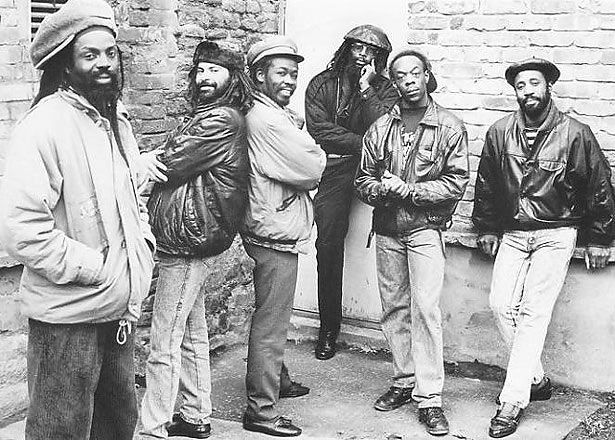 Black Roots in relaxed mode in 1990
Taken from

The Primates
Johnny Britton - Guitar, Voice
John Shennan - Bass, Voice
JJ - Drums
Screaming Dead
Screaming Dead were a punk rock band from Cheltenham formed in 1980, who have often been characterized as "horror punk". They released several singles and EPs with indie chart success, before splitting up in 1985. They reformed in 1997 and disbanded again in 1999.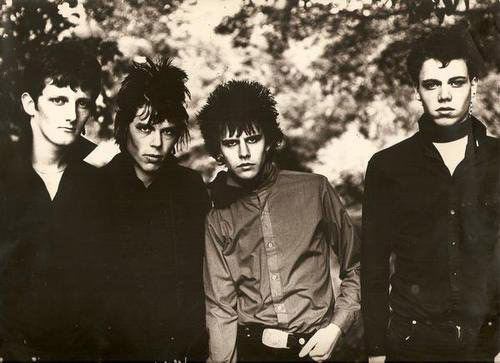 History
The band was formed by guitarist Tony McKormack, who recruited former singer with The Waste, Sam Bignall, bass guitarist Mal Page, and drummer Mark Ogilvie. The band built up a strong local following which spread further afield with coverage in fanzines such as Rising Free and sales of their demo tape. They followed their first tape with a more formal release, the Children of the Boneyard Stones cassette, which came with a badge and a copy of the band's own fanzine, Warcry. They then self-financed their debut vinyl release, the "Valley of the Dead" single, initially released on their own Skull Records label, but when it sold out its first pressing within a week it was picked up by No Future records. The band's next release, the "Night Creatures" 12-inch single, saw them break into the UK Indie Chart, reaching number 22 in September 1983. While the band were at times tagged as Goths, the label was rejected by Bignall, who stated "Screaming Dead were a punk rock band, there's no doubt about that! We had a bit of an interest in the horror theme, and that was how we decided to present ourselves." For their next release, the band recorded a cover of the Rolling Stones' "Paint It Black" which was also an indie hit, and was recorded as a tribute of sorts to Brian Jones who is buried in their hometown of Cheltenham. In 1984, taking inspiration from X-Ray Spex, the band recruited saxophonist Nick Upton, the band also signing to Nine Mile Records, who issued their last two releases on the Angel label. The change in sound lost a lot of fans, and with interest in punk rock declining, the band split up in 1985
Singles, EPs
• "Valley of the Dead" 7" (1982), Skull - reissued by No Future
• "Nigh Creatures" 12" (1983), No Future (#22)
• "Paint It Black" 7" (1984), No Future (#38)
• The Danse Macabre Collection 12" (1984), Angel (#31)
• "A Dream of Yesterday" (1985), Angel (#42)
Albums
• Children of the Boneyard Stones (cassette-only) (1982), Recreational Tapes
• Bring Out Yer Dead (1993), Angel
• Death Rides Out (1997), Resurrection
Info taken from: http://en.wikipedia.org/wiki/Screaming_Dead
Pigbag
Pigbag were formed in Cheltenham in late 1980 by Chris Hamlin, a fashion student at Cheltenham Art College. Hamlin recruited multi-instrumentalist Roger Freeman, an old friend from his hometown of Birmingham, along with Chris Lee on trumpet and James Johnstone, a guitarist, record shop assistant and newcomer to the alto sax, for initial jam sessions which would eventually evolve into Pigbag. The group would jam in parks and various other places, but their usual practice space was Hamlin's house, Beech House, which still stands on the corner of St James's Square and St George's Place in Cheltenham.
After a couple of months they decided to expand the line-up, adding a rhythm section and rehearsing more seriously. They recruited Andrew "Chip" Carpenter on drums and Mark "Miff" Smith on bass, both old school friends of Johnstone's, and former members of their previous band Hardware. It was at these jam sessions that "Papa's Got a Brand New Pigbag" was developed from an idea Chris Hamlin had had before the band was formed. The song would become their signature tune.
When Hamlin heard that Simon Underwood had left The Pop Group he invited him to join the nascent band (to replace Mark Smith who had left by this point), the band then trading under the tentative title "Us Corporation". Through a friend who knew Mark Stewart, The Pop Group's vocalist, Hamlin and Johnstone acquired Underwood's address and hitched down to Bristol to convince him, using tape recordings of their jam sessions. To their surprise Underwood agreed, also suggesting his friend Ollie Moore as tenor sax player.
Through Underwood's connections with Dick O'Dell, then manager of The Slits and head of Y Records, they landed their first gig, supporting The Slits at Romeo and Juliet's in Bristol. They played a twenty minute version of what was to become "Papa's Got a Brand New Pigbag" to a very positive reception, and the next day O'Dell invited them to record the track for Y Records. At this point they adopted the name Pigbag, in reference to Chris Hamlin's scruffy cloth bag bearing a screen-printed warthog.
Early Recordings
The band made their first recordings in 1981 at Berry Street Studios in London. Later that year they released their first single, the instrumental classic "Papa's Got A Brand New Pigbag", on Y Records, distributed by Rough Trade, the title being a clear pun on James Brown's "Papa's Got A Brand New Bag". The track quickly became an underground dance hit, selling many thousands of copies and charting well in the charts. The song, and the Paul Oakenfold remix Reach Up (Papa's Got A Brand New Pigbag) has become a stadium anthem in English football (particularly in the Football League) often played or chanted before a match or at half time, or after the scoring of a goal, and often incorporating the name of a player into the song.
Around this time Hamlin left the band, feeling that he had created an unmanageable group with too many egos to contend with, and that he was "losing control of the band".[citation needed] Soon afterwards he recorded a version of "Swinging on a Star" which was never released.
The band followed the success of "Papa..." with "Sunny Day", a similarly brash, bright and funky track, and another single, "Getting Up", in early 1982. April 1982 saw the release of their first album Dr. Heckle & Mr Jive, which was a huge success, topping the UK Indie Chart for several weeks, despite carrying only "Getting Up", of their previous single releases.
The band embarked on a major college tour in spring of 1982 . The tour was the longest and most gruelling the group had ever undertaken, and put a lot of stress on the band, particularly Roger Freeman,[citation needed] who was replaced by Brian Nevill for several gigs.
Club play and the extensive tour had stimulated huge demand for "Papa's Got a Brand New Pigbag", which was consequently re-released on Stiff Records, peaking at #3 and giving the band their only significant mainstream success.
The band made two appearances on Top of the Pops, on April 8 and April 22, 1982. Brian Nevill sat in on both appearances, and Paul "Nellee" Hooper (later producer for Björk, Madonna and Soul II Soul) also made an appearance with the band, although he was never a band member and did not play on any of the Pigbag recordings. The first Top of the Pops appearance also saw Roger Freeman's departure from the band. Already stressed from touring, Freeman refused to switch his donkey jacket for the suits which the band had decided to all wear for the show, so departed from the band on the day of the recording.
Later career
On April 27, 1982, a new line-up, including Brian Nevill and Oscar Verden, started rehearsing. The band changed their sound slightly, following up with "The Big Bean", a slower track with a more Caribbean vibe, which peaked at #40 in the mainstream charts. The single was recorded at Abbey Road Studios on June 5/6, 1982. This was followed by a short UK tour, then a European one and dates in New York on July 9/10, and Japan from July 18 to 31.
Soon afterwards Angela Jaeger, a New York jazz singer, joined the band. Jaeger had previously sung with a band called The Drowning Craze. The next LP, Lend An Ear, was recorded in the late summer of 1982, and the band appeared on the Christmas edition of Top of the Pops.
Underwood and Jaeger were married at Hammersmith Registry Office in 1983, attended by many notables from the music scene, including Johnny Rotten. During 1983, the band released a single, "Hit The 'O' Deck" (a reference to turntables), and the album recorded the previous year, Lend An Ear. The band toured the UK from February 14 to March 13, 1983. A European tour followed from March 29 to April 16. Their last ever live gig was in Portsmouth on April 28, 1983.
Following a poor critical reception to the new direction and differences in the band, Pigbag split in June 1983, with Johnstone, Jaeger and Underwood forming Instinct. Y Records released two posthumous albums, Pigbag (including seven live tracks and one remix), and Favourite Things (including all the singles plus a few other album tracks). The press accused Dick O'Dell of releasing the albums purely to buoy up Y Records' finances, which were in trouble following the failure of most of their roster to make significant sales (with the possible exception of Shriekback, who instead fell out with O'Dell and left the label).
Kaz Records (part of Castle Communications) took over Y Records' operations when the label finally went bust, and have subsequently released Discology: The Best Of Pigbag on CD.
Legacy
Although never hugely commercially successful, Pigbag had a distinctive sound that has been lauded by many critics over the years since their demise.[citation needed] Members of the band went on to record with many other bands, some still active today. Their career took place during the huge mushrooming and cross-pollination of genres that followed the punk movement, and their music can be said to incorporate elements of punk, jazz, funk, ska, reggae and even tribal world music, such as afrobeat, all accompanied with undeniable pop sensibility. Pigbag's influence can be heard today in the more funk-influenced percussive side of the post-punk revival, in such bands as !!! and LCD Soundsystem.
Their single "Papa's Got A Brand New Pigbag" has entered mainstream consciousness, and is considered a classic pop hit of its era. It is removed somewhat from the rest of the band's career, to the effect that Pigbag are sometimes considered one-hit wonders. It has been used extensively as soundtrack music and at sporting events, particularly by Middlesbrough Football Club and Queens Park Rangers, and is still a popular dance record in clubs. In 2003, an anthem row erupted before a play-off final at the Millennium Stadium in Cardiff between Cardiff and Queens Park Rangers. Eventually neither God Save the Queen or Hen Wlad Fy Nhadau were played and the clubs could choose their own song. Cardiff opted for Men of Harlech, while QPR went for Papa's Got A Brand New Pigbag. The track has been covered by several other artists. It featured on the soundtrack of the 2006 film of Alan Bennet's The History Boys.
In Canada, the song was used as the theme for The NewMusic, a music newsmagazine show for over 25 years, first in its original recording, then re-recorded by other artists
Band members
Original line-up
Simon Underwood - Electric and Acoustic Bass
James Johnstone - Alto Saxophone and Guitar
Chris Lee - Trumpet and Steel Drums
Ollie Moore - Tenor and Baritone Saxophone
Roger Freeman - Trombone / Keyboards and Percussion
Chip Carpenter - Drum kit and Percussion
Chris Hamlin - Clarionet and Percussion
Mark Smith - Electric Bass
Later additions
Brian Nevill - Drum Kit / Percussion and soprano saxophone
Oscar Verden - Trombone and Keyboards
Angela Jaeger - Vocals
Discography
Albums
| | Year | Title | UK Indie Chart Position | UK Albums Chart |
| --- | --- | --- | --- | --- |
| March | 1982 | "Dr Heckle & Mr Jive" | #1 | #18 |
| February | 1983 | "Lend An Ear" | #7 | dnc |
| | 1983 | "Pigbag" | | dnc |
| | 1983 | "Favourite Things" | | dnc |
| | 1987 | "Discology (Best of Pigbag)" | | dnc |
| | 1998 | "BBC Sessions" | | dnc |
Singles
| | Year | Title | UK Indie Chart Position | UK Singles Chart |
| --- | --- | --- | --- | --- |
| May | 1981 | "Papa's Got A Brand New Pigbag" | #2 | dnc |
| November | 1981 | "Sunny Day" | #2 | #53 |
| February | 1982 | "Getting Up" | #2 | #61 |
| March | 1982 | "Papa's Got A Brand New Pigbag" (re-issue) | #1 | #3 |
| July | 1982 | "The Big Bean" | #3 | #40 |
| April | 1983 | "Hit The 'O' Deck " | #7 | dnc |
Introduction To The Mob
http://www.myspace.com/themobfansite
http://www.killyourpetpuppy.co.uk
http://killyourpetpuppy.co.uk/news/?p=4057
Mark Wilson was the main writer, vocalist and guitarist with Curtis Youe on bass guitar and backing vocals. Graham Fallows played the drums from the bands foundation in 1978 until late 1980, then Adie Tompkins and Tim Hutton were also tried out, until eventually Josef Porter from Zounds joined up until the group disbanded in late 1983. Wilf (sadly no longer with us) though not a member of the band was always present with some of the best artwork of the time. The pages on Myspace and Facebook are the nearest thing to having an official site for The Mob on the world wide web.
Another site worth checking out is Kill Your Pet Puppy who have always had a very healthy relationship with the band, two intersting posts on this website are linked below:
http://killyourpetpuppy.co.uk/news/?p=4250
http://killyourpetpuppy.co.uk/news/?p=4057
Mickey Penguin x
SOMETHING WRITTEN BY AN OLD FOLLOWER OF THE MOB
There was something uniquely English about The Mob which to this day is difficult to define. A loose, understated eccentricity. A strangeness, fuelled by their association with free festivals and LSD. I can remember the Porky Prime Cut messages scratched on the inner groove of their records: 'Acid Punks', 'Take a trip down' etc. Unlike most of the Crass-type bands, The Mob never offered any solutions or calls for action. They simply described how things were and how they felt. While Crass et al attempted to inspire through anger, The Mob inspired through being very truthful. While some put forward pacifism as an answer and others direct action, The Mob offered no answers at all and in this respect they were just like us because we also had no real answers. We all knew the world was wrong but none of us really knew what to do about it. It is this aspect of The Mob that makes them very important in the scheme of 1980's anarcho punk rock. They were the same as us. They were closer to us than most other bands, closer I imagine than they ever really knew. Though the music they played was relatively simple, the sound the band made was very big and it translated well from small squatted venues to more sizeable and established venues, from small audiences to larger free festival audiences. Equally important of course, the sound translated well to each listener alone in their homes. I always thought they could have been a hugely successful band in the sense of reaching out to a much wider audience. They were getting better all the time, their last single 'The Mirror Breaks' was even covered a few years later, after the band had ceased recording or performing live, by an indie band from Glasgow, The Close Lobsters, for that band's John Peel session. For some reason, however, they called it a day but in doing so they passed into legend.
John Serpico (Bristol, England)
THE HISTORY OF THE MOB
The Mob formed in a village near Yeovil in Somerset, England, around the beginning of 1978. The band at this time consisted of Mark (guitar, vocals and songwriter), Graham (drums), and Curtis (bass and backing vocals). All of the members of The Mob had previously been in a band called Magnum Force while at school together…
The Mob played local halls and did not go too far out of the west country region during this early time in the band's history.
A lot of the early gigs were attended by local meatheads, and there was quite a bit of hostility shown from some members of the audience towards the band and their friends, which sometimes ended in violence. This aggression was common all over England during and after punks 'heyday' specifically in small towns and villages. The Mob blagged a slot on the 1978 Stonehenge free festival, a festival which the band supported and had attended before the punk explosion of 1977. The Mob performed at this free festival throughout the following years until the band's breakup in 1983.
The following year in 1979, the band's gigs opened up quite a bit, the band went on the road with Here and Now who drew a different audience than the 'bored youngsters' that would cause trouble in youth clubs in and around Yeovil. The band also experienced playing their first European gigs with Here And Now. Both these bands performed together in Holland towards the end of 1979 which was useful for The Mob as they got to know the members, and the hangers on, of the free festival scene. The Mob performed for a second year at the Stonehenge free festival during the summer solstice.
At this time there was a small explosion of various like minded individuals in the local area who had started bands and began to organise their gigs with The Mob. Some of the friends included Geoff, who had the original All The Madmen fanzine based at his parents house, where most of the friends would hang out without too much grief from Geoff's parents.
The record label name, soon to be born, was a continuation of the fanzine name. The fanzine was dying down a bit by 1979-80. The members of The Mob, Debbie (who went on to form My Bloody Valentine in the mid 1980's) and Christine from The Bikini Mutants were also regular friends and visitors to Geoff's parents house along with Wilf who supplied the artwork for a lot of the releases on the All The Madmen record label and all The Mob's vinyl output in particular.
The Androids Of Mu were also close to The Mob at this time.
The band's first single 'Crying Again' 7″ was recorded in the winter of 1979 at Crypt Studios in Stevenage, by Here And Now's soundman, and resident Street Level Studios engineer, Grant Showbiz.
The record was released on Geoff's All The Madmen record label, with the help of Max who saved up a fair bit of cash to put the single out in the early months of 1980.
The next single, the 'Witch Hunt' 7″ was recorded in the summer of 1980 at Spaceward in Cambridge, and had a much bigger impact, reaching further out via the network of fanzines growing up in the rise of Crass and bands of that scene. Also John Peel played it a bit, and therefore this single was just about everybody's first experience of The Mob specifically if you were outside the band's immediate local area.
At the start of 'Witch Hunt', there is a blood-curdling scream, this scream was used on the ansa-phone message when ringing up Geoff's house in Larkhill Road from then on!
More local gigs followed, also a small 'free' tour in the vein of what Here And Now were promoting a year earlier. This tour was called Weird Tales and included The Mob, The Astronauts, Zounds, Andriods Of Mu plus any local bands that happened to be in the area the tour had got to that day. The band's got paid by passing around a hat during the gigs…
A few tracks still exist on tape of this era, mostly on Kif Kif's cassette label Fuck Off tape label, 'Tribute To Bert Weeden' and a little later on 'Folk In Hell' being two of them worth listening to.
The band played the Stonehenge free festival in 1980, unfortunately this was the year when some trouble brewed up during the day from some violent biker gangs who did not have the patience to listen to 'punk' music and specifically Crass who were to play there set later on in the evening. The Snipers and The Mob got off lightly, but when The Epileptics (soon to be renamed Flux Of Pink Indians) were performing the trouble started and many people were hurt in the clashes. Zounds, Poison Girls and Crass did not even get to perform as the promoters and the sound guy, Grant Showbiz, could not guarantee the safety of these bands or the punks who had come to see them perform. Ironically both Crass and Poison Girls successfully played this same festival the year before in 1979 with no trouble whatsoever. The difference between both years, according to Mark Mob, was that hundreds of 'Kings Road' fashion punks turned up in 1980. This is what seemed to upset the biker gangs.
In the beginning of 1981, Mark and Curtis moved up to London into the squats of Brougham Road, Graham had decided to stay in Yeovil so the band were in need of a new drummer. After previously trying out Adie (from Null And Void) and a guy called Tim Hutton (from Zounds), they recruited fellow Brougham Road resident Josef Porter (from Zounds, Null And Void and Entire Cosmos).
On the back of the popularity of the 'Witch Hunt' single, and with the new drummer in place, the band got together to record some tracks to be released on cassette format. The tape was recorded in Josef's bedroom in Brougham Road, Hackney and was eventually entitled 'Ching'. This very basic bedroom recording was sold at gigs and through mailorder to people writing to the band.
The Mob caught the attention of Penny Rimbaud, drummer and writer for the seminal anarcho-punk band Crass, who recruited them for a recording of a single on Crass Records.
'No Doves Fly Here' 7″ is not quite like anything else the Mob ever recorded. This is partly because of the tune's violently slow pace and vivid anti-war lyrics. It's also due to the production tweaks added later by Rimbaud at Southern Studios in North London, including his famous sound clips and a very prominent synth track that the band hadn't expected. At the time when the soon to be released record was sent to The Mob, the sound effects annoyed the band members to various degrees. There are test pressings of the original drum and bass version around, which sounds decent enough, but I think what Penny tried to do does add emotion to the tracks, and the tracks sound better for the tweaking. That is just my view though, and I must add, I also like and respect Penny very much!
The intense power of the song, combined with Crass' better distribution via Rough Trade, ensured this release to be in the top 5 of the then independent charts for several weeks.
The Mob played a Streetlevel music festival in 1982 at a playground on Hampstead Heath, this performance was witnessed by Min and several other notible Kill Your Pet Puppy collective members. The first time the band and the fanzine contributors had crossed paths.
The band also performed at the infamous ZigZag squat gig in December 1982, along with some of the best in the anarcho-punk scene including Omega Tribe, Faction, D.I.R.T, Null And Void, Lack Of Knowledge, The Apostles, Conflict, Poison Girls, D & V, and Crass themselves. This gig was partly organised by members of the Kill Your Pet Puppy collective.
In the autumn of 1982, The Mob recorded some tracks at Spaceward with the financial help of Kill Your Pet Puppy collective members, Alistair Livingston and Mick Lugworm. The product was released by All the Madmen records early on in the spring of 1983 with the backing of Geoff Travis of Rough Trade, who saw the potential in dealing with this band / label for his organisation.
The 'Let The Tribe Increase' album was a milestone for The Mob, and for the anarcho scene that the band had been lumped into against their wishes. The band never wanted any labels pushed onto them, although the band members had respect for all the individuals that they crossed paths with, bands, writers, activists etc. The album is considered a 'classic' by many 1000's of people around the world, and rightly so.
The release came with stunning artwork from Wilf (borrowed if we are to be polite, from Alternative TV's second album 'Vibing Up The Senile Man' – The ATV album nobody liked, because the tracks were not fast and did not have enough fuzz boxes on them) and a huge poster…
The original artwork by Wilf that was considered would have been too expensive to print so the band went for the cheaper two colour option instead.
The album hit the top 3 in the independent charts with the help of the fanzine writers and the music weeklies of the time which in no small way was down to Alistair Livingston and Tony D from Kill Your Pet Puppy fanzine pushing the album whenever and wherever they could, including getting a cover and centre spread of Punk Lives magazine which had quite a large circulation at the time. Also The Mob who had previously been playing to such colourful audiences at the Wapping Autonomy Centre, the Centro Iberico, Meanwhile Gardens and a host of other 'off the circuit' venues throughout the last couple of years helped to push the record.
Furthermore bands like Blood And Roses, Sex Gang Children, Southern Death Cult and Brigandage were getting positive publicity at the time, and The Mob were generally regarded as a similar sort of band attitude wise, esp in the better fanzines like Kill Your Pet Puppy and Vague, as well as the music weeklies like the N.M.E.
The final Mob release was the 'Mirror Breaks' 7″, again recorded at Spaceward and released in the summer of 1983. Musically it was one of the prettier songs that the band had attempted, but with the same feel and some of the best lyrics of any Mob song in the set at the time.
This last single was selling very well, as was the album, what better time to knock it all on the head, and get something else done than during the pinnacle of the band…!
Mark Mob decided a couple of months after a European tour in the winter of 1983, to put down his guitar, put his teepee in the truck, and roam around the countryside, originally with the Peace Convoy, then settling at Pooh Corner for several years, later still settling down near Bath with his family.
The Mob bowing out at the top of the band's popularity was a sensible thing to have done, and the band's legacy is greater for it.
In 1984 Josef and Curtis continued performing together with Blyth Power until those old friends split up late 1986.
Josef carried on Blyth Power for many years with different line ups, and they still play a few times a year. Curtis has settled in Wales and has became a chef. He hopes to own his own restaurant sometime in the future. Josef is now in charge of testing models (airfix toys not girls) for a magazine. Josef's 'dream' job. Mark has a van parts business, buying and selling scrap metal. He spends a fair bit of time in his second home in Morrocco. Wilf, the artist of all the record sleeves and much more than that, a close friend to all the band, passed away in the late 1990's.
All the Madmen records continued though out under Alistair Livingston's guidance after Mark Mob had disappeared in 1984. He helped release the Astronauts album 'All Done By Mirrors' in late 1983, the Flowers In The Dustbin 12″ and the Zos Kia 7″ in 1984 featuring Min.
Rob Challice from Faction, took the record label over in 1985 and released a whole heap more material by Blyth Power, The Astronauts and Thatcher On Acid until early 1988, when All The Madmen records closed it's doors for the last time.
Mickey Penguin x
THE MOB'S VINYL DISCOGRAPHY
MOB01 - Crying Again / Youth - recorded at Crypt, Stevenage by Grant Showbiz - recorded 1979 released 1980 - All The Madmen Records
MAD02 - Witchhunt / Shuffling Souls - recorded at Spaceward, Cambridge by Mike Kemp - 1980 - All The Madmen Records
321984/7 - No Doves Fly Here / I Hear You Laughing - recorded at Southern Studios by Penny and John Loder - 1981 - Crass Records
MAD04 - Let The Tribe Increase LP - recorded at Spaceward by Ted and The Mob - recorded 1982 released 1983 - All The Madmen Records
MAD06 - Mirror Breaks / Stay - recorded at Spaceward, Cambridge by Joe Bull and The Mob - 1983 - All The Madmen Records
MAD13 - Reissue 12" Crying Again / Youth / Gates Of Hell* / No Doves Fly Here* / Whats Going On* * Live recordings - 1986 - All The Madmen Records
CFC02 - Live At LMC Camden 1983 - split live recording with The Apostles - 1986 - Cause For Concern Records - THIS IS A BOOTLEG PUT OUT BY LARRY PETERSON AND IS A RECORDING MADE IN THE CROWD, NOT THE MIXING DESK...
Obviously all this vinyl stock is long gone, and you will have to search for it in specialist record shops dealing with decent secondhand stock, or you could try ebay to see if anyone is selling their old copies worldwide.
* New CD of very old recordings (some Streetlevel tracks / The Ching sessions recorded in Josef's bedroom at Brougham Road / live tracks) available now on Overground Records as is the remastered and nicely packaged 'Let The Tribe Increase' LP. Both these CDs are official releases.
Mickey Penguin x
Lautrec
Laurence Archer Guitar, John Phillips Drums, Reuben Archer Vocals, Steve Holbrook Keyboards, Simon Riddler Bass (1979-80)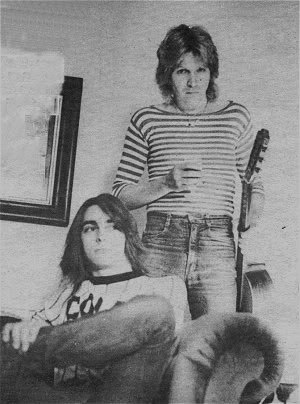 The possibility that I might actually enjoy this assignment never even crossed my mind. Heavy Metal and I have never gotten along. I'm the sort of bloke who used to walk out of Led Zeppelin gigs as far back as '72 for lack of stimulation. But dammit if I didn't come out at the end of the evening actually liking Lautrec.
Lautrec are a Bristol based band who've supported Def Leppard and Magnum and done two major tours with Saxon yet don't even have a single out yet. Not bad for a band that are practically unknown in the Bristol area.
So, there I was sat in the Llandoger Trow supping a pint and waiting for Lautrec's manager Brian Reynolds to turn up, when in walks a lean six-footer with long blond hair, skin-tight jeans and dark jacket. He comes straight over and introduces himself as Reuben Archer, lead singer with Lautrec, buys me another pint and proceeds to tell me his story. (Reuben and his adopted son Laurence by the way are the mainstays of the band providing between them all the lyrics, and Laurence's guitar provides quite a percentage of the aural stimulation.)
"It started when I took Laurence to see Eric Clapton a few years ago. He'd never been to a gig before and I'd thought we'd go and see Eric because I know him from Art College." Eric got thrown out for doing no work and Reuben almost did too, but his father (who also happened to be the College's principal) made damn sure that he got down to his studies rather than mucking about at blues guitar.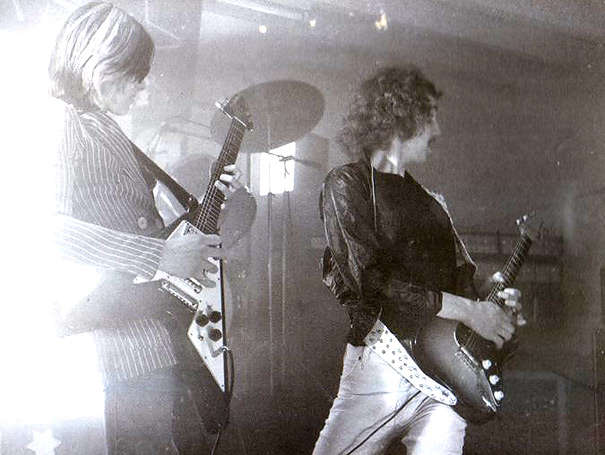 "He enjoyed the gig so much that I took him backstage afterwards. We didn't get to see Eric because he was — ah, too drunk, but we talked with the rest of the band for a while, and well, Laurence was quite bowled over by it all. Now, Laurence's passion at the time was racing bikes and a while later he came home and said that he wanted to sell his bikes and buy a guitar. So he got a Strat copy and just to keep him company I bought an S.G. copy. So we started messing about at the blues and took it from there."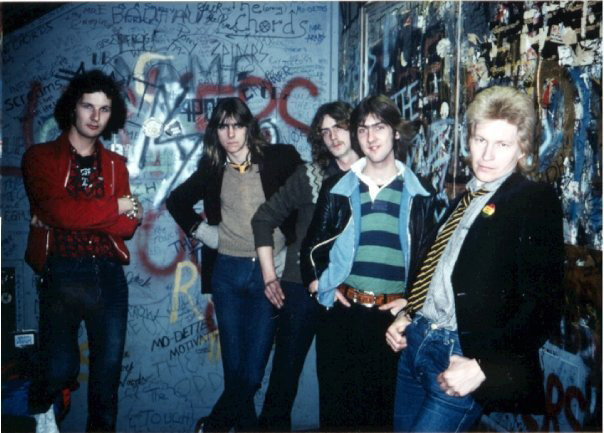 Laurence's aptitude for guitar soon became obvious so Reuben stopped trying to compete with him and switched his attention to the vocals. Soon after moving down from London, the Archers got together with the three Somerset lads and gained their early experience under the name of Thriller playing the out-of-the-way places of the South West circuit, such as Yeovil, Shepton Mallet and Glastonbury, working hard but not quite clicking as yet.
A change of name and several personnel shuffles seem to have done the trick though. February of this year found them supporting Saxon on a nationwide tour, picking up the invaluable experience of playing to thousands and impressing Saxon enough to be asked back to do the Wheels of Steel tour.
Brian Reynolds and I stay talking whilst Reuben goes to get ready for the gig. As a manager he is impressive, a solicitor in his mid-thirties, with obvious business acumen (as soon as he arrived I'd been presented with a press pack containing everything I could possibly have wished to know about Lautrec) and enough suss to know a good sound when he hears it having been involved with the early Buzzcocks and the Strawberry and Revolution studios in Manchester.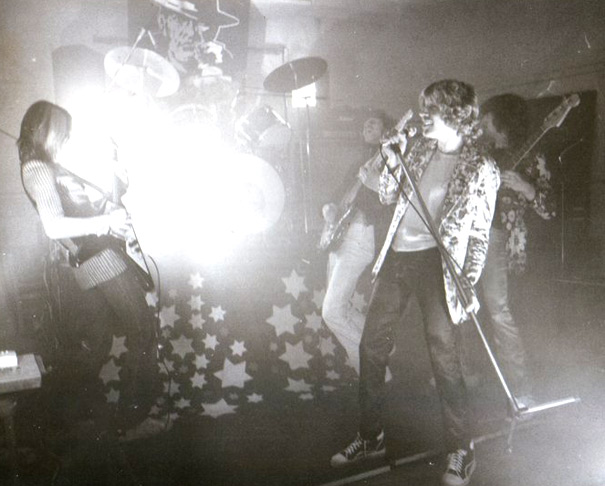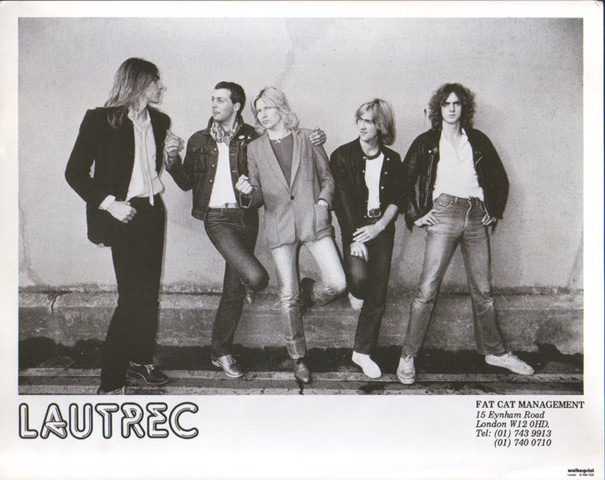 Brian tells me that a single is imminent. There are no shortage of offers but Lautrec are holding out for the best deal they can. The main contender would seem to be an imminent Northern Label which will provide the right advance and more important the sympathetic ear for what they are trying to do.
Well here comes the part I've been dreading. Its just a few steps around the corner to the Granary where Lautrec are playing tonight, and I don't like heavy metal, remember? What if after impressing me as thoroughly pleasant and suss people they turn out to be awful? Oops, things don't look good already. It's Thursday night and lethargic Bristol has only managed to turn out about a hundred or so interested souls.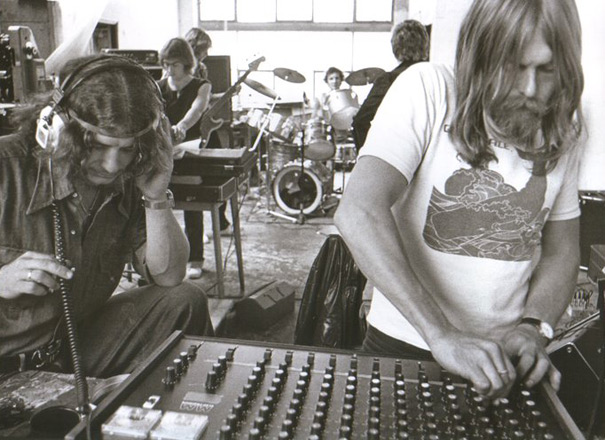 Reuben had told me earlier that he had laryngitis and I thought his voice had gone completely on the first number but it was just equipment hassles which continued to plague them all night. In spite of that, I was pleasantly surprised.
Laurence's guitar playing is a pure joy, he's no ordinary riff merchant, he has real melodic fleer. Reuben's vocals are sharp and clear and the lyrics are by no means the usual dumb fare, being sensitive, intelligent and evocative. Add to this some lively keyboards from Steve Holbrook, imaginative bass from Simon Ridler and no frills hard-hitting drumming from Steve Jones and you've got not merely contenders but a major band in the making.
After the gig they were well pissed off, what with elementary problems with the equipment, the fact that they couldn't move on stage, Reuben's fading voice, the small audience — well they wanted to give their best and felt they'd let those who did come down.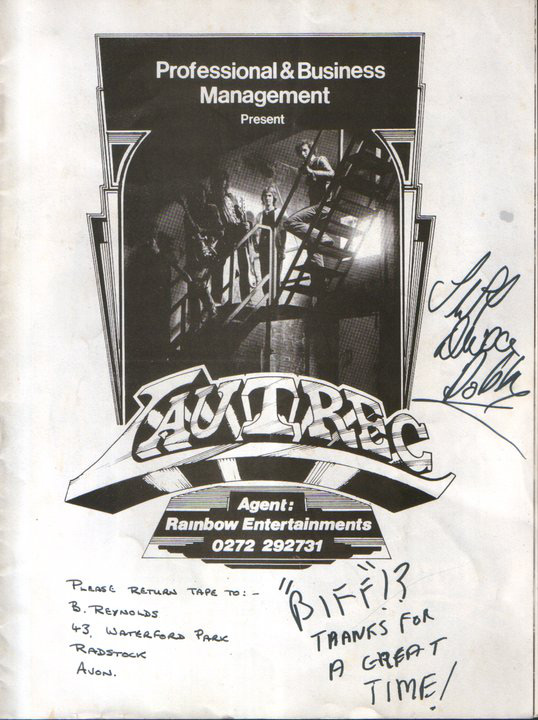 But on the contrary, what I saw was a band that managed,to shake a very small audience into rapturous delight, which is much, much harder to do than rouse 2000 diehards. Lautrec maintained my attention throughout their set. They bring life and imagination to their music. They're going to be all over you in no time at all.
(Rab, Sounds, 19/07/80)
LAUTREC - MEAN GASOLINE 7"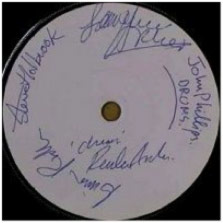 Street Tunes
STS 001
1980
Reuben Archer (V)
Laurence Archer (G)
Simon Ridler (B)
Steve Holbrook (K)
John Philips(D)
1. Mean Gasoline
2. Shoot Out The Lights
Lautrec

Fulham Greyhound
It's hardly a secret that yours truly isn't exactly over enamoured with the thud and blunder that has characterised so much of the NWOBHM, bikers with guitars inciting mass headbanging and painful headaches, and looking no further than the lowest common denominator of rock. So my breathless accolades for the truly wonderful Lautrec should leave you in no doubt that they leave all that cliched garbage well behind.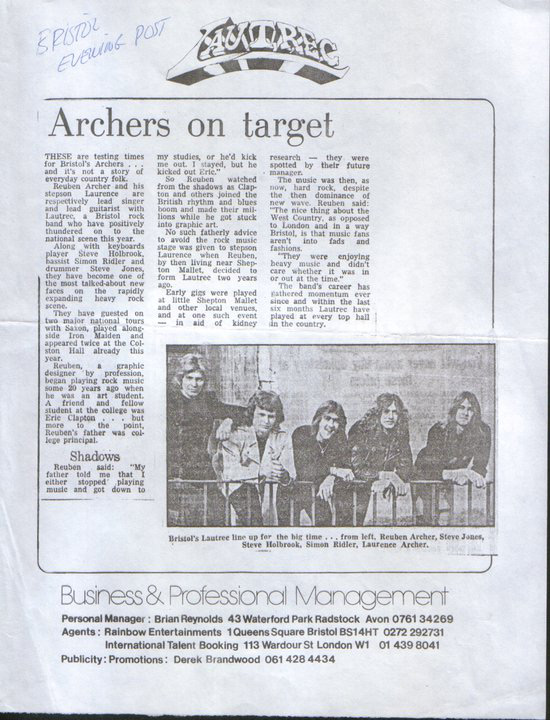 There's more than a trace of the old wave in their approach. Their numbers tend towards length rather than brevity, with a structured flow rather than A Riff. They're all songs too, but with a blistering power to overwhelm any suggestions they they aren't in line with today. Having toured with Saxon they've refined the approach of their tourmates, and take over where '747 (Strangers In The Night)' leaves off.
Hell, this is getting to sound like a commercial, but this band has got the lot. Laurence Archer is a devastating guitarist, a nimble-fingered centre stage star who turns up full and plays with crippling power . . . which is just as well with the crashing powerhouse of new drummer John Phillips threatening to knock everyone off the front of the stage.
Steve Holbrook's the crucial keyboards player, rarely dominating but consistently tingeing the power with melodic colour, a contribution that Simon Ridler's flowing bass is keen to make too. It's the subtle textures that give them the dynamics of light and shade without ever letting up on the attack. And then there's the icing on the cake, the raw throated onslaught of Reuben Archer that leaves the likes of Biff sounding like they're standing in a phonebooth round the corner. Despite the band's volume he's on top all the way.
The material's uniformly immaculate, from the flashing staccato of 'Wait A Minute', a widescreen epic of towering proportions, to the haunting atmosphere of 'Midnight At The Moulin Rouge' or the searing strength of 'Leave Me Alone', which is sadly marred by a drum solo just as the crescendo looms ahead. It doesn't matter how good a drummer is — drum solos are always an anti-climax and best forgotten. I managed to find a criticism, but I swear blind there aren't any more.
(Paul Suter, Sounds, 13/09/80)
Shooting Butts
Kevin Harrison - Vocals
Kimon Wilkinson - Guitar / Vocals
Martyn Kenney - Bass Guitar
Alan Perkins - Drums / Backing Vocals
Playing in Bristol 1979 / 1980… including Old Castle Green (Old Market) Crown Cellar Bar, The Bear (Hotwells) Crockers and even The Lightship (Welshback)… writing all own material in style of 3 / 4 minute songs with 'real stories' of lost love (Jane's Drunk), judgementalism in the modern world… err…and local breweries (More Smiles), the trials and tribulations of youth… and football (Out on the Terraces) and many, many more… Not quite Punk… nor really New Wave… but with hints of Pub Rock… in fact, creating a whole new genre of British Rock…
Pioneers of 'Goat Rock' after being asked by a Bath venue promoter, "What style of music do you guys play?" Kimon's response of "Goat Rock" being met without question and therefore heralding in the on stage appearance of large stand up cardboard goats (painted by talented band members) at subsequent gigs!.. I wonder what happened to them?
Recorded 4 track demo at Mushroom Studios, Clifton, August 1979 - More Smiles : Red to Black : Secret : Jane's Drunk Some 'basement rehearsal tapes' also exist and also part of gig from sound desk at 'Crockers' in 1980
After splitting in 1980, Kimon returned to his home of Jersey where he continues to entertain via 'Sergeant Pipon's Lonely Hearts Club Band', Martyn returned to more folkier roots, Kevin no longer performing as far as we know and Alan moved to London.