The SPICS
Midnight GirlsARC089


Bus Stop
You and Me
Can't Turn You Loose
Here Comes the Night
Midnight Girls
Take Me
I'm Your Puppet
Wildboys
Fire
Can't Turn You Loose
I'm Your Puppet
Land of a Thousand Dances
The thing with these back catalogue from Bristol Archive Records is they're not fabulous recordings, but they are reminiscence aids. For me listening to Midnight Girls, it all fits into place, this is why I like the music I do. I'd suffered the early years of progressive music at the hands of a variety of longhaired Robert Plant look alike yoof and I hadn't liked it, didn't get it. I was sneaking up to Tiffany's on non 'progressive nights to dance to Motown, and here was a band playing James and Bobby Purify's I'm Your Puppet and Take Me in Your Arms (and rock me a little while) from the Holland-Dozier-Holland stable. This was music I could watch live and dance at the same time.
Mike Crawford was buying 5p Stax and Atlantic from Disc and Tape and The Spics were applying a little punk ethos. They introduced me to Otis Redding's Can't Turn You Loose (slightly speedier than entirely necessary) and gave me Land Of A Thousand Dances which set me up for Wilson Pickett, Sam and Dave etc long before the Blues Brothers and a whole decade before the Commitments brought them to the masses.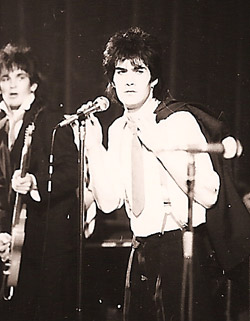 While everyone else was doing Van Morrison's G-L-O-R-I-A, The Spics picked Here Comes The Night, although actually Lulu did it first, and The Spics threw in a touch of Dockland Settlement/Dug Out influenced Reggae to make it their own.
The title track Midnight Girls written and first performed by Crawford backed by his brother Latif's, Gardez Darkx at the Stonehouse was the catalyst which enabled Johnny Britton and Nick Shepherd to ask of Mike, 'd'ye wanna start a band' and The Spics evolved.
Bus Stop is also one of Mikes'. John Shennan gave us his You and Me and also Wild Boys which John sang.
The Spics worked because no one was in charge or doing all the work, it was a joint effort and you can hear that in the music, no solo prima donna moments.
My favourite is Fire, discovered via the Robert Gordon version, not Bruce Springsteen and pre The Pointer Sisters who obviously learnt a thing from The Spicettes!
This compilation is raw, rough round the edges, but there's some neat guitar, a mint rhythm section, it still makes me want to be a Spicette and it don't half take you back.
Gill Loats 6th April 2009
You & Me / Bus StopARC070
YOU & ME
BUS STOP
Jo Swan Vocals
Wendy Partridge Vocals
Sarah Partridge Vocals
Mike Crawford Vocals
Nick Sheppard Guitar /Vocals
Nick Croucher Guitar
John Shennan Bass Guitar / Vocals
John Carley Percussion
Thomas Brooman Drums
Nick Croucher (was the other guitarist :~)
Joanna Swan took great photos and is still going strong in the music business.
Signed to Timbre Records in 1995, Virgin and Chrysalis Music in 2002, then Universal Digital in 2005. She now runs her own music business
DemosARC145


Featured Track

SPICS
Angels in the Rain
Angels in the Rain
Easy Money
She's Back in Town
Can't Stand the Heat
The Spics - 'I'd Always Wanted To Sing In A Band'


I had always wanted to sing in a band. I couldn't really play guitar so singing it was. Brought up on an older brothers Stax, Tamla and Small Faces record collection the early 70s had lost me, Led Zeppelin, who could sing like that? These were creatures from another planet.
Then in 1976 I saw the Cortinas, Dr. Feelgood and the Damned. I might just be able to do that. Saturdays were spent trawling the racks at Disc & Tape on the Gloucester Rd. Stax and Motown gems 5p a go discovering the Phil Spector girl groups and digging out those New York Dolls albums that didn't sound so weird anymore. A guest appearance at The Stonehouse led to John Britton asking me 'Do you wanna be in our gang? 'and over the next few weeks, the Spics came together, everyone who wanted to sing was in, thank you Phoebe, Charlotte and Heidi, and we slimmed down from 11 to a then huge 9 piece band.
Flying in the face of punks already regimented look, we wore charity shop Demob suits, Nick S, already an experienced performer, opting for a Artful Dodger meets the Faces scenario and the girls dressed magnificently in their vintage rags. There was always a fight for the hairspray backstage and it was a close run thing as to who wore the most eyeliner ,but the whole idea was to have fun while playing our hearts out. And we did.
The line-up changed a few times, thanks Rachel, John, Mike Nick and it only lasted 18 months, but we gave the Only Ones a run for their money at the Anson Rooms, played Ashton Court, released a single, and even wrote a few of our own songs. It was all over before I'd really thought about it, so this is somewhat of a surprise encore, so thank you Nick Sheppard, Jo Swan, Wendy Partridge, Sarah Partridge, John Shennan, Nick Croucher, John Carley and Thos Brooman.
Mike Crawford 13th April 2009
The Spics
The SPICS, a decade later and they would have been slaughtered for their name, but they came from a time when racism was still confined to discrimination against a chosen few and our SPICS rocked against it with the best of them.
You and Me and Bus stop the first single released on Wavelength Records was produced at David Lord's Crescent Studio's in Bath. Toss (Yeh, Thomas Brooman - WOMAD) started Wavelength just to release it.
Originally meant to be a 3 tracker, the SPICS, new to recording just couldn't cope with the long hours required and cut it down 2. Nothing quite turned out how it was meant, they had planned to record Midnight Girls but John Shennan threatened to leave if they didn't record You and Me. He'd only written one verse so Mike wrote the second and rearranged and everyone was happy. That's Mike Crawford, (no, not the one with the beret) which was why he was affectionately called 'Mike Spic' for years, to avoid 'oooh Betty' jokes.
The SPICS were formed because Nick Shepherd (Yeh, 'The Clash one'), Johnny Britton and Mike thought they'd discovered the 50's listening to Phil Spector, Ben E King and Otis Redding. But by the time the single was released in 1979 they'd been through a serious of members including Johnny. Rachel Morgan had been replaced on bass and the Spicettes were down to Jo Swan and the Partridge sisters. Phoebe Beedell and Heidi Hutton (yeh, Tim's sister) had jumped. So with John Carly on Percussion, and Nick Croucher - also on guitar, the nine piece recorded 2 songs that have stood the test of time and could have made someone a lot of money at any time over the last 30 years.
CBS unprepared to sign a 9 piece offered them a deal without the girls and percussion- they declined.
The SPICS started by doing covers and finished by doing their own stuff, Their biggest gig was a sell out headline at the Anson Rooms, they did lots of Trinity Gigs, supported the Only Ones and the Leyton Buzzards but this is the only commercial recording in existence.
I have yet to see a more attractive line up of personnel, perhaps a row of Johnny Depps' would do it but I've got a horrible feeling they wouldn't sound so good.
Gill Loats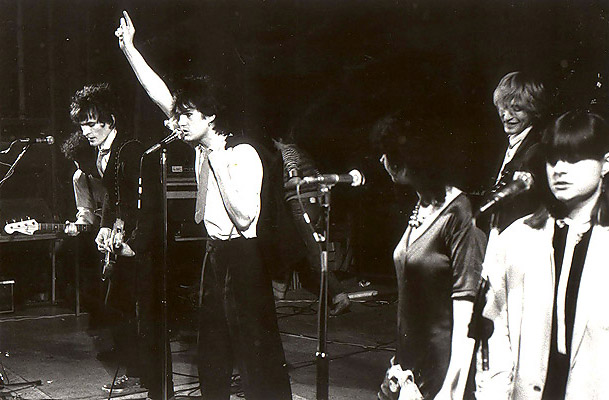 Next: The SPICS Images