The Review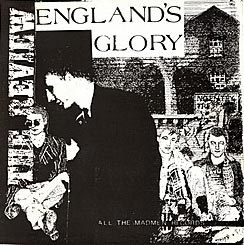 Featured Track

The Review
England's Glory
This text will be replaced by the flash music player.
ENGLANDS GLORY
GREATEST SHOW ON EARTH
The Line Up
Guitar and Vocals: Mike Eagle
Drums: Martin Hutt
Guitar and Vocals: Rich Price
Bass: Graham (Spike) Gibbs
Bass: Phil (Taff) Lovering

The Review formed around 1978. Punk/New Wave/Mod? Played alot of Youth Club gigs. Ventured to The Bear, Hotwells, The Stonehouse The Granary and then around the country. Became three piece Mike, Martin & Taff. Small tour of Belgium, produced a 7" single called 'England's Glory'. Memories of sleeping in vans. Taff joined DISORDER Martin Hutt TEA HOUSE CAMP and Mike Eagle formed UNITY STATION.
| | |
| --- | --- |
| Record Releases | Label/Date |
| England's Glory | Single. All the mad men REV 1 |
| dig the REVS. EP | Cassette Capitalist Enterprise |