Thin Air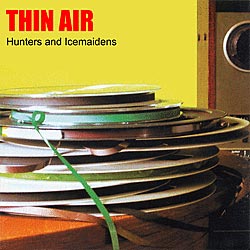 Hunters of the Animal World (S.A.M. Nov '82)
Sentry's Life (Crescent, Bath March '83)
Stoop To Conquer (S.A.M. Feb '83)
Penelope (S.A.M. Feb '83)
Two Against Three (S.A.M. April '82)
Source Of Dreams ( S.A.M. April '82)
Love And The Ice Maiden (S.A.M. Nov '82)
When You Ask For More (S.A.M. Feb '83)
Deep Cold (S.A.M. July '83)
Temper Temper (S.A.M. Sept '83)
This Hell Is Mine (S.A.M. Sept '83)
Liberty Belle (London March '84)
Lives In The Air (London March '84)
Maybe I (London March '84)
I've said Sorry Once (S.A.M. April '84)
Steal A Kiss (Woolhall Jan '85)
Thin Air were
Lead Vocals, Guitars, Keyboards: Paul Sandrone
Drums, Backing Vocals: Phil Ollerenshaw
Bass, Backing Vocals: Bill Waine (tracks 1-9)
Bass, Backing Vocals: Simon Nicholls (tracks 10-16)
Drums: Ed John (track 16)
Featured Track

Thin Air
Hunters & Icemaidens
Maybe I
All songs written by Paul Sandrone except 10 written by Sandrone/Nicholls.
All tracks Engineered by Steve Street, and Produced and mixed by Steve Street and Merv Woolford, except track 2 produced and mixed by Yurek Ugarov of New York Record Plant.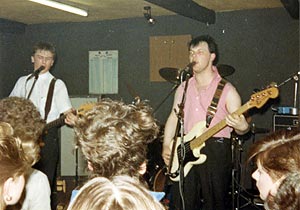 Originally formed in Summer of 1979 as 'Out of Order', when Bill Waine (18) invited youth Club friend Phil Ollerenshaw(16) to an audition, and introduced him to Paul Sandrone (15).
The Band was born, and after winning a Talent contest at the Locarno, they began gigging in 1980 at local youth clubs, and began a happy residency at the Stonehouse, in central Bristol, where many of the bands of the time would 'cut their teeth'.
They supported leading Bristol bands such as 'the Under 5's', 'Creature Beat' and 'The Rimshots', and in time headlined their own slots, developing a sizeable and loyal fanbase, and forging a reputation as an energetic live act, fronted by Bill, performing their own catchy 'power-pop' compositions, and a handful of covers, under the influence of the major bands of the day.
A major coup was achieved in December 1980 (the day of John Lennon's assassination), when they supported The Jam in front of 3000 people at the Locarno, following an invitation directly from the Weller household. This was a turning point for the group, as it established them as serious contenders, but it also precipitated the change in name to Thin Air, as 'Out Of Order' was shared elsewhere, and marked the rise to prominence of Paul Sandrone's song writing, and vocal potential, as he took over front man duties.
During the next 12 months, Paul produced a constant supply of fresh material, and Thin Air gigged regularly at Pubs and Clubs, and held residencies at the Green Rooms, and The Bridge Inn, as well as the Stonehouse, and made appearances at the Granary. At these venues, they got to play with Bands such as Sneak Preview, The Controls and Mind Tunnel.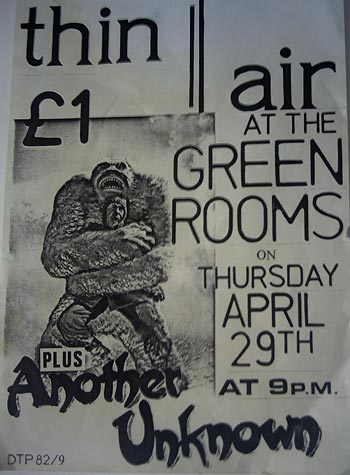 Paul's evolving songwriting, steered Thin Air away from their early influences, and they developed their own unique sound and style during this time.The music was now melodic and accessible, but with the right amount of edge and passion.
In Spring 1982 they were signed to Coach House management, owned by American, George Lennards, who had already had success with Climie Fisher in the U.S. & U.K, and was looking to replicate it.
At this time, Thin Air began a close relationship with S.A.M. Studios, and Engineer Steve Street, and Producer Merv Woolford, became the '4th and 5th members of the Band', with continual rehearsals there, and around a dozen demos recorded in the next two years. With other sessions at Right Track, Facility, Mushroom, and Crescent Studios, Bath undertaken during that time, it was a busy period for the band.
Over time, the sound of the band became more controlled and focussed, as the management pushed for commercial recognition, and inevitably 'creative differences' lead to Bill Waine's departure in Summer 1983.
Simon Nicholls was recruited from Mind Tunnel, and Thin Air continued to gig and record at a hectic pace.
Record Company interest was being generated from labels as diverse as Polydor and Magnet, and gigs were undertaken further afield, as well as the obligatory shooting of videos, photo shoots and showcase gigs. In Bristol, the venue of choice was the Western Star Domino Club, where the support base was bigger than ever.
In March 1984, Thin Air decamped to record at Polydor studios in London, with a view to a deal with the label, and although the results were excellent, mainstream recognition was unfortunately, not forthcoming.
A couple of months later, Phil called it a day, and although Paul and Simon continued, with the recruitment of Bristol session Drummer Eddie John for 9 months or so, Thin Air, after a 5 year journey, was effectively over.
Paul needing a fresh project, formed Pola with John Tuff, which lasted into the 1990's.
He is currently in Brighton, where he has recorded as part of 'Raissa', and is now, masterminding 'The Mummers'.
Phil has spent 10 years in Bath band 'Smokin', but also plays with Jenny Stanley of Brighton, and in various projects for Iain Weir (Bad Losers) in Axbridge. Bill went on to form 'The Long March', and has since been with 'Dynamo Rhythm Aces' for 15 years.
Simon went on to become part of 'Love Jungle', and then 'Shrewd' and now lives in Bournemouth.
Eddie became an eminent session drummer/teacher in the Bristol area.
Thin Air would like to place on record, their sincere gratitude to all the friends and 'fans' who helped and supported them so much, throughout the whole period.

Phil Ollerenshaw