The Media
The Media
In the wide open spaces of Clifton live The Media. Which is fairly surprising, seeing that Clifton is full of OAP's, trendies and intellectuals. Not the type of area that a 'new wave' band might revolve themselves around. But it holds one of the best 'new wave' bands in Bristol.
The Media are a five piece band, who base their music directly around the guitar and strong tunes. Their music is extremely energetic and perfect for live performances: in fact, the perfect live band. The band seem to have a great understanding with each other in their playing and projection of their songs. The rhythm section is tight and the guitars intermingle beautifully. The vocals take pride of place: a mixture of the nonsensical, amorous, ordinary and serious.
And that's all pretty good really, when you realise the band, in its present form, have only been together since February of this year. The line-up is now, Bob – (vocals, 20), John – (guitar, vocals 20), Nick – (guitar – 20), Rachel – (bass, vocals, 18), and Thos – (drums – 24). They all look extremely normal; Rachel being a surrogate Siouxsie.
Now, on to the history. In their original format or early last year only two members (Bob and Nick) still remain. The bassist left after one gig and Rachel (who was a bass novice) took his place. The other two members were Embrane on keyboards and Russell Evans on drums. 'The rhythm section wasn't too tight at first. And we were just playing old stuff like 'London Lady'. At that time, it seems, none of them had flourished in creative writing.
The story continues…Russell Evans was kicked out last September (now in a folk band) and Embrane was leant on to leave. He's now in Point Blank. Things now start to get slightly muddled and incomprehensible.
It seems at this time, John was playing guitar for The Primates and they needed another guitarist, so John asked Nick to join from The Media. Nick was none too sure of the move but said he might if Embrane remained in the band. Embrane left: Nick stayed (hooray for our hero. John and The Primates consequently went off to London to see what was happening. Nothing was.
John returned to Bristol in January, a little disillusioned, and with the prime intention of joining The Media. He needed an outlet for his songs. At this time, The Media were using a lot of Embrane's songs and some of Nick's and were not progressing. But…..
'It changed a lot when I joined really. The songs we did totally changed. There were now only about two or three songs that they were doing in the set before I joined.'
Things continued to change for the better when Thos joined in February. An ex-English student at Oxford and a 'cripple for life', he was one of three drummers auditioned. He had something the other drummers hadn't:
'The reason we picked him was because the first rehearsal he came to, he was saying, 'well, have you ever tried that?' The other drummers just wanted to play. Thos wanted to be more involved, which is very apparent. It is impossible to forget he is playing. I should think if he was playing down a coal shaft, while the others were bashing around on a slag heap above, he'd still be noticeable. He added a new (necessary?) dimension to the band on their way to fame and fortune.
'He's a really solid, powerful drummer as well as being adventurous.' Agreed. With both John and Thos in the band now 'you could say, this band has only been together that long really.' This seems to infer that their early days are fairly disposable.
The original idea was to base their music on guitars. Nick wanted a band like MC5, The Heartbreakers. 'Our music is still based on just energy and guitar music. We try to make it a bit different….er, a bit stranger.'
Their songs are as good and strong as some of the best bands in Britain meaning they will last and people (hopefully) will not get bored listening to them time after time. 'They are usually just about our reactions to things. They're not like slogans that tell people to do things. They're just points of view. In a way, that's why it's called The Media.' Actually, the name transpired in a pub in Knowle, February 1977, when a name was needed in a hurry. Back to the songs…
'We pay a lot of attention to getting things right now. We don't just blam it out. We still end up with something which is fairly simple and powerful, or try to; but we take time to experiment. Some songs, we've tried with about six different beats. Sometimes they're all crap so we don't bother to do it.'
All this is very apparent on their demo tape, which they played us. They do things extremely professionally. Their songs are quite easy listening with little that jars. The songs that stick out are the more pop-orientated ones- 'OD OD OK?' and the song with the sub-nursery rhyme beginning, 'New Blood'. In fact, these may be their weakest songs and the quicker they get a recording contract, the sooner we will know. All the songs are expertly put together with plenty of variation, good tunes, and choruses etc to keep one firmly interested.
You never know, songs like 'I wasn't there' and 'I want to be a number' may turn out to be classics, to be played on Radio One in fifteen years time. It's about time some classic songs came out of Bristol. Parts, especially when Rachel sings, reminded me a great deal of Penetration. This holds well for the future.
'Half the time when we play a song, we do it in a particular way, simply because we don't want it to sound like the rest of what we do or we want it to sound like the opposite of what people might think it should sound like - go against the grain.' All very confusing.
But what bands do they actually like to listen to. Their likes are an amalgamation of bands. John went on and on and on about Glen Matlock's songs. Thos likes nice short, simple songs. Bob likes Captain Beefheart, The Only Ones and the wonderful Buzzcocks whereas Rachel is fond of The Alex Harvey Band. Nick wasn't there to comment.
At the moment there are two writers in the band but Rachel has just written a song which the rest of the band are yet to hear. The song writing process is a long drawn out affair, sometimes lasting a year. Fortunately worthwhile though.
And what of a recording contract? Things seem to be accelerating slightly in that particular field. Their management has sent their demo tape to Virgin, Radar and TDS Records and the band are playing The Marquee in September purely for record companies to see them. 'There is some interest, but we can't really judge how much there is.' The trouble is that if a London record company are interested they want to see the band live – hence The Marquee gig. Bristol bands have a reputation – it's extremely hard to break out of Bristol.
John: 'If I really want to start another band, I wouldn't do it in Bristol. I'd go to London to do it. You can get quite a lot of success in Bristol but still be meaningless outside.'
But what they really want to do is get their music across to a much wider audience. Naturally a record contract fulfils this. John; 'Partly because I believe in the songs and partly because it's fun.' I see absolutely no point in being in a band if, at every gig you play, you're not enjoying yourself.'
The Media want to create fun and enjoyment. That's the only reason, in my opinion, for gigs. After all, it's extremely hard to be profound at gigs even if the songs are – lyrics are 90% of the time in audible.
All the band are collecting money from the government for doing nothing at the moment. Thos has a post-graduate grant. He feels everybody has accepted the fact that he's opted out. 'It's like a game of tennis and I've caught the ball and I'm still standing in the court.' That's University education for you. They'd all (naturally) prefer to be on a wage as opposed to it being a hobby. They'd also feel a great deal happier if they were playing all the time. But they all want to play their own music and not to be manipulated by record companies, management etc
John; 'If they (the management) try to water down our music and make it more poppy than it was, I'd leave. Particularly because I wouldn't be able to play that sort of stuff and it's not in me to do it.'
If you've never heard of The Media, that's not your fault. They've had some bad organisation concerning gigs with hardly anybody turning up, and there has been no advertising for them. Actually they are quite travelled compared to other Bristol bands. They've played in exotic places like Luton and Mountain Ash. 'We're big in Wales' Nick informs us.

They are pleased with the progress in their playing. It was fairly lucky really, there was no record or publicity in their early days because many bands who brought singles out last year are either split up or messed up. 'It would've been really nice to have rehearsed for a year and be at this stage now and come out and play. We would've got a lot more well known straight away because people wouldn't have seen us progress.'
Somebody has to pick up on this band. It would be a great waste if they went un-noticed for their career. When you see bands like this you wonder how some bands have recording contracts and even have albums out. I only hope something comes out of their Marquee gig. Things can only get better….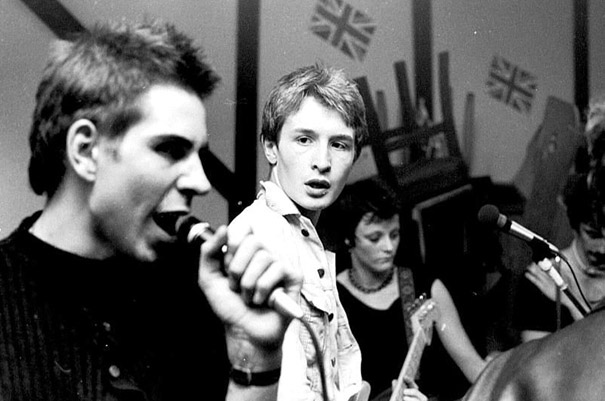 Picture by John Spink
More The Media Photos: Tim Willliams
Text taken from 'Keep Upright, Do not Bend' Issue No 1 Sept 1978