Pola
Best of Pola ARC038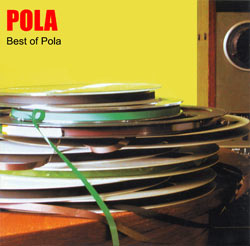 Breath a Word
I'm Sorry
Give Me Love
Birthday Sign
Happy Home
Honeymoon
Man Machine
Maybe I Like It
Mistakes
Money's Gone
Never
Never Lose
Revelations
Rise (Version 3)
Shallow Water
Slow Life
These Years of Madness
Where I Stand
World Is On Your Side
There is Pola and there is Pola.
The most well-known line-up of the group was actually the third incarnation, as the first was just a bedroom recording project instigated by Paul Sandrone and Nigel Burrough using a cheap Roland synth and a fostex 4-track recorder. 4 or 5 reasonably good songs originated from this era, including "Silver Wind", which Paul resurrected in his Raissa days (see below).
The second version of Pola included backing vocalists Diane Watt and Julie Stafford to add an edge to the songs in an attempt to prepare a package to gig with, but something was still missing and Nigel called up ex-Dancing Teeth colleague John Tuff to help out. Things then things really turned around, as the lads ditched the lasses and settled down to write more than 60 quality songs, initially as a 3-piece and then as a partnership between John and Paul, after Nigel left due to time pressures.
Pola were touted around the major record companies by London management and recordings were paid for by Polydor with a view to signing the band. However, the band's management suggested showpiece gigs could help secure a better offer and the well known Pola mark 3 was thus assembled, featuring Paul on guitars and vocals, John on keyboards, John McSkimming on bass and Eddie John on drums. One gig featuring this line-up, at the ICA in London, was recorded for posterity and may one day see the light of day.
Ultimately, nothing ever materialised deal-wise and the band broke up under the pressure, at which point Paul teamed-up with Raissa Khan-Panni to form the band Raissa, who released 4 or 5 singles and an album on Polydor. Paul later decamped to Brighton and reunited with Raissa in the Mummers.
John went on to gig Pola songs in the band Shrewd! and then set up the band King Billy & Marvellous which reached its peak with an appearance at the 1999 Glastonbury Festival.