King Billy and Marvellous
Little StoriesARC039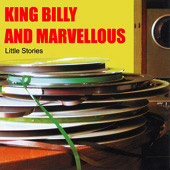 Featured Track

King Billy and Marvellous
Little Stories
Kiss the Wish
Little Stories (Nigel's Mix)
Crazy Moon
Kiss the Wish
Rare Beauty
Rain Down Edit
This Private Edit
Little Stories (A Mix)
Little Stories (John's Version)
As Shrewd! hastened towards its ultimate demise, band mainstays John Tuff and Nigel Burrough had an inspired idea, to meld John's burgeoning song-writing prowess with Nigel's encyclopaedic knowledge of films to create a multi-media event and, with the addition of Brad Samuels on Bass and ex-Scouting For Boys vocalist Heather Price, the first incarnation of King Billy & Marvellous (named after two aborigines in a newspaper article) debuted as part of an experimental arts show at the Arnolfini.
Although the experiment did not quite work out, the idea was sound and John, Nigel & Heather recruited guitarist Joe Brown and bassist Ed Gibson (subsequently to become the Croft and Ashton Court Festival music co-ordinator) for the second incarnation but, on the verge of the first gig, Joe and Ed did a midnight flit, never to contact the band again and Heather's partner and brother, John Chilcott (bass) and Adrian Price (guitar), were pressed into service as emergency stand-ins for the first gig at the Thekla, which was played to a set-long backing video compiled by John & Nigel as part of the multi-media concept.
John Chilcott was not able to commit to the band full-time and new double-bassist Ben Muscat was recruited in his stead. Further gigs around the area resulted in the band being invited to play on the Avalon Main Stage at the Glastonbury Festival, Friday 25th June 1999 Glastonbury Festival Website Article, back when it cost a mere £83 for the privilege!
Feeling that the band would not achieve anything better than an appearance at Glastonbury, Nigel retired from the music biz, but the band soldiered on for a few months before finally calling it a day at the end of the year. A short, but very sweet existence.