Dry
Into Your Country MusicARC072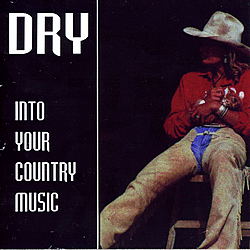 Featured Track

Dry
Kitty Talking
Kitty Talking
Wide Open Blue
Jesus Made It Plain
Bee Song
Inside
All This Way
A three piece melodic guitar pile up from Bristol, formed in 1996. Members comprising (over a 4 year span) singer songwriter
John Emery - vocals, guitar
Martin Hutchings - drums
Andy Smith - bass
Neil Darby - bass / vocals (ex Love Jungle guitarist)
Nick Nivotni - bass / vocals.
Influences from Boston's Buffalo Tom to the City's own Blue Aeroplanes. Always a favourite on the live circuit around that time and renowned for their immense sound.
Tracks 1,2,3 and 4 recorded at Bink Bonk Studios, Bristol 29/30 Jan 2000.
Engineered by Matt Sampson
Tracks 5 and 6 recorded at The Blue Room, Bristol around the same time.
Biography
My first job around 1987 was propping up the counter at the rather conservative but essential music store on Cheltenham Road, Bristol, John Holmes Music. It was an excellent introduction to the hugely eclectic scene Bristol has always managed to inspire and maintain. In one corner there'd be a young guy studying the latest Roland sampler, with little interest in buying, but every intention of embracing the rapidly expanding latest technology. That was Roni Size. Over by the window you might see Rodney Allen sizing up the Fender Delux amps and The Seers checking out the new Rat Overdrive or negotiating a box of cheap Ernie Ball strings. Slightly more mature visitors to the shop included a charming Jet Harris (Shadows), a flip flops wearing Dave Brock (Hawkwind) and the occasional phone call from Peter Gabriel out to blag equipment for the weekend. EMF were the first band that I sold gear to that actually achieved a top 3 chart position within a month of blowing their advance. Unbelievable.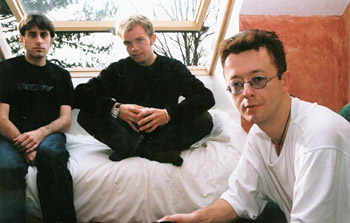 The rather unassuming, odd but colourful assortment of staff also contributed to the scene in their own way, either by the way of word of mouth networking, or by simply offering enticing, if not slightly dodgy deals on all manners of accessories and band gear. Occasional acknowledgements and gratitude on record sleeves were welcome but considered potentially damaging when it came to keeping your job. Nick, Paul and Andy all making their own contribution to Bristol music in the mid 80s, and me absorbing every last note.
Wiry and rather stern looking Neil Darby sometimes visited the shop, occasionally with Angela Huggins, but usually with some ex Fear of Darkness member. I knew him vaguely through mutual friends and as the guitarist in the rather splendid North Bristol icing sugar guitar pop quartet, Love Jungle. Too indie to compare with the sleek commercial tones of the Eurythmics and not indie enough to be another shoe gazing Sundays. I was amazed they hadn't broken big time, they had cool style and songs, very much like the grossly over looked Bath based, New Grand Smoking Palace from 2 or 3 years ago. Where have the balls gone in A and R?
I first saw Love Jungle at The Bristol Bridge Inn, shortly before it fell into the hands of one of those horrid wine bar chains. Ange and Neil definitely had that Lennox / Stewart thing going on. I was fortunate enough to play a one off Ashton Court festival with them before things evolved into Stranger Days. A student bedsit combo, played out by office workers by day and melodic janglers by night.
Somehow a few years slipped by and a myriad of band names later, Neil joined Dry as a replacement for good friend, Nick Nivotni, who could also play a mean harmonica and pitch the perfect vocal harmony. Neil was a head up, power down stroke bass player. Locking in with our increasingly neurotic drummer, Clive from Gordano. The first gig was nearly cut short when the mullet haired sound guy stood on my stage tuner, thus muting the only guitar. Early sightings here of the Bristol D and B revolution.
Numerous well attended gigs at the Louisiana, The Fleece, beer throwing incidents at Aston University. Who gives a shit, the curry before we took to the stage was unforgettable. The National Express tour bus to Covent Garden and a worryingly holey hippy van, held together with gaffa tape, 50 mph all the way to the Laurel Tree, Camden. I think we were all proud of The New World Begin E.P, probably because it didn't seem destined to happen and it was a joy to record. Now with Martin Hutchings on board, it felt like a proper band who could play and people could talk about or ignore I guess.
Andy Smith came on board with the type of ease that gets increasingly more difficult the older you become. Described in a Moles gig review as a "turbo charged Motown funkster". The sound got more experimental and some what looser as the songs kind of hung off the drums and bass. "Kitty Talking" is a good example of that. The Hope and Anchor, Islington was my favourite gig ever with Dry, who says Londoners are apathetic, arm folding nobs, we rocked their little rafters.
"Into Your Country Music" was supposed to be a kind of country post punk type of thing, a'la Lemonheads. But it came out all guitar rock pop with a hint of Cure and Blue Aeroplanes. "Wide Open Blue" still has single written all over it, "Kitty Talking" rocks the socks, "Bee Song" is almost claustrophobia with a slight breeze and "Jesus Made It Plain" could melt ice cream on a sub zero morning in Moscow. Play listed on XFM for 3 weeks, how cool was that, would have been better if Pod Casts had been around mind.
During the few interviews we did, for some unknown reason, perhaps for the sake of sounding more cosmopolitan and worldly, we always referred to our influences as classic US guitar trios, household British combos and the like. In actual fact, many of our true influences were from the heart of the city. The Brilliant Corners, The Blue Aeroplanes, Strangelove, Copter, The Chesterfields (well OK Yeovil), Big Fat Liars, The Herb Garden, Rawshack and The Harpoons. My first ever live gig experience in Bristol was The Opposite Man, I think at The Crown, St Nic's Market, followed by the fantastic Steve Tilston Band at The Lansdown, Clifton. We were evidently too young to be in there, but Steve told the landlord we were his nephews!
We never admitted to being a part of any scene, was there a scene, a sound? I've no idea, but it was a lot of fun.
John Emery November 2008