Umo Vogue
Just My LoveARC136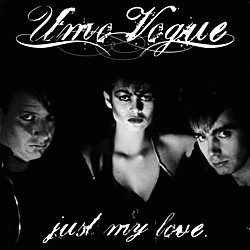 Featured Track

Just My Love
Make It Real

Just My Love
Make It Real
Who's Sorry Now
Shoot It Up
Time Of Your Life
Dance
Carnival
Tonight
Just My Love
Line up:
Debbie Marlow - Vocals
Russ Crook - Instruments
Stig Manley - Instruments
Neil Deamer - Bass
Clive Deamer - Drums
Formed in Bristol By Stig Manley, Russ Crook and Neil Deamer who were in Bath based band 'The At's', along with Bristol based singer Debi Marlow. Neil's Brother Clive joined the band bringing a fantastic new dynamic to the band on Drums, percussion and heavy artillery!
After winning the Bristol heat of 'Battle of the Bands' in 1982 they went on to win the semi final in Birmingham. On to the final at the Hammersmith in London, signed to Phonogram the day after.
After extensive recording sessions with producers Bob Carter (Lynx, David Grant, Junior) and Jon Punter (Bryan Ferry, Roxy Music, Japan, Nazareth), they were dropped by Phonogram in late '82. They then signed to EMI in '83 and started to work with Bristol producer Liam Henshall who ran Bristol Studio 'Right Track'. Liam produced several tracks with the band at the demo stage as well as the first single 'Just My Love' which was recorded at Chipping Norton Studios. It was released in early 1984 and reached no.24 in the dance chart. The second single was 'Make It Real' and was never released. EMI had a massive 'cull' in late '84 of over fifty bands in their 'stable'. Unfortunately, Umo Vouge was one of the acts dropped.