Tropical Hearts
Ghosts ARC111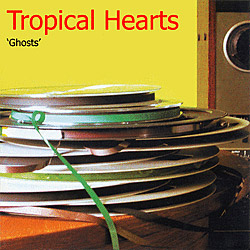 Featured Track

Ghosts
Carol Remember
How Can I Go On
Mother Mary
Down On My Shoestrings
Don't Let it Be
Accident Prone
Small Talk
Rock - Ola
Forbidden Fruits
Success
You May Never Be An Angel
Ghosts
Tropical Hearts Line-up(s)
Martin Moss. Guitar, vocals.
Rob Williams. Guitar.
Sian Ellis-Thomas. Vocals.
Ali Daw. Vocals.
Paul Smith. Bass. Replaced by Phil Francis.
John Simpson. Drums, percussion. Replaced by Will Ng. Replaced by Franko Tizi.
Ted Fitzgerald. Keyboard. (final line-up only)
Tropical Hearts were formed in the early 80's by Martin Moss and Rob
Williams from the remnants of previous bands The Tropics (Rob and Paul
Smith) And Heartbite (Martin and John Simpson) mutual friends Sian and Ali were working on a separate project but were convinced to join. Paul left for a spell of VSO and was replaced by Phil Francis. John opted out and later joined Chase The Fade, to be replaced by Will Ng, who went on to join Head, and was replaced by Franko Tizi. For the last leg of the band's existence Ted Fitzgerald was recruited on keyboards.
Tropical Hearts disbanded after one last push, recording Three tracks at The Wool hall with Steve Street Engineering/producing and a final gig at what was then called The Studio. Known musical activities of members:. Martin Moss. The Whole Band, The Loose String Band and MHW. Rob Williams. Wise Children, MHW. Paul Smith. The Whole Band, Kate McLaren Trio.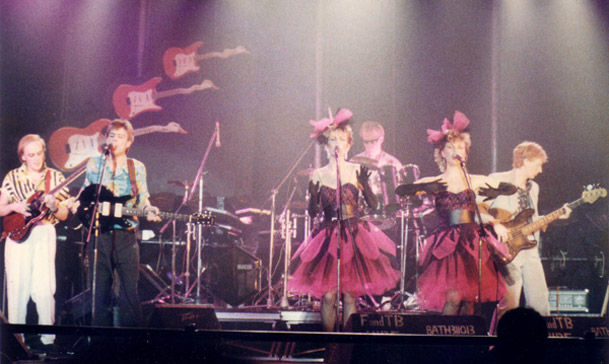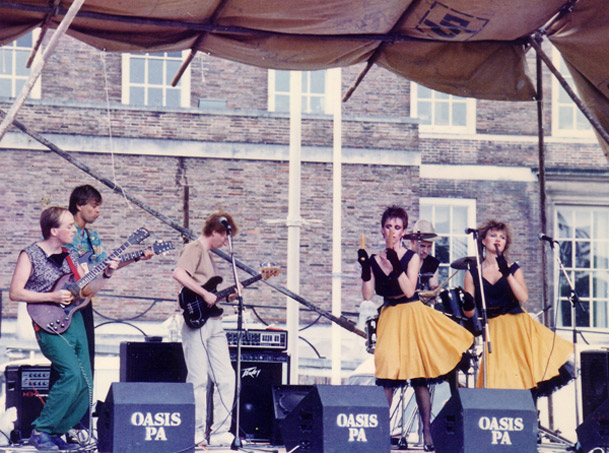 TROPICAL HEARTS - ROCKOLA VIDEO
Recorded at The Studio, Frogmore Street, Bristol 1986.

Martin Moss - Vocals, Guitar
Sian Ellis-Thomas - Vocals
Ali Daw - Vocals
Rob Williams - Lead Guitar
Phil Francis - Bass
Ted Fitzgerald - Keyboard
Franco de Tizi - Drums
Written by Martin Moss