The Seers
Download PDF: The Seers Press Cuttings
The Seers Story
The Roots of the Seers lie in two places; Bristol (obviously) and Billericay (not so obviously). Leigh Wildman grew up in Billericay and it was there he met Jason Collins, a guitarist from nearby Brentwood. They had spent some time in bands around the Essex region and they, along with a few friends, had decided to up sticks and try somewhere else. At the suggestion of one of their number, Bristol was decided upon, and a mini Essex invasion took place in the summer of 1984.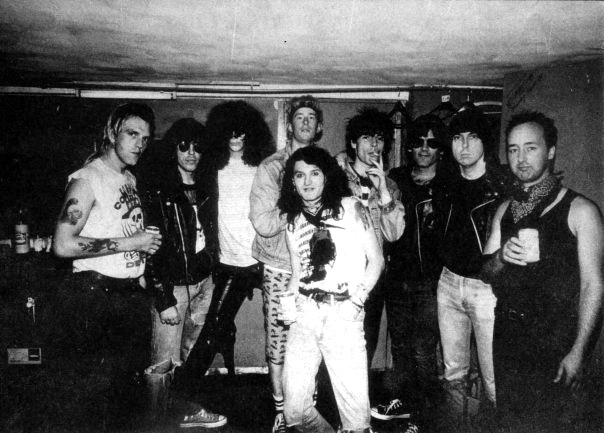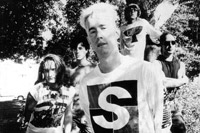 Adrian Blackmore, or Age, as he was known, had been in the second wave of Bristol's punk scene, too young to be in bands like the Cortinas, but old enough to be won over by punk's energy. He picked up the drums quickly and formed Lunatic Fringe with fellow Bristol Punk stalwarts Bear Hackenbush and John Finch.
The Bristol punk scene in 1984 was a more cider fuelled version of what Crass was peddling, with a very much Do it yourself vibe. Bands squatted venues like the old Beetle Centre on Stokes Croft and encouraged the squatting of disused houses, which many lived in. It was in one of these squatted houses, Turdy Way, named for the amount of dog shit in the house when it was first squatted, that the Essex invasion landed.

After a single and some tracks on a few compilation albums, Age had left Lunatic Fringe (very amicably) and started jamming with Leigh and another of the Essex invasion, Marc Hymas, in a loose knit band called Death Machine. Influenced by T-Rex and Hawkwind, they played a few gigs at the Demolition Ballroom (the name given to the squatted Beetle Centre). After a while, Marc decided he wanted to do something else and played Saxophone with Pigbag sound-a-likes Animal Magic. Leigh and Age decided they liked playing together and enlisted Jason on bass guitar and vocals. Getting more focused, and deciding to add some shared influences in the form of 60's Garage bands they enrolled a singer, Dean Strange, with Jason providing backing vocals.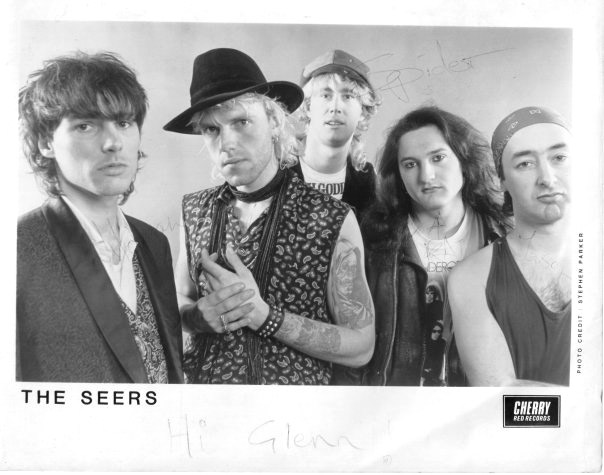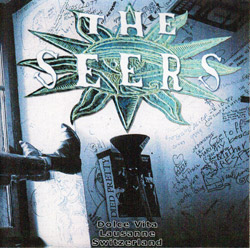 This went on for several months, the band playing the odd gig and practicing once a week to sort out a set of covers and a few Leigh penned originals. To make ends meet, Jason was enrolled on Community Programme job, a Tory idea to get the long term unemployed off of the official unemployment figures for six months by getting them to do poorly paid manual labour. It was on one of these schemes that Jason was introduced to another Bass playing long term unemployed reprobate known as Spider.
Spider had bought a bass and was looking for a band to join. Having left his native Southmead to live in Taunton for 9 months, he had just moved back (into yet another squat!!!) to try and form a band. The one experience he had had was as a drummer for a band called Mass Murder. Mass Murder had played one gig at the Fleece and Firkin and promptly split up.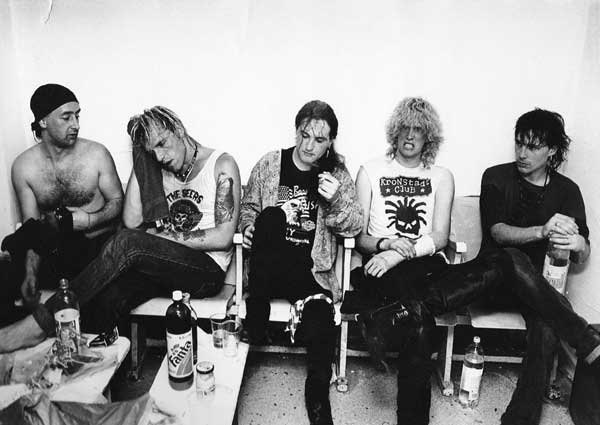 Spider went to a practice with Jason after staying over after a nights drinking at the Old England. The then singer, Dean, was ill and never turned up, so to help the practice go ahead, Spider sang some backing vocals and made animal noises to the songs they had. Liking the energy that he brought to the proceedings, Spider was invited to see if having two singers would work. The band at this point was amazingly called Rip van Satan and the Earth Rats at the time and with this new line up, a gig at the Legendary Montpelier Hotel was played. Spider had started to bring songs to the practices by this point, and this was proving a headache for Leigh, Age and Jason. Whereas Dean was an accomplished vocalist, he was also proving unreliable, not turning up regularly for practices. Spider on the other hand, whilst not yet a good vocalist, was eager, enthusiastic and was now bringing songs to the band. What to do the three mused.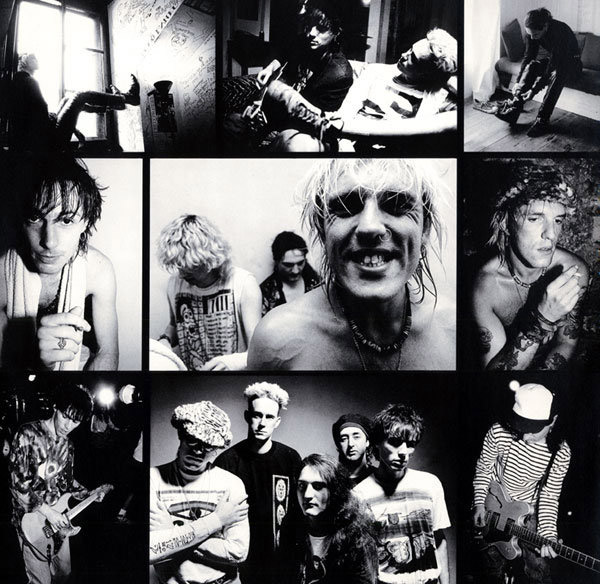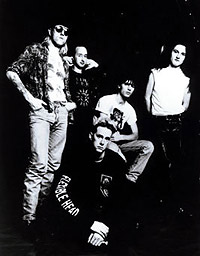 This dilemma was taken out of their hands when Dean was sentenced to 6 months imprisonment. In this time, Spider learnt the songs and was singing a few of his own numbers too. The decision was taken to drop Dean and carry on with Spider. What swung the deal was that Jason and Spider harmonised well together, something that had been missing with Dean. In the end Dean was thinking about jacking it in, this time away had given him time to think and he felt it wasn't quite what he wanted, so Dean left and Spider was in!
Around this time it was felt by some members that Rip van Satan & the Earth Rats was a) too long and b) too ridiculous to have as a name. Spider drew up a long list of names and finally a name was settled upon, the Seers. Leigh liked it because of the T-Rex album Prophets, Seers & Sages – The Angels of the Ages, the others liked it because it sounded like the Seeds, the Los Angeles band led by the eccentric Sky Saxon whose Pushin' too Hard was a big garage hit. Spider came up with a rough idea for a logo, which Jason, a talented comic artist, tidied up and they were off!!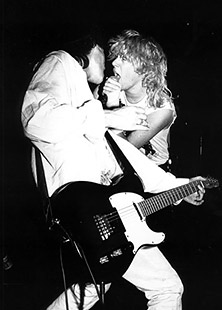 Armed with a new name and logo, the boys started to write more songs to take the edge off of their reliance on 60's garage covers. Covers such as the Third Bardos "5 Years Ahead of my Time" and the Standells "Sometimes Good Guys Don't Wear White" and the Chocolate Watch Bands "Milkcow Blues" were slowly dropped in favour of original material. One cover that refused to die was their version of the Open Minds English psych classic "Magic Potion" their version stayed in the set to the bitter end.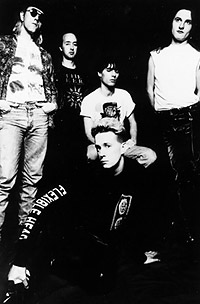 It was around this time that they decided the sound would be fuller if a second guitarist was added. After an abortive attempt that saw Spider play guitar and sing (something he still hasn't mastered!!) and a brief spell with Animal Magic vocalist Howard Purse on rhythm guitar, another friend of Jason's, Kat, was enlisted to the ranks. Kat, a classical guitarist from Knowle West (another artistic council estate misfit!) used his prodigious talent to add melody lines and searing solos to compliment Leigh's crushing rhythm and blasting 60's garage solos. The line up was complete.
They started building up a fearsome live reputation and enlisted local nightclub legend Dave Darling as their manager. They continued to build on their live reputation and started garnering favourable live reviews locally. Dave, meanwhile, conducted all band business from a pay phone in a local pub, having been too tight to get a phone line installed in his house. The band started to think this was a little small time and soon got Bristol based Londoner Phil James in as manager.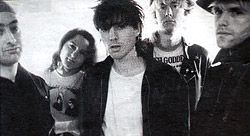 It was due to Phil's London contacts and limitless enthusiasm, that gigs and press interest outside of Bristol, started coming thick and fast. The band carried on writing songs that would make up the first album Psych Out. Before they had even done a national tour they were signed up by the Solo Agency. The band also set about recording their first single "Lightning Strikes", a one-off single for Rough Trade Records. 1988 saw them become the first unsigned band to play the main stage at Reading Festival and head off on a European tour with Spider's heroes the Ramones and a British tour with Leigh's hero Iggy Pop.
1988 saw the band support Crazyhead on a British tour and their own headline tour of Britain with friends Mega City Four supporting, These tours were sandwiched between the Ramones and Iggy Pop tours and also included two dates with Red Hot Chilli Peppers who were making their first visit to England.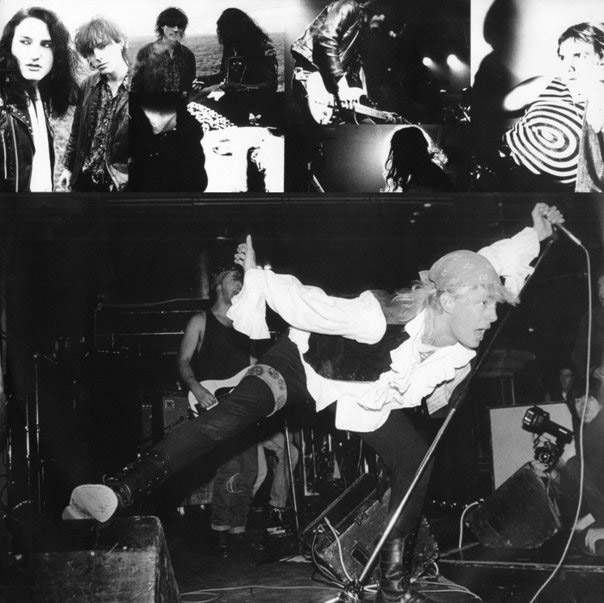 In late 1988 the band released "Freedom Trip" on their own Skullfuck records and signed a Multi album deal with the Virgin records offshoot Hedd records, a label started up by Big Country's management.
The band then went into the studio to document their live set with the first album "Psych Out". Recorded in London's Greenhouse Studios with former Vibrators bassist Pat Collier. Collier had previously produced The Wonder Stuff debut LP "The Eight Legged Groove Machine" and had worked with the band on "Lightning Strikes". The first single from the album came out on Virgin records. "Sun is in the Sky" sold well and the band toured Britain and Europe on its release. A second single, the double A-Sided "Welcome to Deadtown/Rub Me Out" appeared on Hedd records, but due to a disagreement between Virgin and Hedd the Album never appeared and for most of 1989 and the first half of 1990 the band were in limbo, sorting a way out of the Hedd deal and negotiate another deal. EMI were keen to sign the band, but when a quick resolution to the label problem was not forthcoming, they pulled out.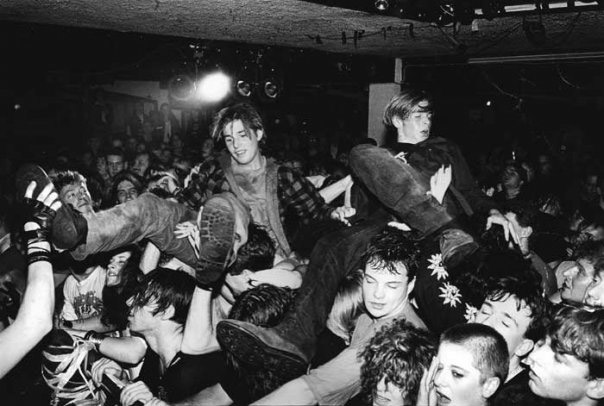 The boys carried on with yet another British tour and another jaunt around Europe, but this time out effectively killed all the momentum they had built up. By the time Cherry Red records released "Psych Out" the chance to capitalise on their initial success had gone. A tour of Britain saw them play to the same size crowds as before but in the larger venues the tour never lived up to expectations.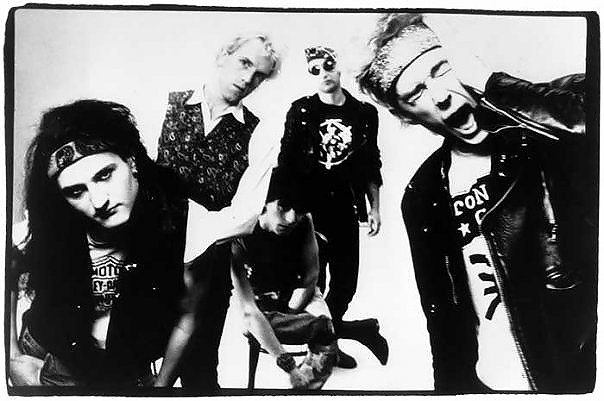 Meanwhile Italy, Germany and Japan wanted them and 1990 saw "Psych Out" released and do well in all three countries. The resulting tours saw the band gain in popularity abroad, while falter at home.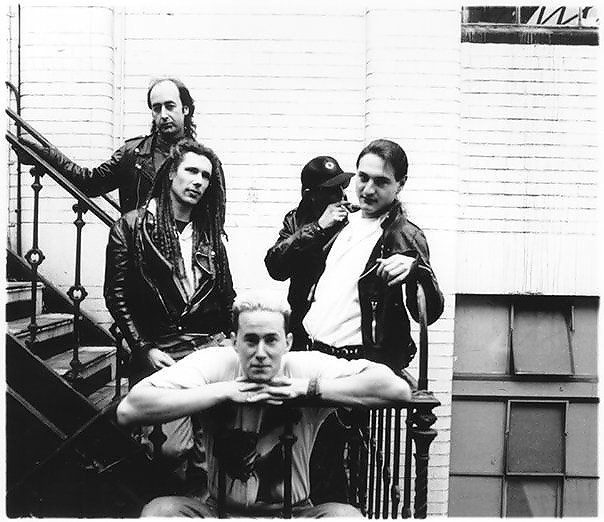 Early 1991 saw two big events happen, firstly the commencement of recording of the second album, named "Peace Crazies" and secondly the bands inspirational manager, Phil James decided enough was enough and he and the band went their separate ways. The band drifted through several managers in a six-month period, and this affected the recording of "Peace Crazies" which was being produced by ex Thin Lizzy producer Nick Tauber. The band was in conflict as well. Some of the band were not liking the way things were going on the album. Tensions in the band were surfacing and fists were thrown on a tour of Europe. In the end the bands founding member Leigh Wildman announced he'd had enough and left the band after a low key Ashton Court benefit gig. Jason recruited guitarist Nick Worms to replace Leigh for the Ashton Court festival, but Nick severed an artery and several nerves in his left hand, which saw the band shelved for another six months.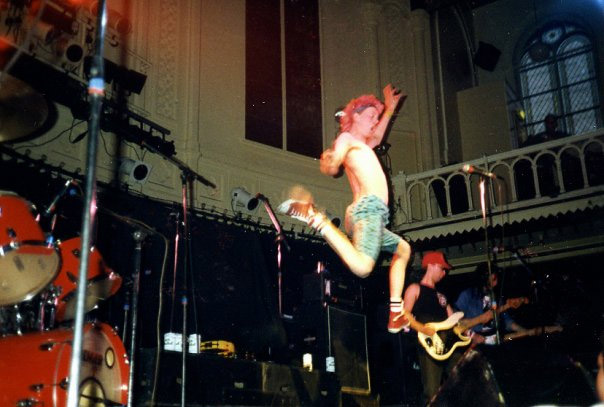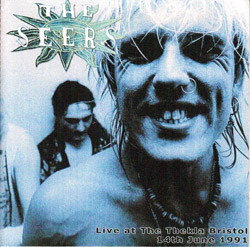 It was at a Nirvana gig at the Bierkeller that Spider was working that saw him and Kat decide enough was enough. After telling the band the agreement was made that the final gig would be at the Anson Rooms (an odd choice of venue, given the bands student baiting past) and on Friday December 13th (strangely apt) the Seers, ably supported by long time friends Mega City Four and up and comers Sun Tribe that the Seers rode of into the sunset after a sold out and extremely vocal set.
It was only after ex Mega City Four singer Darren "Wiz" Brown passed away suddenly at the tragically young age of 46, that the Seers reunited for a charity gig in Wiz' honour. 16 years had passed by now and after 90 minutes practice, the original line up pulled of a flawless set to finally put the Seers story at a proper end.
Spider Feb 2010