The Newbeats
EP ARC294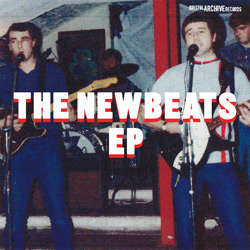 Somebody's Girl
She's Gone.
Be My Girl.
Put It All Down To Love.
All tracks recorded at Sam Studios, Bristol. circa 1984/86. Band Members:
Dave Dunn - Rhythm, Guitar, Vocals and Keys.
Andy Baker - lead Guitar, Vocals, Keys.
Dave Whittle - Additional Guitar.
Paul Beattie - Bass.
Rich Wilcox - Drums.

The band was formed in 1982 and went on to achieve top billing at all the major venues in Bristol, packing the Fleece on numerous occasions. The Newbeats had a strong Mod following and were linked with CBS Records in summer 85 where they were asked if Shakin Stevens could cover "Somebody's Girl" foolishly they were turned down as the artist wasn't considered "cool" enough, big mistake!!
We were also coveted by Phoenix Records around this time who wanted to take us on a tour of the U.K. We were the only young band aloud to play the 60'S Original Bristol Bands Reunions. We also appeared on an HTV show featuring "Game for a laughs" Henry Kelly as the host, also appeared on Local Radio several times. We pioneered " The Big Gig" held at Reeves Night club where we used a 60's format of 7 or 8 local bands playing the same gig to a sell out audience of over 1,000 people we were paid a barrel of beer for this one lol!!
We also held a "Ready Steady Go" night at The Fleece that launched Col Kilgores career to a sell out of over 400 people. Our final gig at the Mayfair suite was attended by Mods from everywhere and was a massive sell out. The band split shortly after when Andy secretly joined CC5,in my opinion we should have carried on without him.
The remaining members have spoke about a new project due to the Mod revival and we have many new songs in the vein of Secret Affair, Chords etc we are considering recording as they are new and exciting but will not be using old material and using the Newbeat name.