Rita Lynch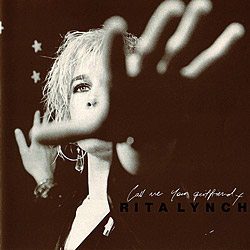 Rock and Roll Lifestyle
Silver and Gold
Call Me Your Girlfriend
Pale Blue Eyes
Stripped Right Away
Baby I Wonder
Beautiful Eyes
I Hold My Breath
Find A Love
Cry In The Night
Rollercoaster
Sixty Days/ Hey Joe
So Good To Me
All songs recorded live at Moles Club and Studio Bath 17th Dec 1990
Engineered and Produced by Mike Long
Photography Chris Rydlewski
Featured Track

Rita Lynch
Call Me Your Girlfriend
Rock & Roll Lifestyle
This text will be replaced by the flash music player.
Originally Released on Moles Records International 1991
Published by Moles Publishing 200 Ltd
Vocals and Guitar: Rita Lynch
Guitar: Pete Giles
Bass: Greg Baynes
Drums: John Sharp
Featuring:
Violin: Gina Griffin
Keyboards: Mike Oxenham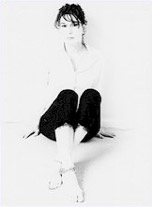 This is the stunning debut release, recorded live at Moles club in Bath in 1990.
The tracks 'Call me your Girlfriend' and 'Beautiful Eyes' remain two of Rita's most famous songs, reminiscent of early Sinead O'Connor, Rita has a vibrant current of subverted Catholicism running through the lyrics. From resurrection, crucifixion and redemption, she twists the language of her Irish childhood into desire, longing and bitterness, from the angry 'Do you lay me down at the Altar of Female Flesh' to the plaintive, 'Mother of God Protect us in Love'.

Rita Lynch has stood on the brink, glanced over into the abyss and dragged herself back. And then she discovered punk rock.
Her songs are an explosion of sexual, religious and social imagery driven by an energy that comes across just as strongly in an acoustic set as when Rita performs with a band.
Rita gained a lot of attention, particularly in the gay community, for her debut album "Call me your girlfriend".
One of the songs from the album - the gorgeous but scary Beautiful eyes was used in a short film "Rosebud" and Rita was the subject of a Channel Four documentary for the "Out" series.
Since then Rita has toured constantly with a band and as a solo artist. Apart from punk, her influences include Bob Dylan, Patti Smith, Roxy Music, The Fall, Joy Division, Iggy Pop and Irish ballards.
"I really like Rita Lynch, although I've only seen her with her band. I think my music is less aggressive than hers, or rather she's aggressive in different way. She's had more experience of the world and I think that shows in her performance." P.J.Harvey
Rita and her band are still actively playing and recording in 2008 please visit www.ritalynch.co.uk for current information.