Moskow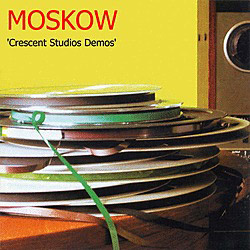 Featured Track

MOSKOW
Name, Rank and Number
Man from Uncle
Name, Rank and Number
Where's Daddy
Dining is an Emotion
Recorded by David Lord at Crescent Studios, Bath in November 1978.
Remastered by Steve Street April 2009
David Cole - Guitar
Jan Kalicki - Drums
Davis Ashmore - Voice
Michael Mathews - Keyboards
Trevor Flynn - Bass
The band previously released one single on their their own SRS label - 'MAN FROM UNCLE' and 'WHITE BLACK' and a track on the famous AVON CALLING album 'TOO MUCH COMMOTION' for Heartbeat Records.
These tracks were provided with the permission of Simon Edwards from Heartbeat Records. All attempts have been made to contact Moskow with no success. If a member of the band could contact us that would be very much appreciated
mike@bristolarchiverecords.com
Originally the band members were  Dave Luckhurst (vocals/song writer), Jan Kalicki (drums), Laurie Garbie (rhythm guitar) Dave Cook (lead guitar/song writer) and me (bass). I was a keyboard player at first but we didn't have a bass player so I bought one and learnt how to play.!
We practiced in a church hall in North Bradley, just outside Trowbridge. I remember it being really cold, Dave L always had a flask of coffee which helped keep him warm and lubricate his vocals cords which were often at full stretch. Jan always had blisters. Laurie always went on about his cousin (the Steve Marriott !!..really). Dave C was usually pretty reserved. It was held over 2 days in a shed in the back garden of a council estate in Radstock. We laid down 12 tracks including the 4 featured on Spotify. These are some of the original tracks which I was delighted to track down as my cassette tape has long gone been destroyed. The recordings were made using a 4 track TEAC  mixer. Dave L used one track for vocals one more was used for drums then the last 2 for vocals/instruments left...therefore pretty crude, but we were well chuffed with the results. !!
The 'Man from Uncle' track was the inspiration to the single released, allegedly played on John Peel, although I did not hear it.
We tried to get as many gigs as possible cos that was the only way to see if what we were trying to do actually worked on stage. Gigs were mainly in local clubs but one stuck in my mind. Our manager (cant remember his name) managed to get us a support band spot to Suzi Quatro at the Bristol Hippodrome,,,Fame at last ?? Nah, she only let us use the middle range of the PA which obviously made her sound so much better when her band struck up B****h !!
I left the band after about a year as the guys were getting serious about trying to secure a record deal. I was studying to become a radiographer at the RUH and felt that this was a safer career prospect (boring I know, but I am still practicing in the profession)
I then joined a band called Mixed Breed (not so career orientated) who played covers of 70's disco classics.
Martin Shute (Dec 2013)