Monk and Canatella
Who's Who?ARC228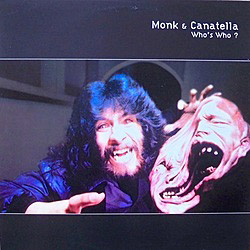 This Time Is Different
Picnics
Grout
Testerone
Monk & Canatella were an indie/breakbeat musical group from Bristol, England, formed by Simon Russell and Jim Johnston in the mid-nineties. Their 1996 album on Cup Of Tea Records, Care in the Community, is a prime example of the trip-hop sound.
The band later moved to Telstar and released a second album Do Community Service in 2000. The artwork for this album was an early collaboration with the Bristol born graffiti artist Banksy.
The band parted company with the label shortly afterwards.
All tracks written and produced by S.Russell & J.Johnston
Cuts by DJ Madds
Sax Craig Gripper Crofton
Additional Guitar Tom Browne
Backing Vox Lucy Cooper and Maggie Thomas
Virtual effects on Grout Sean Miller
Recorded at the Coach House Bristol
Mastered at Loud
Remastered July 2011 by Steve Street
Monk & Canatella were represented by The Vision Factory
Originally released in 1997 on Cup Of Tea Records