Lunatic Fringe
The band Lunatic Fringe was conceived at what was known at the time as 'Monks Park Secondary Modern', in North Bristol in 1979. In a scenario which admittedly sounds clichéd, but which was at the time surely being repeated in schools and youth clubs throughout the U.K., a group of disaffected teenagers from dysfunctional families found a common cause and a means of self-expression and escape through Punk Rock music.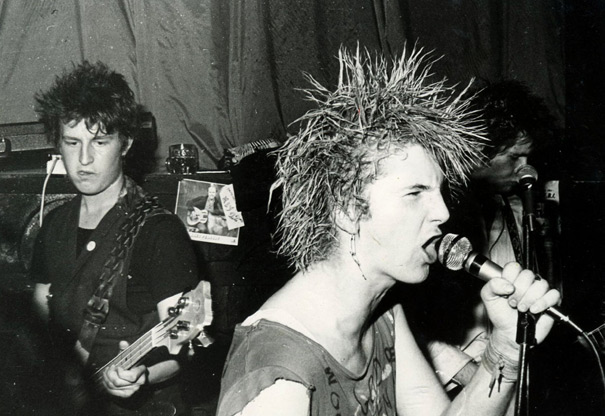 Already pronounced 'dead' as a movement by media commentators, in fact a second generation of punk bands were at the time enjoying mainstream coverage and were playing the length and breadth of the country, spreading the punk message to a much larger audience than it had previously reached. This 'we're doing it, so can you' doctrine provided the inspiration for us to form a band, regardless of the fact that none of us could play, let alone own, any musical instruments at this stage. It was just something that we felt compelled to do, for better or for worse.
The name for the band was kindly provided by a head teacher, who one day misguidedly announced at a morning assembly that he believed that the 'Lunatic Fringe' elements would soon be departing at the end of the school year. As we perceived that a 'presence' was in fact still going to be maintained in the school, we decided to appropriate his phrase as a band name. With that sorted, the group began to take shape over the next 12 months as equipment was acquired and a stable line-up evolved. The band managed to achieve a basic competency, playing covers of favoured bands such as Buzzcocks, Sex Pistols and Stiff Little Fingers, plus 'Wild Thing' (more The Goodies than The Troggs version). We were keen to write our own material though, and by mid-1980 had put together a small set consisting of about half covers and half originals.
There never seemed to be any question about lyrical inspiration. We were all becoming socially aware, and were angered and frustrated at the hypocrisy, brutality, injustice and racism that we perceived our society to be founded upon, and it made sense to articulate this frustration through our songs. In addition, many will recall that at the time adopting a punk lifestyle meant living with the constant threat of physical and verbal aggression, not least from the police, as well as blanket banning from pubs, cafes and music venues. Situations we were encountering on a daily basis would therefore also influence our lyrics, as was the case with many of our contemporaries.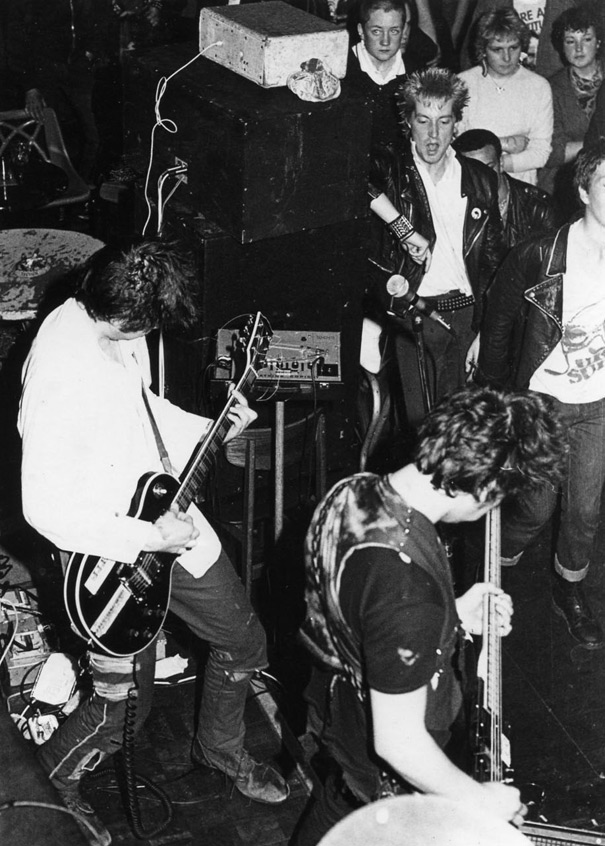 The first gig took place around June 1980, at a squatted former school building called Durham Park, which could trace its lineage back to the late 60's Bristol countercultural scene (a lost history surely overdue for a re-telling, anyone?). The line-up of the band at this point consisted of Age Blackmore (drums, and arguably the most musically competent), Nick Horn (bass guitar), myself John Finch (guitar), and a singer called Birdshit. The gig was eventful for a variety of reasons, not least because Birdshit had apparently become embroiled in an altercation with some renaissance Mods on the way to Durham Park, and was subsequently unable to sing. We decided to play without a vocalist anyway, so we asked for volunteers from the audience to step up and sing to the cover versions. One such audience member was Bear Hackenbush, and after having thus inadvertently auditioned, he was then invited to become the permanent singer.
The band now entered it's most active and creative period, developing a full set of originals and ditching all but one or two of the covers. Following the first 'official' gig at Pill Youth Club in December 1980 supporting Chaos U.K. (only their second gig as well), the band went on to play at most of the smaller venues in Bristol of the time – at least those prepared to play host to punk bands.
In context, there was a general feeling that as audience members ourselves, we were not really connecting with many of the other more established bands playing around the Bristol area at this time; some of these groups came across as being too contrived or artful, or even simply too contented for us to be able to relate their music to our world view and life experiences to date. Seeing a local band called Vice Squad support The Damned in 1979 was therefore something of a revelation, and for us was one of those moments when you realise that there are others about who are on the same wavelength as you. It seemed that there were lots of kids going to gigs in Bristol at this time who also thought the same way, and when home-grown bands started making the sounds they wanted to hear, they naturally gravitated towards each other, and an exciting scene began to develop.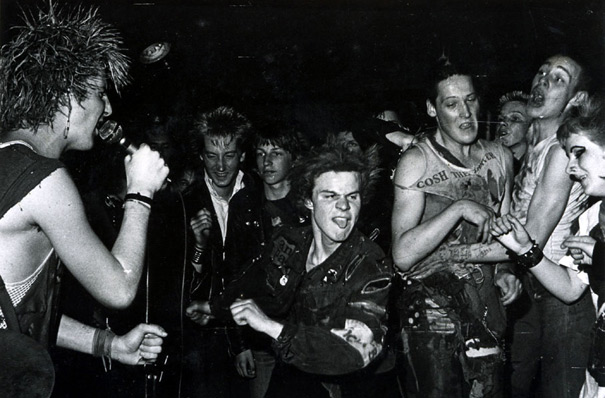 So, gigs at long-gone venues such as the Stonehouse or the Green Rooms began to attract a newer, seemingly more desperate audience, who began to cultivate a far wilder visual identity than their counterparts of a couple of years previously. Other bands were rapidly appearing at this time such as the aforementioned Chaos U.K., Disorder, Red Alert (from Weston), Public Disgrace and Court Martial, to name but a few. What perhaps differentiated the Lunatic Fringe sound from some of our peers were the slightly older and less frenetic musical influences evident in our songs, combined with an emphasis on lyrical content and tunefulness (relatively speaking).
This momentum, sustained by a flourishing independent scene which embraced, rather than distanced itself, from the term 'punk', led us to the idea of staging an event which might accommodate the ever-increasing number of bands. So with the help of local character Rich Cottrell, the band organised the first Bristol Punk Festival. The festival took place in September 1981, at Trinity Hall (one of the few solid punk venues of the early 80's), and the idea was to get as many of these new bands together as possible on one bill. This event in some ways mirrored aspects of the original Punk Rock scene, with its DIY flyers and tickets, and an open invitation for any band that wanted to play to just turn up on the night (this on top of the 7 scheduled groups). In the event, a staggering total of about 15 bands played that evening, in what was a packed out, chaotic and memorable affair.
The band was now beginning to gather favourable reviews in the local press, and in September of 1981 recorded a demo at Liam Henshaw's Right Track studio. One of these tracks, the unequivocally anti racist composition, 'British Man', was subsequently re-recorded in order to be included on the 1982 Riot City compilation 'Riotous Assembly'. By 1982, the independent charts were being overwhelmed by a flood of new punk bands and labels, and this compilation album appeared to set out, albeit somewhat disjointedly, to document what was happening in the Bristol area and beyond.
The band continued to gig regularly at this time, frequently playing benefits for causes we supported, such as the Campaign for Nuclear Disarmament and various Animal Rights organisations. We also got a few support slots for national bands at venues including Trinity Hall and that other notable punk venue of early 80's Bristol, the fondly-remembered Granary.
Following on from the recording for Riot City, we were approached by Shane and Dave from Vice Squad, who were eager to start up their own independent punk label. They were genuine fans of what we were doing, and had previously arranged support slots for us with their band on a number of occasions. The result was that we were soon back in S.A.M. studio (where British Man had been recorded a couple of months earlier); the product of which was a three-track E.P. released at the end of July. We were, and still are, pleased with the result, despite the woeful state of our equipment at the time. The record was the first (and only to date) release on Resurrection Records, and featured the tracks 'Who's In Control?', 'Mail Order Rebels' and 'Bristol Buses'. Lyrically, the first two songs were chiefly concerned with themes of peer pressure, control, and manipulation, both within the movement we had become part of and within society as a whole. The third track, 'Bristol Buses', highlighted a less serious side to the band, beginning as it did with a spoof of a local TV advert. The song was really just us having a joke at the expense of the regional transport company, although it appears to have endured over the years in its own right, as does the doubtful reputation of said transport company right through to its current incarnation.
Whilst the E.P. enjoyed a degree of success, individual band members were not altogether happy about how this commercial move sat with our beliefs and objectives, and this was probably the moment when internal cracks began to appear. To give a further example, the band argued at length about the merits of and justification for producing and selling T-shirts, eventually agreeing a compromise by producing our own Lunatic Fringe underpants, which we considered to be more in keeping with our image and less obviously commercial.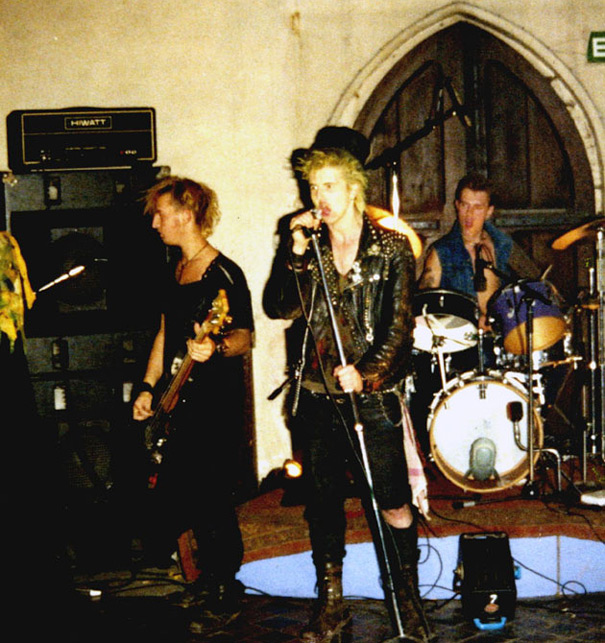 These tensions, coupled with individuals beginning to head in differing directions, led to the first major shake-up within the band. At the end of the year, drummer Age Blackmore left (though not before recording a four song music video filmed in a former church on Whiteladies Road). However, a replacement was soon found; Karl Burrows, formerly of Spyrex Doom (one of the many bands who had played the Punk Festival a year earlier), joined the band in early 1983.
The first gig of the new line-up turned out to be a significant event in its own right, and saw the band return to its squatting roots. A group of punks, squatting activists and anarchists collaborated to create an alternative Easter celebration in a former church on Midland Road. The band played a short set in a line-up that included Disorder, Chaos UK, Rancid (the originals!), Amebix and Chumbawamba . Still well remembered, the gig has passed into local history and even featured in Venue Magazine's recent 'Best Ever' Bristol gigs listings. This was the first of a number of successful squat gigs which led to the eventual creation of a permanent squatted venue, the legendary 'Demolition Ballroom' on Cheltenham Road. However, that particular story requires a far more comprehensive telling in its own right.
A complete DIY/countercultural scene was now developing in Bristol, with fanzines, squatted homes and venues, a café, and even a flourishing homebrewed beer industry (for those with the constitution to stomach it). Over the next year the band played a number of these venues, and also played some gigs around the U.K. There was one venture overseas, to play a massive squatted gig which took place just outside of Paris. We travelled with and played alongside Disorder and Chaos U.K. amongst others; again, however, the extraordinary events surrounding this gig would require a separate re-telling elsewhere.
Despite the frequent gigs, however, the momentum within the band was fast dissipating. One of the downsides of this period was that it coincided with and provided a ready network for the sudden availability of hard drugs, most significantly heroin. Lunatic Fringe did not escape the harmful fallout from this drug, although it would be unfair to lay all of the bands' problems at its feet.
With the band a long way down the line from where it started out at, in a music scene that was now constantly fracturing and becoming more extreme, it was becoming very difficult to even co-ordinate a practice, let alone maintain a meaningful and creative output. There were still a few great moments to come though, such as an uproarious gig at the aforementioned Demolition Ballroom, recorded for posterity on the Manic Ears tape 'Lush and Live in '85'; and at the end of 1984, we managed to get ourselves back into a recording studio.
The result of this session was another E.P., which was again a debut release for a new independent Bristol label, called Children of the Revolution. The E.P, 'Cringe with the Fringe', was released in February 1985. It consisted of 2 songs from the early days, and 2 more recent songs, and included what I consider to be one of the bands finest moments, the archaeologically irreverent 'Curse of the Bog People'. Intended as a bridge between the early days and a proposed album of newer material, it was in fact the last band recording to be committed to vinyl, although another track from this session, 'The Enemy Within', later appeared on various cassette compilations.
Despite the relative success of this release, by mid-1985 the band had become inactive, with both Karl and Nick leaving to pursue different interests. The story would probably have ended there, but for the arrival of bass player Simon Hobbs in 1986, eager to breathe new life into the band. So with new song writing input, plus a new drummer, Matt Chanell, the resurrected band made its debut at Bath Longacre Hall in July 1986.
However, we were under-rehearsed, the sound was poor, and the set was plagued with technical problems; all of this served up to an indifferent audience, far removed from the type of people the band had originally appealed to. This was enough for Bear to call it a day, returning a month later for a 'farewell' gig at a wedding reception on Redland Road. Appropriately enough, Chaos U.K. also played, and the performance itself was far better, as well as being more fun, than the one at Longacre Hall. Nonetheless, that, to all intents and purposes, marked the end of Lunatic Fringe.
That is……until December 1991, when Age, Bear, and I got back together with 'honorary lunatic' (or more accurately, just plain lunatic) bass player Andy Minter for a memorable reunion gig at the Fleece and Firkin. Whether this could ever happen again is anybody's guess.
John Finch March 2010
LUNATIC FRINGE DISCOGRAPHY
VINYL RELEASES
14 MAY 1982 – 1 TRACK ON "RIOTOUS ASSEMBLY" (RIOT CITY COMPILATION L.P.); "BRITISH MAN", RECORDED AT S.A.M. STUDIOS, BRISTOL
JULY 1982 - "WHO'S IN CONTROL?". 3 TRACK E.P. ON "RESURRECTION RECORDS". TRACK LISTING; "WHO'S IN CONTROL?", "MAIL ORDER REBELS" AND "BRISTOL BUSES".
RECORDED AT S.A.M. STUDIOS, BRISTOL.
FEBRUARY 1985 – "CRINGE WITH THE FRINGE". 4 TRACK E.P. ON "CHILDREN OF THE REVOLUTION" RECORDS. TRACK LISTING; "CURSE OF THE BOG PEOPLE", "WHOSE WAR?", "CONFORMITY (FACE THE TRUTH)" AND "FLESH AND BLOOD".
RECORDED AT FOXHOLE STUDIOS, BRISTOL.
There were various cassette-only releases, including:
1985 – "LUSH AND LIVE IN '85" (AKA "FORCIBLE DRUGGING AGENDA). MANIC EARS TAPES (L.D.1). LIVE SET RECORDED AT THE "DEMOLITION BALLROOM", PLUS LIVE STUDIO RECORDINGS.
1985 – "BE BAD, BE GLAD". MANIC EARS TAPES (LD6). COMPILATION OF RARE DEMO TRACKS FROM DISORDER, CHAOS UK, AMEBIX AND LUNATIC FRINGE. TRACK LISTING; "VIOLENCE (SIGN OF FEAR)", "WHO'S IN CONTROL?" AND "BRITISH MAN" FROM 1ST DEMO, RECORDED 17/9/81, PLUS "THE ENEMY WITHIN" (OUT-TAKE FROM THE "CRINGE WITH THE FRINGE" RECORDINGS).


Post-Fringe activities as follows:
Age Blackmore drummed for The Seers.
John Finch played guitar in Maggot Slayer Overdrive.
Simon Hobbs played in Can't Decide.
Bear Hackenbush co-produced the zines 'Skate Muties' and 'Bugs and Drugs'