Bush and Clarke
AllergiesARC034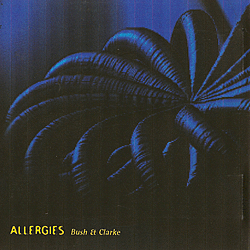 Featured Track

Bush and Clarke
Allergies
Goodbye To All That
Guru Maserati
Glassy Avenue
Hoboken Tone
Entertainment
Goodbye to All That
You Used to Go to My Head
I'm Satisfied
I'm Ripe, I'll Bruise
I love to Hear the Caged Bird Sing
When Solar Flares Are Burning
A Pair of Blue Eyes
Pure and Honest
Don't Wake the Rain

Allergies - Notes and Credits
Steve Bush and Christian Clarke were both refugees from defunct Bristol bands - Essential Bop and Various Artists, respectively - who buddied up in the early '80s with a view to making some sweet (and sour) music. Early demos - recording as 'A Pair of Blue Eyes' - were encouraging, but shortly afterwards Clarke returned to his native North London, leaving Bush to trudge around the east coast of the USA with a briefly re-formed Essential Bop. On his return Bush joined the exodus of Bristol musicians heading for The Smoke and, reunited with Clarke, headed for the songwriters' woodshed (aka A Living Room Somewhere in Finchley).
Further demos resulted in interest from a Great Big Record Company. By then the eighties were awash with duos (Thatcher and Reagan being the most successful, unfortunately) and 'A Pair of Blue Eyes' seemed to fit right in with this trend. Songs were recorded, a single ('You Used to Go To My Head') released, but all to no avail.
Free of the corporate straitjacket, and abandoning the POBE moniker, the boys retreated to Sparkle Studios in Clerkenwell for an intense two weeks of recording (and re-recording), intending to release the resulting album on their own 'Crusty Bread' label. At this juncture the Inland Revenue intervened, reaming them of their remaining spondulix, and leaving the resulting 'Allergies' album to linger unissued in the vault, until now.
If this were a book of snapshots, you might call it something banal like 'What We Did in the '80s', but to this writer there is a timeless quality in these songs that lifts them above the decade of shoulder pads, legwarmers, Short Sharp Shocks and DX7s. A love of pop from the dark side manifested itself in Bush's lyrics and melodies, while Clarke's multi-instrumentalized funktion farm produced a banquet of rhythms, sounds and textures. The result? A mixture of mainstream and weirdstream that only experienced rafters could safely navigate.
And what now of our two intrepids? Clarke dabbles in film production and photography while Bush treads the boards back in Bristol with Fran Fey, and still performs the occasional Bush and Clarke song in concert.
Marcus Thirpe 2008
Guitar, Bass, Keyboards, Programming: Christian Clarke
Singing: Steve Bush
Trumpet: Ted Bayliss
Saxophone: Max Persimmon
Backing Vocals: Melanie Lister, Fiona Shackleton
Drums: Fokkje Koxakker
all songs written by Steve Bush and Christian Clarke
Recorded at Sparkle Studios, London, 1989
Produced by Christian Clarke
Engineered by Damien Maertens
Photography by Peter Ashworth
Cover by Proteus Design
All songs (p) Plangent Visions Music
Recordings © 2008 Crusty Bread Productions
Thanks to: Googie, for everything.