Blue riverside
Live at Arnos Court 1985ARC237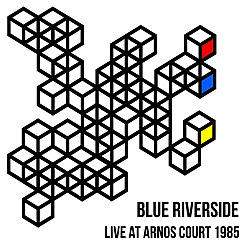 Featured Track

Blue Riverside
Experiments In Colours
High Time
She Lied
Experiments In Colours
Wish It Could Be Summer
Purple Haze
Naz Are Blue
Odd Arrangement
I Can Only Give You
I only ever saw this (5 piece?) band once – at the most unlikely of settings and venues – and the gig and performance is still one of the most exciting I've ever seen from a Bristol band.
Normally the thought of a talent contest sends me running, but one night in the mid 1980's, someone I knew well asked me to go along to one at Arnos Court Hotel (next to the HTV studios and offices on Bath Road).
I didn't know any of the bands on the bill, so it was really professional and personal obligation on my part to go, rather than expecting to see or hear anything out of the ordinary.
How wrong I was!
I can't remember where Blue Riverside were on the bill, but when they strutted on stage and the first chords crashed in, I was transfixed. Here was a Bristol guitar band brimming with ATTITUDE – brash, snotty, hi-octane, and totally stellar.
The fact that most of the songs were little known covers of tracks by arcane acts of the likes of the Nazz, Blues Inc or the Rockin' Ramrods was neither here nor there. These guys played like their lives depended on it, and gave no quarter, and plenty of their twists in the river.
One of those punk psychedelic tunes, 'Experiment in Colours', was a rip snorter, all snaggy guitar, rattlesnake bass and pounding drums, with the singer getting more and more frantic as it progressed. Their take on 'Purple Haze' was purely psychotic.
Then they could also write a summer, pop anthem with edge, like 'Wish It Could Be Summer', which up there with all the Californian classics that dominate the airwaves. Even that had the hint of darkness like an emerging thunderstorm.
They went down like a storm of their own, gave me this 8 song compilation demo afterwards, and that was IT – never heard from or saw them again. Just disappeared into the west country night as quietly as the contrast to their utterly explosive 'wake the dead in Arnos cemetery' show had introduced them to me.
DAVE MASSEY
written from memory (sadly lost an unpublished Melody Maker review of that show)

Blue Riverside - another perspective
I caught most of Blue Riverside's gig's back then about 85, 86 it was as good as seeing The Clash for the first time. Blown away like nothing I ever seen since. These gigs are still in my head. Andy Baker of Bristol Mod outfit "The Newbeats" took me to see them at The Crown in St. Nicks. At the time the band as I remember comprised of Pat Evans, Drums, Neil Garland, vocals, Jason ? Bass, Roddy, lead guitar and Dean, joint vocals & tambourine, marracas ?
I could rant all day, but this still is one of the best gigs I've ever seen. the pub was, as still is, full of Bikers & goth type individuals, who did not seem really fussed what the noise was, but I was into all the stuff they played, and was blown away as they say. What a Mash up . They played a lot of The Misunderstood, gleamed from the Cherry Red Album of a few years earlier, Hendrix & obscure stuff from Nuggets / pebbles early comps. Got chatting with Neil after, hit it off & he asked me to join as rythmn guitarist.
I was not the best musician in the world right then,but with the help of Andy Baker, I went to 4 or 5 band practices at Kingsdown and under the Moon Club, doing my best to learn my bit. The band played several other gigs at that time, but with me still in the audience. The last ever gig was in the least likely venue on the planet "Papillons" near Bridewell Nick, Home of the piped aviator & canvas belt, I know for fact that Neil blagged the gig under the promise of some Thompson Twins type performance. How wrong, cant explain how brilliant a night that was, and how gob smacked the Barrys & Sharons in the club were.
Next week I turned up for practice with Andy , but Roddy & Dean had left to do their own thing. I was gutted and talked Neil & Pat into keeping it together with Andy coming in on Bass (Jason, who was a strong bass player & diamond geezer, knocked it in the head when R & D left) I then dragged local mate Phil Elvins in on guitar & started practising in the old Man's yard in Downend. Renamed The Cass Carnaby Five after mine & Andy's obsession with Gerry Anderson puppet shows, we then played loads of gigs around Bristol venues & built a good following.
Back to The Riverside, & Dave Massey could not have put it better, they really were that fantastic, for those wonderful five minutes back then.
Sean Parry April 2011
Blue Riverside - and another perspective
I've just read the blue riverside thing on your website and it brought a lot of memories back. So I thought I'd send you a little info on the group, well what I can remember.
Firstly the line up
Dean Reynolds vocals keyboard
Pat Evans drums
Jason Hitchings bass
Roddy Pierce lead guitar
Lee Collins rhythm guitar
We played our first gig under the name "over under sideways down" but soon changed to "Blue Riverside", taken from "the misunderstood" recording session "a blue day in riverside".
We formed in 84 and played gigs till mid 86. Though I left in Feb of 86 to live in Cornwall. I think I was replace by Pat Morgan and I remember a rehearsal or two with Neil 'baby' Garland on joint vocals with Dean.
I remember the Arnos court gig. It was a sixties style "battle of the bands" thing.
The line up as I remember was.. The Joint Jumpers, The Harpoons, Whole Wide World, The Newbeats, Blue Riverside and I think two others though I don't remember who. I also remember a review in the venue magazine shortly after saying basically we were the best thing since sliced bread.
We played a lot of Yardbirds songs, Naz are Blue, Lost Women, Train kept a'rollin, High Time,plus our fav songs from Pebbles, Nuggets and highs of the mid sixties, plus a bunch of original songs, Wish it could be Summer, Sunshine Girl, written by me, Odd Arrangment, I think written by Dean and Jason, The girl, that was me and Pat there were others though I forget.
I remember our manager was Tom Bennett who tirelessly drove all of our equipement around in and on his mini and he would be ritually humiliated every gig when we played "big tom".
That's all that I can remember really(that would be of interest to you). I hope you make the mp3s available as I haven't heard these songs for ages. I'll buy them for sure.
The other point of interest is we got back together in 1990 with the addition of Deans brother Ashley Reynolds and another guitarist. We were called "Suntribe". We put out a record a 5 track 12" ep
called "Guts like briar" and played lots of gigs and such. I posted a video on youtube "lemon skin water" you can check out.
Hope this interests you, Thanks for your time.
Lee Collins July 2011
Disclaimer: We have made every attempt to find the original owners of these wonderful recordings. If a member of the band or anyone else reads this and can supply us with any information it would be greatly appreciated. Mastered by Steve Street Oct 2010