Big Square
All Square Now ARC140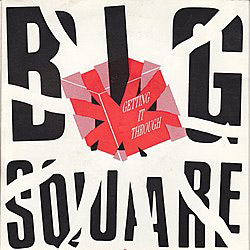 Featured Track

All Square Now
This is My Life
Love (That's Wot)
This is My Life
Don't Last Forever
Getting it Through
Hit & Run
Layin' in Wait
Leaving Lovers
Perfect Crime
Secrets That We Keep
Tomorrow Only Knows
What If
What Is So Wrong
What the Children See
World Out There Waiting
Fine Time
Hold Back The Night
Getting it Through
Big Square formed in 1985 by Sil Wilcox, Colin Ball and Russ Crook. Sil, Colin and Russ created their own studio called SAS studios based in Bath so they could spend time recording, writing and rehearsing.
Sil was in bands during the seventies and eighties like 'The Rockets' and 'The Rejects' and then to form 'Lucan'.
Colin a talented musician, was in a Bath band called Frame By Frame during the early eighties.
Russ was in a Bath based band called the A.T's from 1979 to 81 and then on to Bristol based Umo Vouge who were signed to EMI in 1983.
Bass Player Ian Vallin and Drummer Mike Hoddinott joined the band in 1986 from a Bristol band called 'Full Circle'. Ian left Big Square in 1987 to join a band called 'Rival Attraction' and was replaced by Rich Wilson who later went on to play Bass for Doreen Doreen.
Big Square toured extensively around the UK. Toured with 'Then Jerico', 'Bronski Beat', 'China Crisis' and 'The Bible' to name but a few.