Avon Calling
Avon CallingARC160CD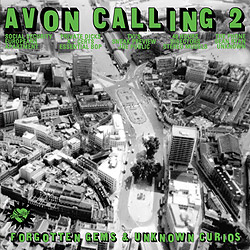 bandcamp
20 SUPERB TRACKS ALL PREVIOUSLY UNRELEASED
SOCIAL SECURITY SELF CONFESSION
EUROPEANS THE ONLY ONE
APARTMENT BROKEN GLASS
PRIVATE DICKS YOU GOT IT

X-CERTS PEOPLE OF TODAY
ESSENTIAL BOP AUDITION ROOM
APARTMENT RETROSPECT
SNEAK PREVIEW MR MAGOO
JOE PUBLIC LETTERS IN MY DESK
48 HOURS TRAIN TO BRIGHTON
DIRECTORS SHOWCASE

PRIVATE DICKS WANT SOME FUN

SNEAK PREVIEW I CANT GET OUT

STEREO MODELS MIDDLE OF NO WHERE

THE PHONE ANY TAKERS

SEAN RYAN SUICIDE MAN

JOE PUBLIC FASTER

TVI'S DANCER

DIRECTORS EMPTY PROMISES

UNKNOWN YOU MIGHT AS WELL ENJOY YOURSELF
In 1979, Bristols' music scene was riding the crest of the new wave, spawning numerous bands and performers whose influences and indeed physical beings have gone on to feature in some of todays' big music makers.
During this period local musician Simon Edwards decided to form Bristols' first independent label, Heartbeat Records, to capture all the excitement and get Bristols' music out beyond the M32.
With so many bands to choose from the label set about releasing a series of 7" singles, and such was the demand realised by these that a compilation LP featuring fifteen of these bands was released. The album, topically titled AVON CALLING went on to achieve near legendary status – even hailed by John Peel as "truly superb, the compilation that all others should be judged by".
Such was the interest in the album that the bands involved continued to supply the label with demo tapes, and the lucky ones went on to release more singles, even 12" EP's and ultimately LP's. The sheer volume of demos and the eventual logistical constraints of "just how many records can one man put out in a year" meant that only a few would actually see further releases - though the content was in most cases nothing short of superb.
Label boss Edwards openly admits to continually returning to many of the songs purely
just to listen and enjoy some "bloody good music". Long has it been his ambition to put together an album of these songs - for no other reason but to get them out there where they belong, so they can at last be heard by others and the bands once more be applauded for making such exciting and essential sounds.
Well, the dream has finally been realised and Bristol Archive Records have given him the platform to finally release AVON CALLING 2, a collection of previously unreleased recordings from the vaults of Bristols' Heartbeat Becords. Featured bands include EUROPEANS, APARTMENT, SNEAK PREVIEW, JOE PUBLIC, 48 HOURS, ESSENTIAL BOP, THE DIRECTORS, THE X-CERTS and SOCIAL SECURITY.
This new album full of forgotten treasures will sit perfectly along side the original AVON CALLING release and go some way to completing the story of just what was happening in Bristol back in 1979/1980 and how the music sounds as relevant today as it did back then.
REVIEWS
Record Collector Album Review
3/5

The legacy of Bristol's Indie bands is in safe hands.
In subtitling this follow-up to the 1978 Avon Calling compilation, documenting a multitude of hopeful Bristol indie bands, Forgotten Gems and Unknown Curios, its archivist Simon Edwards (who put out the original LP on his Heartbeat imprint all those years back), is acknowledging both this collection's distilled essence of musical ambition and that, while none of these acts have transcended their regional scene, some have totally vanished without trace. What got left behind was a veritable treasure trove of cassette tapes that Edwards has horded and loved ever since.
We don't care that these bands never got to the Colston Hall, let alone Carnegie: what we like is the notion that someone out there is hearing themselves and their aspirations and dreams for the first time for 30 years due to this diligent tending of the flame. What that must feel like!
As you'd anticipate, there's a certain amount of raw enthusiasm over genuine talent embedded in these C60 demos, but there's also some perky three-minute pop recorded for posterity. Were you a member of Sneak Preview, The Phone, Social Security (what a shame Self Confession is so grainy), Directors or Europeans? You did good!
Ian Abrahams
Other Avon Calling 2 Reviews

UBERROCK

RED HOT VELVET

LIVE MUSIC SCENE

ROOM THIRTEEN

GET READY TO ROCK

GLITZINE

TASTY

WHISPERIN HOLLERIN