Savage Heart
Fire in Your Eyes - SingleARC309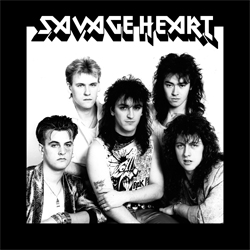 Fire In Your Eyes (Stevens, Muse, Philips)
Surrendered To The Night (Stevens, Muse)
Recorded by "Head" at Ice House Studios, Yeovil on 10/12/1988, with mixing on 15/12/1988.
Nick Gaye: Vocals
Dee Stevens: Guitar, Backing Vocals
Andy Muse: Bass, Backing Vocals
Jay J. Philips: Keyboards
Lee Godbert: Drums

Savage Heart were active in the late 80's, kicking off when the line-up was completed in September '87 following the first of what turned out to be many mentions in the Bristol Evening Post. Gigs were fairly extensive in early '88, including several appearances at the Bierkeller initially on the regular local band "showcase" nights, before progressing to support slots with Kerrang pin-up Lisa Dominique and later in the year Little Angels. The band took their hi-energy show to the rock clubs of south Wales on a regular basis, and secured decent billing on a couple of festivals in Bath and Swindon. A high profile support slot with Ozzy Ozbourne at Bristol Studio was cancelled when the tour was expanded and rescheduled, but from this a rampant "interest from CBS Records" rumour kicked off – and the band made the most of this in the press! The demo of the songs Fire In Your Eyes and Surrendered To The Night was completed in late '88 after discussions with Dave Roberts at Revolver records, but when this and other industry interest started to cool the band fizzled out. Andy eventually left to hook up with Sy Keeler in what was to become Mirror Mirror, while Dee took over lead vocal duties and re-launched the band as Abandon with Paul Godbert on bass, Lee's brother. Jay eventually hooked up with Mirror Mirror too, playing live and on the bands later demo's.