Voice of Nature
Delve ARC341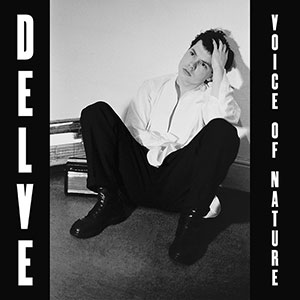 Another Room
Life Of A Man
A Meeting Of Fate
A Nation Of Travellers
Thought I Saw
Extinction
Lifecycle
Like Father Like Son
Walkabout
Lifecycle (edit)
Line up:
Mark sings and plays guitar and keyboard.
Malcolm sings backing vocals and plays bass guitar.
John plays the drums.
Steve Barnett played the drums on Walkabout and extra drums on Like Father Like Son.
Voice Of Nature were formed in 1980 by Mark Byrne and Malcolm Young. John Simpson was soon recruited as drummer and the trio set about rehearsing the songs that Mark had written in order to get tight and get gigging.
1980 through 1981 saw them performing shows around the UK's West Country, the best of which the band felt were at Bristol's famous Granary Club with Theatre Of Hate and Exeter University, opening for The Ronnie Scott Quintet.
The recordings on the album Delve were made early in 1981 on a 4 track tape machine by playing live and then overdubbing extra sounds to enhance the production.
The master tapes, thought to be lost were discovered recently and converted into the digital domain.
The recordings were made by Mark Byrne except A Nation Of Travellers which was recorded by Steve Street.
All songs written by Mark Byrne except Thought I Saw by Malcolm Young and Mark Byrne.
Gig Review by Mathew Godspell for Out West Magazine - September 1981 issue.
Voice Of Nature - The Green Rooms, Bristol.
People who experienced Theatre Of Hate at the Granary Club will also have seen Voice Of Nature playing support.
Although they're limited to three instruments on stage there are no gaps in the sound. Mark's guitar contains a splash of reggae but the bass and drums go about their business in a serious straight forward action. Mark is the voice behind Voice which is pitched between Morrison and Curtis, however, his lyrics ensure the band stay out of the territory mapped out by The Doors and Joy Division.