The Psychodaisies
Oh No! Not These Again! ARC345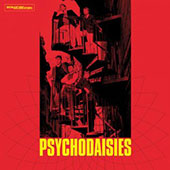 Always energetic, always full throttle and always entertaining, The Psychodaisies first got together in Bristol in 1994 and very quickly became a force to be reckoned with on the live circuit. Although formed from members of local rock 'n roll bands, they were heavily influenced by the Mid 60's Freak Beat scene. Fuzzy guitars, Vox Organ riffs & soaring harmonies were the basis of their early sound. Their musical menagerie never truly fitted into any specific genre, so it was hardly surprising that they drew crowds from all walks of life, even gaining the attention of the late, great John Peel.
Although incredibly young, the most surprising thing about The Psychodaisies was the rate of development over the 4 short years that they were together. Their only official independent release was a psychedelic powerhouse called Poppers released on Rubber Kandi Records. However, by the time of their next recording only 6 months later, they were sonically closer to The Pretty Things' Baron Saturday than Pretty Flamingo by Manfred Mann. It was this mutual musical growth that kept The Psychodaisies in touch with their fanbase.
Made up of two sets of brothers and a drummer they met after school, the band along with their manager Andy Baker, were a close-knit group. There was only ever one line-up change when in 1997, Terry called time on playing Bass and was replaced by Richard Mizen. By the time they decided to stop they had gained a loyal following, recorded 5 demos, been played on radio countless times, and received plaudits from the press for their live shows. One can only wonder what they would have achieved given the investment and guidance of a record label.