The Inane
The Only Fun In Frampton CotterellARC118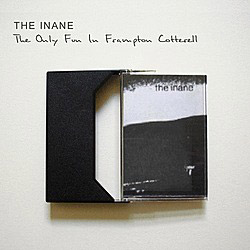 Touched by Time
Cares
Still to See
My Last Day

The Escape

More Music

Chance

Lullaby

Let Her Hurt

The Great Search for Entertainment

Bad Education

The Escape (live)

The Theme (live)

Still to See (live)

Waterfall (live)
All songs written by the Inane except (11) written by Bramah/Baines
Copyright Control.
The Band
Tim Rippington - Vocals, Guitar
Rob Pursey - Bass, Vocals
Dave Squire - Keyboards, Vocals, Melodica
Phil Cox - Drums
What did your first band sound like? Not the first proper band you had, where everyone had learned to play their instruments and write songs, but your first ever band. Well, this was ours. We called it The Inane, because frankly we couldn't think of anything else. People thought we must be a hard-core punk band until they met us. Our band started in the early 80's, an amazingly inspirational time for people who just wanted to get up and play music. Our heroes were the Clash, Joy Division/New Order, the Postcard scene, the Fall and their off-shoot the Blue Orchids. It all shows. We were all 17 except for our drummer Phil, who was a mere 14 years old when we first started rehearsing. We grew up fast, playing our first gig at the legendary Stonehouse before it was demolished, and recording our first demo with producer Steve Street not long after.
We'd seen Steve on the telly wearing a bright yellow suit and decided he was cool. He was, making our first efforts sound at least listenable, if not quite releasable. My singing left a lot to be desired, but hearing it now it has shades of McCarthy, so not a bad thing. We recorded, and we gigged, and we went to school. It was amazing. We played a Battle of the Bands at Trinity Hall with a fledgling Brilliant Corners, and although we didn't win, we got invited back to play support to a major reggae act. These things happened in those days. Martin Whitehead, later to run the Subway Organisation, became a fan and introduced us to a guy in Plymouth who ran a record label and wanted to release our stuff.
By the time we recorded our first single with Steve in 1984 the improvement was massive, and we reckoned that fame and fortune were just around the corner. Or at least a play on the John Peel show. Sadly, the double A side Cares/Touched By Time never made it onto the shelves. The label folded just after we sent the tapes off. Our enthusiasm somewhat curbed, we decided to take things in a different direction and re-named the band the Five Year Plan, recruiting two new members and scrapping almost the entire repertoire. Ah, but that's another story altogether..
Tim

About the LP
This LP was entirely compiled from old cassette tapes, so the quality is somewhat variable. The studio recordings were all made at the original SAM studio in Backfields Lane. From memory, tracks 1 and 2 were recorded on 16 track, the rest were recorded on 8 track. Tracks 4-6 were recorded first, in 1982, tracks 7-11 recorded in 1983 and tracks 1-2 in 1984. No one knows when or where the live recordings were made, probably it was the Bristol Bridge some time in 1983.
The 4-track recording of Bad Education was an attempt to capture a song that was first learnt for the Battle of the Bands Competition at Trinity Hall. The organisers insisted that every band did a cover version, so true to our ambitions we learnt this little-known song by Blue Orchids.
Post-script
All four members of the band went on to form the Five Year Plan, from 1985-1989.
Tim also played briefly with the Flatmates in 1988, during which time they had an Indie Chart No 1 with "Shimmer". In 1991 he opening Southside Recording Studio in Bristol, modelled closely on the old SAM. The studio ran for 5 years before closing in 1997. Since 1992 Tim has been playing on and off with the Beatnik Filmstars, who have released 9 albums to date and toured the USA with the Flaming Lips. He also formed another band, the Forest Giants between 1999-2006 - they released 4 LPs on various labels during that time. Tim now plays in both the Beatnik Filmstars and the Short Stories, which he formed in 2007 with old school friend Steve Miles. Co-incidentally, Steve was the person who found the tapes of the live Inane tracks included on this LP, which had been hidden somewhere in his garage for the last 20 odd years.
Rob left Bristol to attend Oxford University and while there he played briefly with indie-legends Talulah Gosh. He later re-joined Amelia Fletcher and co to form Heavenly, who recorded four LPs and toured extensively in the 1990s, releasing records for Bristol's Sarah Records and later the Wiija label. In June 1995 Rob joined Carlton Television to work on the development of in-house drama including, amongst others, Kavanagh QC, Inspector Morse and Cadfael. Rob was co-creator and executive producer of highly acclaimed series The Vice, before founding his own TV production company Touchstone in 2001. Rob returned to his roots recently as Executive Producer of the BBC3 programme "Being Human", which was filmed in Bristol.
Dave worked in a variety of bookshops after leaving Bristol for London, before becoming a teacher and relocating to Brighton, fortunately taking with him his extensive archive of the band's recordings.
Unfortunately, at this point in time no one knows where Phil is or what he's doing...