The a.t's
Into the A.T's ARC139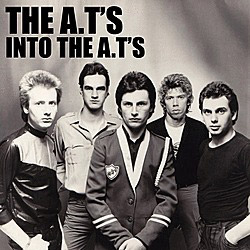 Featured Track

Into the A.T's
Leaving Lonely
Sand in My Face
Heart Moves
Me and Rio
It's Over
Crime of Passion
Leaving Lonely
Come 'Ere
Go
Action Man
Too Young Girl
Way of the World
54-46
One More for the World
Stig and Russ started playing music together when they were at school from the age of 13 years old. Both Talented guitarists and played in several bands before going on to form 'The Heat' in 1977. They soon discovered an American band of the same name so they were forced into changing the band name to the 'AT's' in 1978.
The line up was:
Stig Manley, Guitar and Vocals
Russ Crook, Guitar and Vocals
Neil Deamer, Bass
Steve Fennell, Lead Vocal, Acoustic Guitar
Dave Eccles, Drums
The Band signed to Rialto Records in 79 and released two singles 'Come 'ere and 'Leaving Lonely' both tracks on the album called Into The A.T's released in 1980. Gigged extensively throughout the UK.
After the A.T's split, Stig Russ and Neil, formed Umo Vouge, with new singer Debi Marlow. Post Umo Vouge, Stig was a founder member of the Glee Club and went on to be involved with Hazel Winter and Crustation Records. Russ Also founder member of the Glee Club then formed Bath band Big Square. Also founder member of 10-piece swing band The King Swingers. Now is currently the bass player of the Wurzels.
Neil has disappeared and it is not known of what he is up too. Steve moved to Portugal to open a bar and has never been heard of since. Dave was in Bath-based band 'The Famous Five' after that band split he moved to Spain and continued to drum in many bands after that.
The Managers View
I remember Russ and Stig came up from Bath and asked if they could play the Castle, we were always looking for new bands, particularly to spite the uppity Clifton scene, so we booked them. John Schoefield was in that night, I think Paul Davies as well, and we were blown away by them. We'd all been fans of the Skatelites, Prince Buster (Desmond Dekker, Prince Buster and the Upsetters were on the jukebox at the time I think, thanks to the services of Tony Dodds who seemed to be able to get me pretty much anything I wanted) - it was the first time we'd heard a younger band sounding like that.
John and I chatted while they played, the Crystals were just recording their album at the time, and we decided we'd offer to manage them. They were still the Heat back then, and had recorded some demos down in Bath, if I remember correctly. We took them round to Kenny Wheeler, who I knew from him playing in the pub cricket team and gigs he and the Wild Beasts had done at the 'Green, and recorded some more tracks with them. Kenny was as impressed with them as we were and we decided we'd try to get a deal for them. Rialto records, who had the Korgis, were an obvious choice because of Andy Davis, so we called them. They were interested and recorded a single in 1979, "come 'ere" I think, but it didn't really have much behind it and it disappeared.
John & I didn't have the funds to really help them much, so we handed the band off to Rialto, next thing the Police hit the charts in 1980 and the Specials at the same time. I feel the guys could have made it, and I know they were pissed with me and John at the time for not doing more, but we felt it was for the best. I can't remember who it was that owned the beautiful mid-50's Black Cadillac convertible that they pulled up at the Castle in one night, I think it was Dave (a hairdresser by trade, which explains the hair....) but it blocked the street outside. Rus & Stig were the power behind the band, both great players, Dave & Neil were a fine rhythm section and Steve was the classic short, aggresive singer, a sixties throwback really, whose wife wouldn't let him out of her sight.
A sad tale all round, really, but great to be able to dump my old scratchy single, rescued from the 'Castle when we left, throw out those files I'd copied from the demos tapes and listen again.

They'll always be The Heat for me, for anyone who remembers us, Mike & Mary Ann say hello, hope you're still having as good a time as we are!
MICK FREEMAN APRIL 2010