Sky High
Ghettos of Your Own KindARC189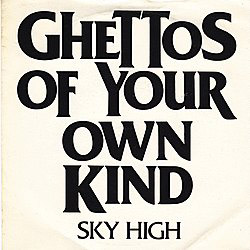 Ghettos of Your Own Kind - Part 1
Ghettos of Your Own Kind - Part 2
Featured Track

Ghettos of Your Own Kind - Part 1
Originally released on Circus Records in 1981
Recorded at the Facility
Produced by Roger
Assistance from Biff
The Facility Productions Ltd 1981
Sky High was a multiracial Gloucester-based band which existed from 1979 to 1982.
The band played a mixture of music ranging from Soul/reggae/ska/pop and disco.
At the time of recording 'Ghettos of your own kind' the band consisted of:
George Douglas - guitars
Benny Duhaney - vocals and saxophone
Jimmy Thomas - bass and vocals
Terry McKenzie - drums
Adrian - keyboards.
'Ghettos of your own kind'. Was a group composition recorded at the facility (Vice Squad made their early recordings there) in Bristol in 1981. They were signed to Circus records and this was one of a group of singles plus a compilation LP which was released by the label.
The group was very popular in Gloucester and surrounding area but played dates all around the UK and played support to Brit funk groups Hi Tension and Light of the world during that time.
Disclaimer: We have made every attempt to find a member of the band and /or Roger from The Facility/Circus Records but if anyone reads this and can supply us with any information it would be greatly appreciated