Shiva
Continuance ARC299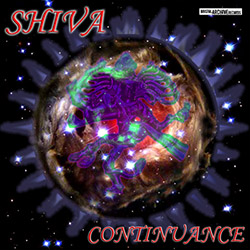 Power of Persuasion
Ring of Fire
Not There
Window on the West
Eden (Silent Running)
The Runner
Burning Bridges
The Gallery
Cut Me to the Quick
Thief
Questions
En Cachent
1979:  Bristol, SW England:  The New Wave Of British Heavy Metal (NWOBHM) was about to hit the UK.  John Hall had come to Bristol to join two mates in a new band they'd called "Shiva".  The band comprised two guitarists, John and Chris D'Avoigne, a drummer Jack Carver and they were still looking for a bassist.  Andy Skuse (ex-several other Bristol bands of the time) joined up later that year.
1980:  The band spent the next few months rehearsing, writing and recording and started gigging in October 1980.  They recorded several demo tracks ('Cut Me To The Quick', 'The Gallery', 'Thief', 'Questions') at Cave Studios, run by Andy Allan, but became a three piece by losing Chris D'Avoigne soon after.  Some more demos were recorded with this line-up  ('Stranger Lands', 'En Cachent', 'Angel Of Mons').
1981:  The band were approached with a management deal and were persuaded to replace Jack Carver with new drummer Chris Logan.  This became the definitive Shiva line up.  Many gigs followed and a lot of writing and rehearsing saw an album's worth of good material developed. The band continued to record at Cave Studios with the help of "Cavemen" Andy and Bill.
1982: Shiva signed a recording contract with Heavy Metal Records. The first single 'Rock Lives On' was released shortly afterwards while the 'Firedance' album was recorded over the summer and released in the Autumn. The second single, Angel Of Mons was lifted from the album and also released that year.  A session was recorded for BBC Radio 1's Friday Rock Show with Tommy Vance (rec. 5th December) and aired twice. 
Spring 1983:  Chris Logan suddenly quit the band which left Shiva looking for a replacement drummer.  A couple of demo recordings ('The Runner', 'Burning Bridges') and gigs were done with "Charlie".  This line-up was short-lived and Charlie was soon replaced with Phil Williams.  More gigging ensued and five more tracks ('Power Of Persuasion', 'Ring Of Fire', 'Not There', 'Window On The West', 'Eden') were recorded for a second album.  Difficult negotiations with the Heavy Metal Records ended with the company not picking up the option for the new album and the band were left without a recording contract.  They extracted themselves from their management deal and tried to go it alone for some time but it didn't work out and they split in the Autumn of 1983.
1986:  John Hall had moved to Los Angeles, Phil Williams had disappeared into the North to play the club circuit and Andy Skuse had jacked in playing altogether.  Shiva decided to play one last time and did so at the Troubadour Club in Hollywood on September 23rd.  (The drummer was a session player called Ted from Wisconsin.)
2004:  Author John Tucker is writing a book on the whole NWOBHM period ('Suzy Smiled - Tales from The NWOBHM') and interviewed the band for it.  One of the questions he asked was about unreleased material.  Tapes of the tracks for the second album from 1983 still existed and this prompted Andy Skuse to get them re-mastered onto CD along with the older demos.  This has resulted in 12 unreleased Shiva tracks lasting almost an hour.  The CD is named 'Continuance', released by Majestic Records October 2004.
Website : http://shiva-rock.uk/