Sea Culture
The Builders 1980-1983
Guitar/vocals: James Wallace
Guitar/vocals: Mak
Bass/vocals: Sue Peggs
Drums/vocals: Jake Peggs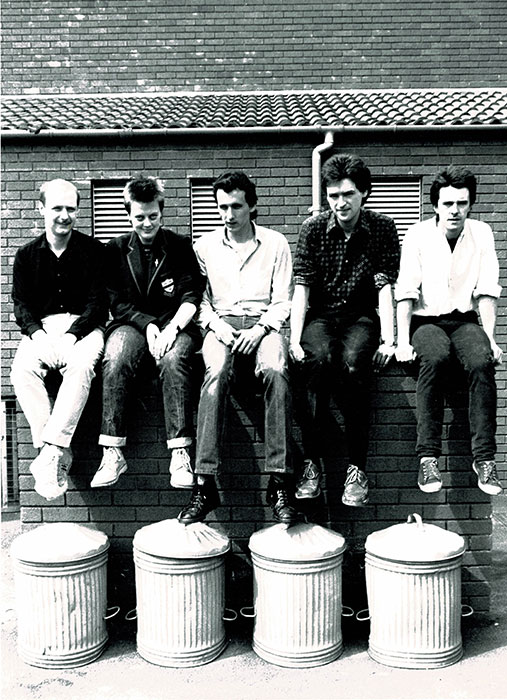 The Builders were formed in 1980 by James Wallace and Richard (Mak) Macphail, two lads from Lincoln who found themselves stranded in Bristol. They answered an ad. in Revolver Records on the Triangle. It said "Fripp and Eno, where are you?" This was pinned up by Jake Peggs, a drummer looking for collaborators to form a new band. After a few rather chaotic rehearsals they decided that a bass player was needed to complete the line up and so recruited Sue Peggs (Jakes wife).
Sue had never played a bass before but learned quickly and within a few weeks the band had their first gig at the Stonehouse.
Over the next year the Builders wrote lots of material, smoked lots of dope and played local gigs almost every week including: The Stonehouse, the Green Rooms, Trinity Hall, the Bridgehouse, Spencer's Club,the Docklands Settlement, the Dugout Club and many other local festivals and free events.
The Builders were asked to play at Worthy Farm by Michael Eavis who liked the band after seeing them in Glastonbury. He put on winter fundraisers for the Glastonbury Festival and the band played on three occasions, once supporting John Martin (who would only speak French to anyone who would listen that night). Michael invited the Builders to play in the artists bar beneath the newly build Pyramid Stage on the eave of the 1981 festival - exciting times indeed!
In March 1981 the band recorded a 'Cassette E.P called 'Approach'. This was distributed by Revolver Records and sold quite well. It got some play on Radio 1 and this led to gigs further afield including playing the Druidstone Festival in Pembrokeshire. The Builders made it through to the final of the Venue 'Rock It' final held in the Granary and came second!
In 1982 a sax player (Vaughn) was added to the line up and the band also worked with the Tarr Sisters but due to musical differences (of course) the Builders split up in 1983.