Scream Secret
Fruit Salad ARC363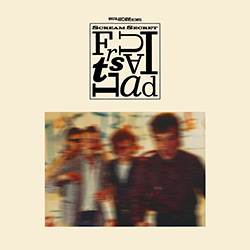 Worlds Apart
Skin Deep
Radio Ocean
Day
Cynic Clinic
Run
Miss H
Face to Face
Complicated Game
Norwegian Wood
Skin Deep (Acoustic)
Scream Secret was started when Mark Garvey aka Garve (guitar/vocals) bumped into Reg Shaw(bass/vocals) at an Essential Bop gig in Hotwells in 1982. Garve had already been in a couple of New Wave bands including Eye on Youth and was looking for something new.
They brought on board Reg's school friends Grant Brain(guitar/vocals) and Dave Gapper (drums), who were ex Recorded Delivery and began to write songs based around their love of 60's bands and current groups like the Psychedelic Furs. They started gigging soon after that, playing Bristol institutions like The Fleece, Bristol Bridge etc., graduating to Dingwalls in London and regularly playing in Liverpool, where their brand of 60's style guitar pop found a regular audience. Back in Bristol they played gigs alongside similar bands like Eyes of The Crowd and started getting some record company attention from the likes of Chrysalis Records which unfortunately came to nothing in the end.
Garve left in 1984 to be replaced by Rob Fry (keyboards). They carried on gigging and writing original tunes for another year until finally giving up and going on to other projects.
Reg Shaw 2021