Our Violet hour
Demos ARC122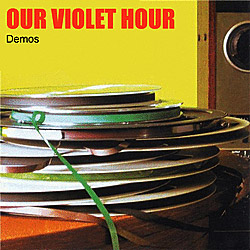 The Cradle Grave
Ghost Skip
The Broken Wing
In Armour
I almost recorded over the tape of this band by mistake. I wanted to make a recording of the HEY BELABA gig at Moles, but fortunately I used the 'blank' side.
It was only when I was having a 'spring clean' of old stuff that I came across a copy I'd made of OVH, and then found the original. Listening to the copy after all these years, the music still blew me away.
I'd met up with the singer, Ross, at his flat off Blackboy Hill. He'd called me out of the blue, and as I lived reasonably nearby I went to his place. He played me all 4 songs and I was gobsmacked. This was SO unlike the usual ''Bristol band'' – very ''Goth'' and dark, and sounding very Factory Records circa 1980.
He was planning for the band to do gigs, though I can't recall if they ever did. So it's the music that lives and breathes 25 years on. And WHAT a collection it is. All chiming guitar riffs, thunderous bass and edgy drumming, topped off by Ross's menacing bellow. And with lots of surprises thrown in too.
I think 'Ghost Ship' sums them up best. High drama comes at you in waves and then a very un-Goth like treat awaits you the listener towards the end. They had humour as well – the line 'the moonlight flits, across her…..' cracks me up every time.
Just choose your favourite stimuli, have minimal lighting and play LOUD!

(Dave Massey)
These recordings were supplied by Dave Massey who has lovingly kept them having been sent them by the band in the early 80's. No information is known of the line up or where and when and who recorded the tunes.
Disclaimer: We have made every attempt to find a member of the band but if anyone reads this and can supply us with any information it would be greatly appreciated.

Mastered by Steve Street Oct 2009
The Moonlight Flits ARC198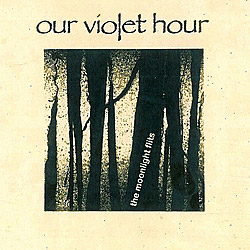 Threat
Mother
Ghost Ship
One Hour
Gods Mouth
Kill the Thing
And If I Fail?
English Summer
Broken Wing
Cradle-Grave
In Armour
Scared Godless
Another Giant Day
Outro
OUR VIOLET HOUR began in autumn 1984 when Aidan Searle and Ade Hughes met in the Cat and Wheel on Gloucester rd. (the night before the Brighton bomb) Ade had put up an advert in Revolver about the type of band he wanted to form. They had a few pints and agreed to start playing together and look for a guitarist and singer. they arrived firstly Willem (guitar) and Jim (vocals).
Aidan and Ade had been jamming in the cellar at Grove Rd, an amazing place that could only be accessed through a series of tunnels and broken stairways. many bands had rehearsed there, The Crazy Trains, Systems Rhumba, and Glass Life (with Ross Alexander) among them..the wiring was dodgy and we were often candle-lit. very gothic!
Willem was a superb, creative guitarist and provided a sound scape of guitar over Ade Hughes's punk bass and Aidan Searles brilliant drumming. a few singers had auditioned but the band chose Jim for his darker angry sounding vocals as well as his guitar playing and his wit!.
There was an intensive period of writing in the cellar which had an amazing sound..the first few songs were written and then in the March Ross Alexander produced out first demo featuring The Cradle Grave, Ghost Ship, In Armour and Broken Wing.
Artwork for the band, featured on all the demos, was done by willem who had a real talent and eye for the job, and posters would be made for each gig.
Dave Massey recieved the work and liked it, giving us a wonderful review in venue
magazine. Dave got us a support slot with the impressive "Royal Assassins" at the Bristol Bridge in May 1985, a gig which has been recorded and recently re-mastered along with gigs at The Thekla and upstairs at the Dug Out.
If my memory serves me, Willem and I got up about 5am to fly-post the best spots in Bristol. A morning which began with Willems concise phrase "you are fucking joking" something I must emphasise is that we had a great sense of fun, passion and a great chemistry.
The cellar had a sound all of its own, present, cacophanous. It really suited our sound so we recorded most of our work there. these tracks were produced by the very dilligent, generous Ross Alexander. the only tracks not produced by Ross are Mother and Scared Godless.
Working in the cellar with this band is a memory I cherish..we held out against it being filled in for building work and had one memorable last rehearsal which exists on tape somewhere. an extract of a re-working of The Ghost Ship from that night is on the collection sent to www.bristolarchiverecords.com.
ade hughes.....bass
willem postema...guitar/vocals
jim widdett...vocals,guitar
aidan searle ...drums
We want to thank Ross,George bee,and Chris Selway for their invaluable help.
Recorded and Produced by Ross Alexander 1984-1986
Mastered at www.shiresheadstudio.co.uk by Mark Burford and Martin Hughes
Related bands
The Crocodiles (willem postema/jim widdett)
Hi-fiction Science (aidan searle,current)
Blue and Beyond, Materialise, Polarise, Nurse Predator (Adrian Hughes current band)
ADE - OVH 2010