Noiz Boiz
Noiz Boiz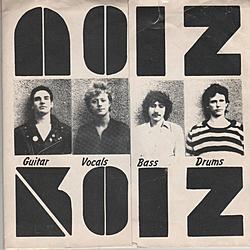 Noiz Boiz
Flashback
1986 was a period of transition for reggae music. In Jamaica roots had been entirely displaced by dancehall which itself was progressing from the early digital sound into what would become known as ragga, whilst in the UK a more mellow approach inspired by the commercial success of lover's rock held sway. Reggae's twin capitals of Kingston and London couldn't have been on more different paths and yet this was the year that a young Dan Ratchet would travel between both cities, absorbing their very different vibes and working with leading musicians from both scenes to record tracks for what was intended to be his first album.
Now after 26 years, that album "Jah Poor People" finally gets released on Bristol Archive Records on 16th July. Although he'd already gained plenty of experience on the live scene as a member of Full Force + Power amongst other things, Dan's big opportunity came through his cousin Simbarashe Tongogara, a writer and producer who was very well known on the UK reggae scene and had extensive connections both in the UK and Jamaica. Spotting Dan's talent Simba arranged for him to record the first sessions in London with backing provided by members of Aswad and Misty In Roots amongst others. An extended stay in Jamaica saw further sessions at Channel 1, Tuff Gong and Dynamic studios with first rate backing musicians including Earl "Chinna" Smith and Sly Dunbar. The final mixes were done by Steven Stanley best known for his work with Bob Marley and The Wailers.
Having completed the album, Simba and Dan faced the same difficulties experienced by so many other producers and artists and weren't able to get the record released as they wished, the only evidence of all their hard work being the 12" release of "Sweet Rosie" on the Jamaican Startime label and a Zimbawean issue for "The Time Has Come". Finally the music's time has come and Bristol Archive Records are very pleased to be given the chance to showcase some of Dan's first recordings.
When Simba gave us the master tapes, we discovered that although the album had been conceived firmly in the vinyl era they'd recorded plenty of versions and alternate takes meaning we were able to select 16 tracks for both a full length CD release and a digital download. The album itself ranges from the political themes of title track "Jah Poor People" and "Afrikana Policies" to joyful expressions of love with "Sweet Rosie" and "Girl You Want My Love" yet whatever the subject, you can't miss the sweetness of Dan's vocals. This album truly demonstrates Dan's amazing voice, and it is rather fitting that this, his first album should give him the wider exposure that his hard work and talents have always deserved, even if it is a quarter of a century after he and Simba started the journey.
The Story of Noiz Boiz
It's the summer of 1974. I'm sitting in a park shelter with my mates, drinking cider and listening to Genesis on a battered tape recorder. We also like Bowie, Roxy Music, Deep Purple, Man and Groundhogs. We are glam rock hippies waiting for the next music or fashion trend to appear. As the stadiums get bigger, our heroes shrink in stature. We are disconnected.
The summer of 76 – a hot summer that seems to last forever. Punk lands like a rock in a pond - born in New York, London and Manchester, the ripples of change head slowly west.
1977. Anarchy is released. Flares are 'taken in' or burned, hair is cut (a lot) and clothes are slashed (a bit). Anyone can form a band. Our record collections change overnight. We head up the A370 to see The Clash at the Bristol Locarno. My ears ring for days and I can't stop smiling.
Bristol produces important bands - The Cortinas, The Pigs, Vice Squad as well as more avant-garde groups like Apartment and Gardez Darxx. If Bristol is the Premier division then Weston-super-Mare operates somewhere down in the Conference. Bands like Red Alert, Children of Toil, Zambesian Lightbulbs, Faded Vision, The Cassettes and Negative Earth keep the flag flying in the face of local apathy. These bands and others, fade and die.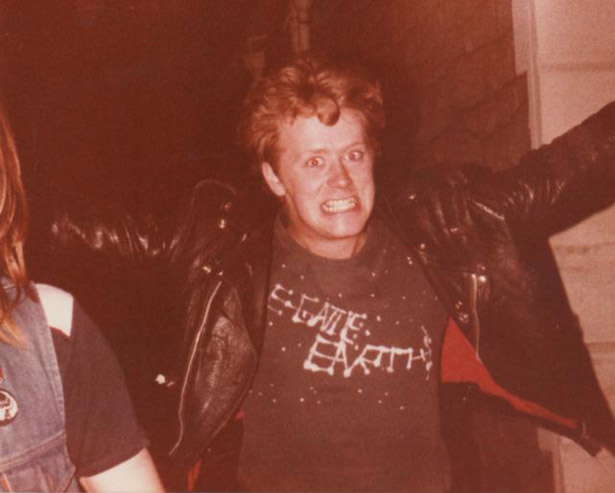 March 1981. From the ashes of Negative Earth comes a band that is destined to inject new life into a quiet seaside resort and put Weston on the musical map. The band is Noiz Boiz.
Former Negative Earth members Mark Chapman (Vocals) and Julian "Guts" Gutsell (Guitar/vocals) form the nucleus of a new powerpop/punk band. They are joined by experienced former Cassettes drummer Andy Upstone and Ian Foster on Bass. The final line up is complete and Noiz Boiz is officially launched on an unsuspecting west country public in March 1981.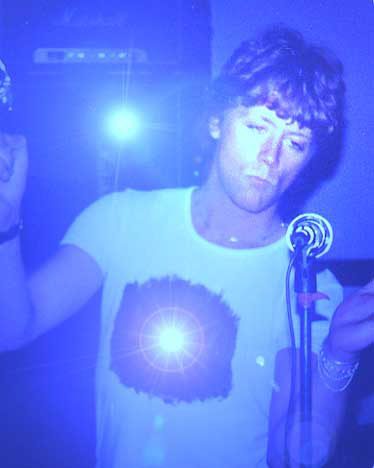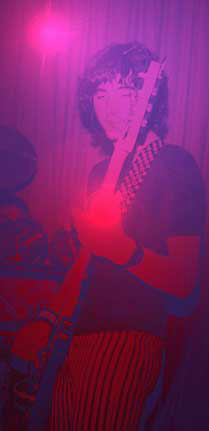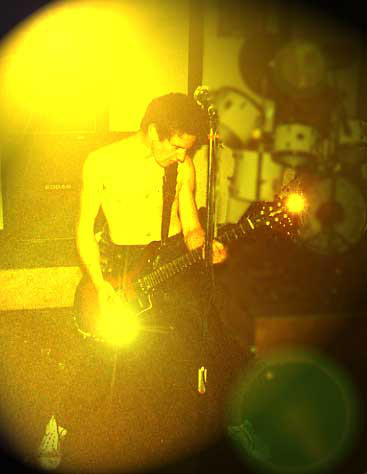 Practice & Demo
After being asked to leave a number of practice venues due to 'noiz' concerns, the Boiz are offered the chance to hire an old cowshed in Banwell, 5 miles from W-S-M. Three weekends, two brieze block walls and twenty-three mattresses later the practice room is complete. A generator provides the necessary juice and the local livestock prepare for some sleepless nights. After a few weeks of constant practice in 'The Shed', the Boiz head for Shearn Studio in deepest darkest Somerset to record a demo of their title track Noiz Boiz. Bridgwater based music co-operative, Sheepworrying Enterprises, announce plans to release a compilation of local bands and Noiz Boiz are included. The compilation tape Tubular Sheep is release in early 1981 highlighting the quality and diversity of musical talent in Somerset and Bristol and provides a springboard for the Boiz.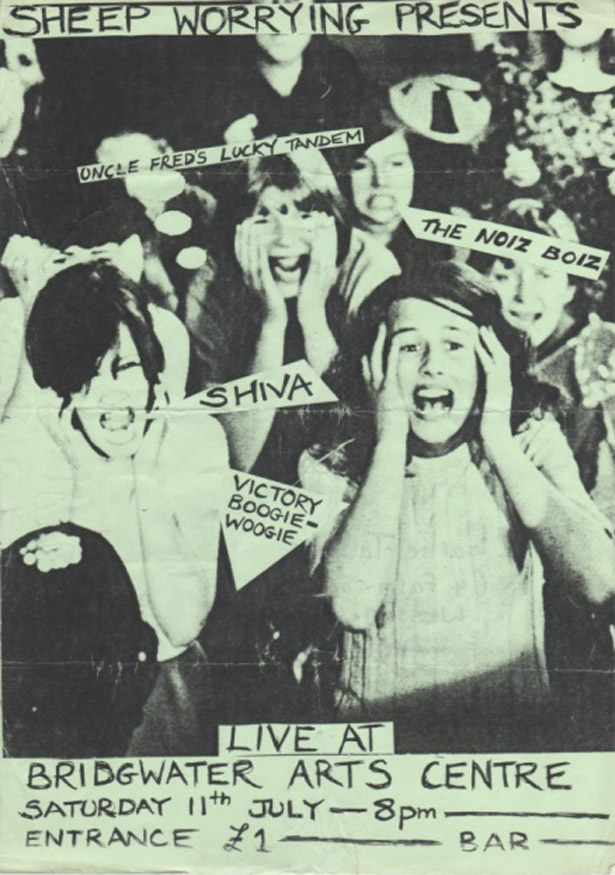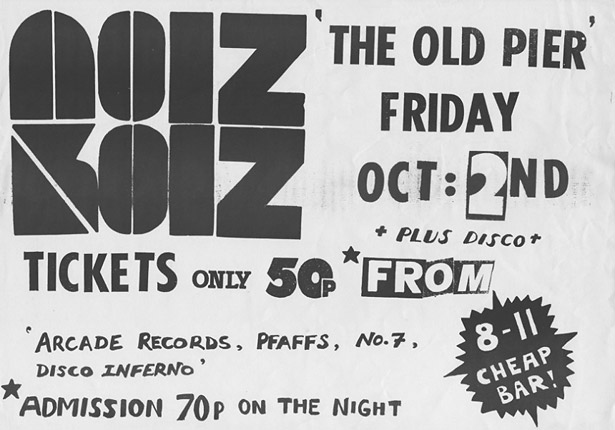 The Single


Following good reviews of the demo and as the band start to gig regularly around Somerset, the Boiz receive financial backing from local fan and entrepreneur Phil who puts up the cash for the band to go into the studio. In May 1981, Noiz Boiz enter Cave Studios in Bristol and record the tracks Noiz Boiz and Flashback which are released as a double A side single in June 1981 (CMR-03). The single receives airplay on local radio as well as Radio One (thanks to the god-like John Peel) and over the next three months, the band embarks on a busy schedule of gigs to promote the single. As one reviewer succinctly puts it ...... Noiz Boiz - the best thing to come out of Somerset since Cadmium!

The Boiz Live
This is where Noiz Boiz really stand out from the crowd. Whether they are playing to a crowd of one or one hundred they always gave it 100%. The band gig around the West Country - from Bridport to Bristol - and along the way help launch live music at alternative night club, Blades in Weston-super-Mare. They also appear in the Rock-It 81 finals at the Granary in Bristol organised by the magazine Out West.
In August 1981, the Boiz are joined by Geoff Crofts on keyboards as the band look to expand their sound.
Two months later the Boiz headline at the launch of The Old Pier as a music venue. A crowd of 300 make the long walk up the pier and the planks survive a good pogoing. Punk legends Chelsea also play at the pier (using Noiz Boiz PA). Despite good attendances, the promoter pulls the plug following disturbances at a Theatre of Hate gig. Weston loses yet another live music venue.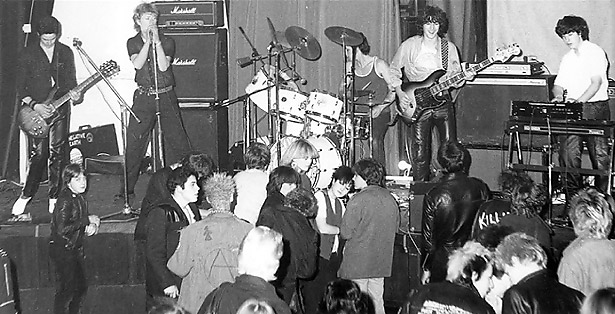 In early 1982, Ian leaves the band and is replaced on Bass by Paul (Tank) Griffiths ex Negative Earth.
The End
As the summer of '82 approaches it becomes clear that the early spark had started to dim. Band members struggle to balance work commitments with gigging, and the rock & roll lifestyle begins to take its toll (a cliché but true). I can't really remember Noiz Boiz splitting. Like an iceberg heading inexorably toward the equator, the band slowly fell apart. It just seemed that one week there was a band and the next week it was gone. Many local journalists had high hopes that Noiz Boiz would go onto bigger and better things but that burning ambition and desire was never really there.
The years have passed and some of the people involved with the Negative Earth and Noiz Boiz are sadly no longer with us. The single has subsequently appeared on a compilation LPs Raw & Rare British Punk, Volume 3 and Shake Some Action Volume 8, a collection of power pop tracks. The single can be found for sale on many punk record websites from Japan to the USA and was repackaged in the 90s with a 'Mod' cover – an interesting concept but nought to do with me.

Perhaps this is the Noiz Boiz lasting legacy. Their unique style - a fusion of punk, metal and powerpop - could never be pigeon holed and I hope this story is testimony to their short but sweet impact on the local music scene in the early 80s.
You're never alone
You're with the Noiz Boiz
You're always at home
You're with the Noiz Boiz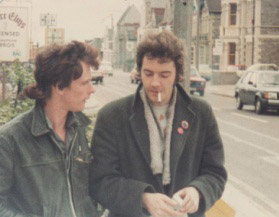 Charlie Taviner
(Manager and honorary Noiz Boy)