Losenges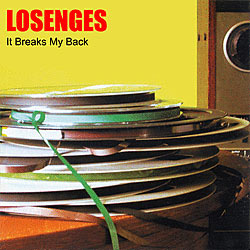 Featured Track

Losenges
It Breaks My Back
Stop - Press
It Breaks My Back
The two tracks were intended to be put out as a single, but for some reason it never materialised. I seem to remember there was some speculation about interest from Stiff records at the time, and I think we turned down a couple of local labels (including Recreational), hoping for a "real" deal. The band was in somewhat of an identity crisis at the time, having recently started an offshoot from the long-standing Juan Foote 'n' the Grave, the Losenges Soul Revue, which was rapidly usurping the JF's in popularity.
The single reflects the changing style of the band, from post-punk thrash to blue-eyed soul, and was intended to echo the great Stax/Atlantic singles of the late sixties/early seventies. The two songs were originals, written by myself, and the lead vocals should have been shared, one song each, by myself and Stuart Gibb. Unfortunately, on the recording days allotted, Stuart had been suffering severe laryngitis, so I sang both guide-leads, with a view to Stuart re-recording his vocal at a later date. (This never happened).
The recording disappeared off the radar shortly after (near) completion. I think this may have had something to do with the fact that the sound engineer and financial support, Liam Henshall, went off to London and subsequently found fame and fortune with the band Londonbeat, who later had a big hit with a single called "9 am (on a New York Subway)". I certainly didn't get a copy of the final mix for maybe a year or so after it was completed, and by this time, the Juan Foote arm of the band had ceased to exist, the band embarking on a series of style and name changes before arriving at today's version, Los Yanquis, a country/tex-mex/Americana seven-piece outfit.
Andy Pinner