Jashwha Moses
Distant GunsMB0005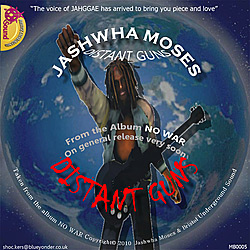 Distant Guns
Distant Drops
JASHWHA MOSES 'DISTANT GUNS'
Released on 21st March 2011
DOWNLOAD SINGLE VIA BRISTOL UNDERGROUND SOUNDS
This is the first release from the sensational 'No War' album and the beginning of a new style of music – JAHGGAE.
Born in Clarindon on the beautiful island of Jamaica in the 60's, Jashwha emigrated with his parents to the UK with hopes and dreams of a better life. He was confronted by racial prejudice and physical violence in what was to be a tough upbringing and these experiences would live with and motivate Jashwha for the rest of his life. In 1978 Jashwha released his first record, the now ultra rare classic roots tune 'Africa Is Our Land', produced by Dennis Bovell who has worked with such great artists as Bob Marley, Dennis Brown and Shabba Ranks. He followed this in 1980 with another 12" single 'Pretty Girl' released on the Bristol Independent label Shoc Wave Records.
Thirty years is a long time to wait for his next release but in 2011 Jashwha is back with a new album, a new twist on Reggae and a belief that Jahggae will bring true peace, love and harmony to the world. The album has been produced and co written with Mike 'E' Hall previously keyboard player with the now legendary Roots Reggae band 'Black Roots'. Jashwha has the last word...
The distinction in truth is that Reggae moves your body but Jahggae moves body, soul and mind! We all have the same message, we are warning of the dangers this earth is in, children killing children, parents against children and the resulting wars cannot be good. Every now and again, nature gets fed up with constantly reminding its inhabitant's that destroying everything is not the way to go, this album is saying stop it now and nature will spare you, continue and reap the results of your actions... or lack of it.
Check It Out!
ARTIST / TITLE: Jashwha Moses / Distant Guns
LABEL / DISTRIBUTION: Bristol Underground Sounds / Shellshock
CAT NO: MB0005 / Download only single
Press : mike@bristolarchiverecords.com
Tel: Gene Walsh / 07885215187
www.mickyfin.com