Hunted
Hunted ARC301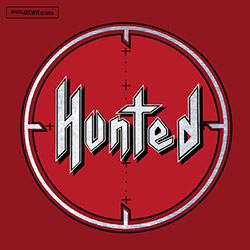 I See the Sun
Fallen Angel
Kill Me
Crawl
A13
Comfortable Shoes
Nobodies Fool
I Got a Gun
Love That Girl
In and out of Love
Still Got You
Crazy
S**t and Lies
Twisted Lies
Fallen Angel (The Collection) ARC300CD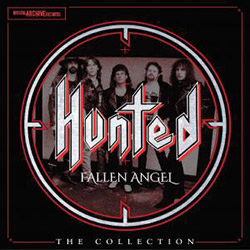 Strangers
Judgement
This Must Be Love
I See The Sun
Fallen Angel
Broken Heart
Three Wise Monkeys
Two Timed
Crawl
Streets of Fire
Wish U Wuz Ded
Destiny
Kill Me
Victim
Swing of the Pendulum
If talent and timing are the two prerequisites for success, Bristol quintet Hunted had only one of them working in their favour. Back in the early 1990s, the fashion in rock music was to schlep around in plaid shirts pretending to be glum in emulation of such grungemeisters as Nirvana and Pearl Jam. This was not a time to launch a career in well-crafted melodic hard rock with soaring twin lead guitars. With the odds stacked against them from the outset, the remarkable thing about Hunted was that they managed to achieve so much during their all-too-brief flowering, winning a national battle of the bands contest and building an enviable live following.
Guitarist and Hunted founder Bob Starling had already tasted a modicum of success with Bristol NWOBHM Stormtrooper, whose 'Pride Before a Fall (The Lost Album)' is also available on Bristol Archive Records. Joining forces with old chum and fellow guitarist Dave Preston in the spring of 1992, Bob swiftly secured the services of vocalist Andy Milsom, bassist Mark Williams and drummer Andy 'Woody' Knight. By Christmas, the band had clocked up gigs at all the key venues on the local live circuit, including the Bristol Bridge Inn, the Fleece and the Bierkeller.
But 1993 was to be Hunted's big year. In January, they recorded their first, self-financed EP, 'Streets of Fire' , as a statement of intent to become more than just another bunch of wannabes playing local pubs for beer money. On a roll, they entered and won Radio 1's Rock Wars contest in June, bagging a recording session at the legendary Maida Vale Studios. This was broadcast twice on The Friday Rock Show, in August 1993 and January 1994. Now established as Bristol's leading hard rock act, they secured coveted local support slots with Steve Grimmett's Lionsheart and ex-Iron Maiden men Paul Di'Anno and Adrian Smith's respective solo projects. The year was capped with a memorable Christmas gig at the Bierkeller. Headlining a bill that included fellow local acts Brabazon, Devious and Joker's Wild, this was the venue's biggest selling local show of 1993, pulling 400 punters. Despite the efforts of an over-zealous pyro operator who managed to flood the 'keller with a bilious cloud of evil-smelling smoke, the performance was a triumph that was to prove the high-water mark of Hunted's live career.
1994 continued on a high with an invitation to go to New York to discuss a potential development deal with RCA. Six new songs were recorded for the occasion and the A&R people were suitably enthusiastic, as A&R folks so often are. Back in the UK, Hunted played the Marquee and recorded more material for their proposed debut album, 'Crawl'. But the RCA deal fell through, hitting the band hard. With disillusion setting in, it was only a matter of time until the inevitable split.
What they left behind are the tracks collected here for the very first time, which amount to Hunted's complete recorded output. Opening track 'Strangers' is the perfect introduction: a huge riff, screaming guitars, powerful vocals, thunderous drums and a lyric dealing with lady trouble (something of a preoccupation with Hunted). But there's plenty of versatility here, from driving rock to more intricate arrangements drawing on a variety of influences. 'Judgement' is built on a huge groove; the anthemic 'I See the Sun' boasts terrace-chant vocals that would give Def Leppard a run for their money; 'Fallen Angel' is a rare example of the non-weedy power ballad; the ridiculously catchy 'Three Wise Monkeys' brings the funk in a style that recalls 'Pornograffiti'-era Extreme; and 'Victim' sees Hunted at their most atypically punky. Arguably, the best is saved till last with the epic, Ritchie Blackmore-style, Eastern-tinged guitar showcase, 'Swing of the Pendulum', which still holds its own against the titans of post-millennial prog-metal. It's all hugely accomplished stuff. In an alternative universe, they've got an A-list producer, a string of Platinum albums and a packed touring schedule of the world's biggest enormodomes heaving with devoted fans. They probably have just as much lady trouble, mind.
Crawl ARC298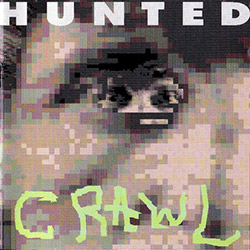 Strangers
Judgement
Jump the Gun
Swing of the Pendulum
Zachary Jazz
Take Me Back
Wish U Was Ded
Tattoo
Baby
Victim
Richman Jnr
Answer My Prayer
Mister Religion
Lfk
El Salvador
Slaughterhouse Field
See You
Three Wise Monkeys
Hunted
This Must Be Love
Streets of Fire