Dubkasm
BRIXTON RECARC262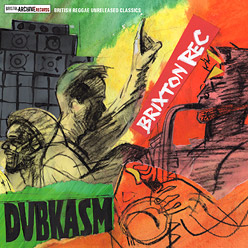 Side A:
The Soul (ft. Tena Stelin)
Soul in Dub
The Order (ft. Lidj Xylon)
Dub Order
Side B:
Spiritual Warrior Time (ft. Tena Stelin)
SIM Dub
Jah Bible (ft Ras Addis)
Biblical Dub
Released 8th October 2012 on LP (Limited Edition), CD & Digital Download, through Bristol Archive Records / Shellshock and all digital platforms.
Leading lights in the 21st century UK digi dub/roots scene Dubkasm have built themselves a worldwide following for their brand of reggae since launching their own Sufferah's Choice label in 2003. What many fans may not realise is that even before that first Sufferah's Choice release, Dubkasm had nearly a decade's worth of recordings behind them. Unfortunately, other than a track on the 1996 "Dub Out West Volume Two" compilation album, those early recordings were the preserve of leading UK sound systems such as Aba Shanti and Jah Shaka and could only be heard played off dub plates at dances.