Copter
Speak ARC255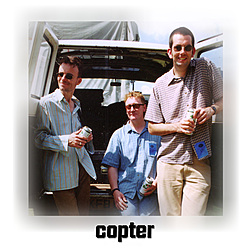 Speak
Jewel
Falling In Love Again
A Message
Way You Feel
Under The Charge
The Realise
H Song
In Mid-flight
Fairytales
Bullshit
You're Different
New Target

TAKE 1
In the mid-Nineties Copter was born from the ashes of alternative rock band Needletree who had featured, among others, Shaun McCrindle on vocals and guitar and Martin Maidment on lead guitar. For Copter, Martin transferred to drums while Shaun continued his role as frontman and chief songwriter.
The debut Copter line-up was completed when Shaun and Martin were joined by French student Jean-Guy Pierozak on bass. This early incarnation of the band performed a number of gigs and recorded a demo, before Jean-Guy had to return to France for military service!
TAKE 2
The incredibly tall Simon Robinson – who had previously played bass with spiky art-pop band Doyenne – then replaced Jean-Guy, bringing a rockier sound (in contrast to Jean-Guy's jazz influences) to the new 3-piece line-up. This version of the band played extensively (including their first slot at Bristol's Ashton Court festival in 1997) and recorded three demos, including one for EMI Records. The recordings culminated in the self-released single, 'Speak'.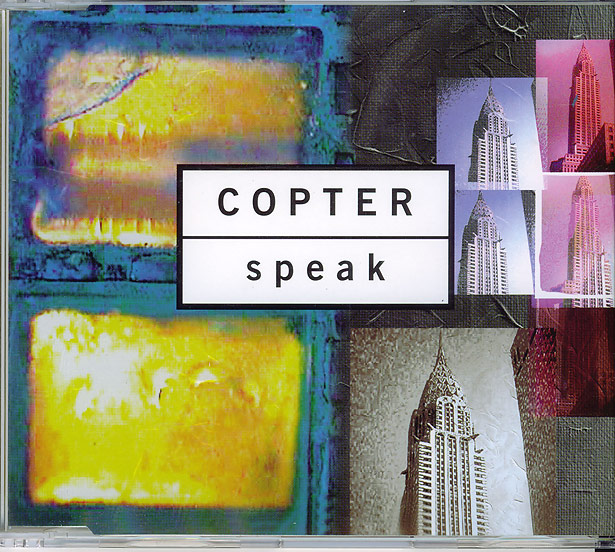 TAKE 3
Around the time of the recording of 'Speak', Andy Stafford (formerly guitarist of Lux) joined Copter as lead-guitarist. As a 4-piece, Copter made a video of 'Speak', in collaboration with Gogglebox, a group of final year media students from GLOSCAT, directed by Jon Cousins.
To promote 'Speak', Copter (under the management of Red Planet) organised a 13-date UK tour. They also played the Ashton Court festival again, in 1998. Later that year, Copter recorded a demo for Elemental Records (Dreamworks) but the band split soon afterwards.
This 13-track compilation, mastered by Paul Whitrow for Bristol Archive Records, includes recordings from all three incarnations of Copter and is made up of demos, live rehearsal room recordings and the 'Speak' single.


Shaun McCrindle – Vocals and guitar
Martin Maidment – Drums
Simon Robinson – Bass
Andy Stafford – Lead guitar
Jean-Guy Pierozak – 5 and 6-string Bass
Album title
'Speak', demos and live recordings (1995-1998)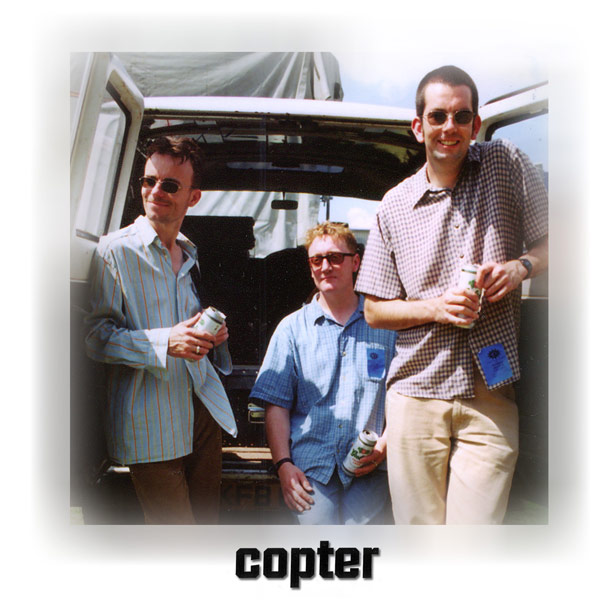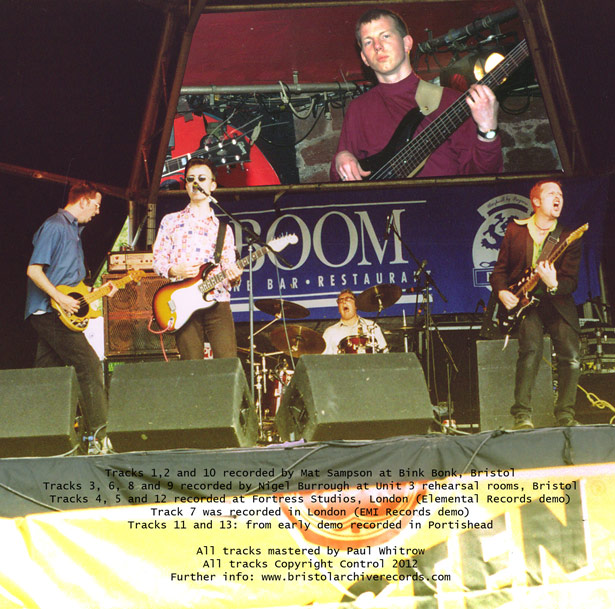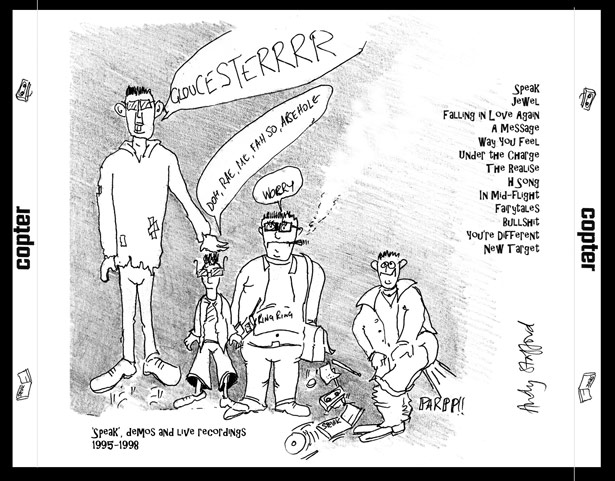 Songwriting Credits
Speak (Shaun McCrindle and Simon Robinson)
Jewel (Shaun McCrindle, Simon Robinson and Martin Maidment)
Falling In Love Again (Shaun McCrindle, Simon Robinson and Martin Maidment)
A Message (Shaun McCrindle, Simon Robinson, Martin Maidment and Andy Stafford)
Way You Feel (Shaun McCrindle, Simon Robinson, Martin Maidment and Andy Stafford)
Under The Charge (Shaun McCrindle)
The Realise (Shaun McCrindle)
H Song (Shaun McCrindle, Simon Robinson and Martin Maidment)
In Mid-flight (Shaun McCrindle, Simon Robinson, Martin Maidment, Andy Stafford and words by Stanley Donwood)
Fairytales (Shaun McCrindle, Simon Robinson and Martin Maidment)
Bullshit (Shaun McCrindle, Jean-Guy Pierozak and Martin Maidment)
You're Different (Shaun McCrindle, Simon Robinson, Martin Maidment and Andy Stafford)
New Target (Shaun McCrindle)
All tracks Copyright Control 2012
Recording Info
Tracks 1, 2 and 10 recorded by Mat Sampson at Bink Bonk, Bristol
Tracks 3, 6, 8 and 9 recorded by Nigel Burrough at Unit 3 rehearsal studios, Bristol
Tracks 4, 5 and 12 recorded at Fortress Studios, London (Elemental Records demo)
Track 7 was recorded in London (EMI demo)
Tracks 11 and 13: early demo recorded in Portishead
This compilation mastered by Paul Whitrow
External Links
www.myspace.com/shaunmccrindle
www.youtube.com/shaunmccrindle
http://www.gagarinmusic.com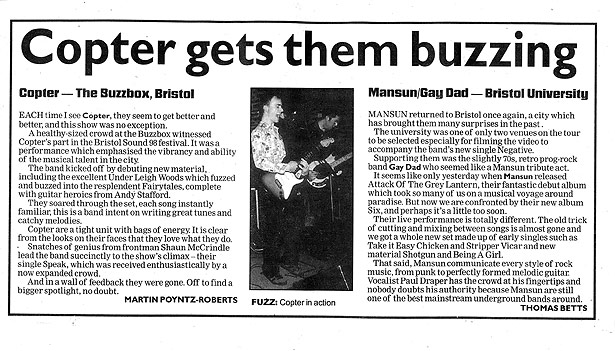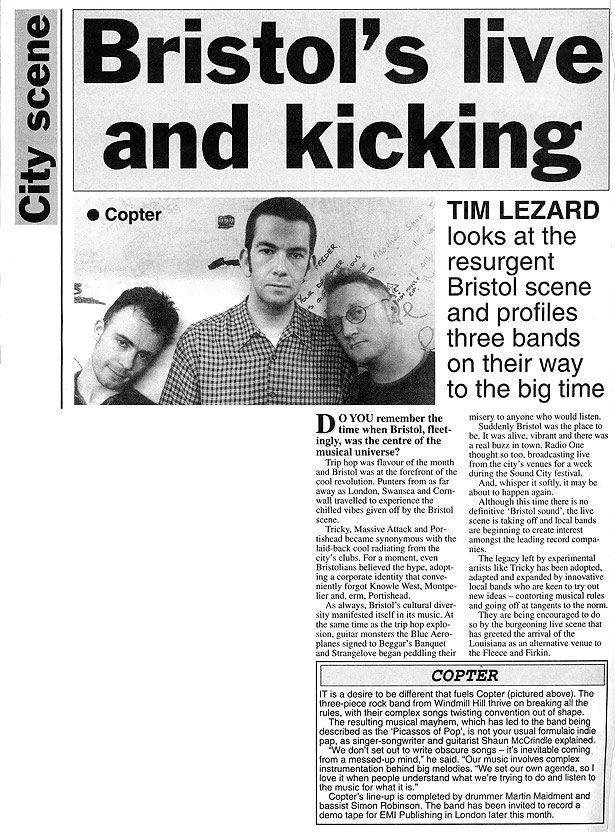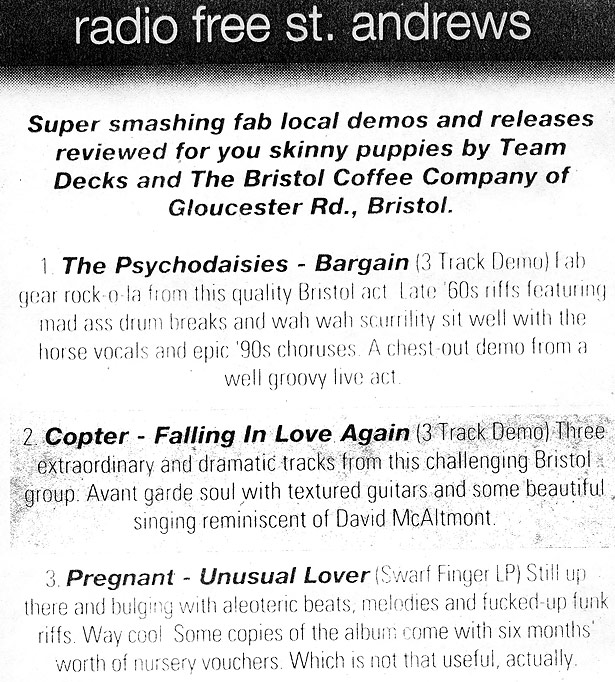 -