Cass Carnaby
Learn To Love It ARC349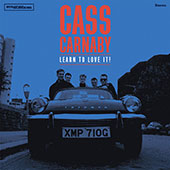 Formed out of the ashes of Bristol band Blue Riverside, members Sean Parry, Neil Garland and Pat Evans recruited Phil Elvins and Andy Baker in July 1986 to form The Cass Carnaby Five, a name taken from a puppet band on an episode of Thunderbirds.
They soon set about writing a set of original songs about sex, love, drinking, 60's TV superheroes and what was going on in their lives, rapidly picking up a large loyal fan base that followed them everywhere over the next three years.
The band underwent various member changes during that time and a streamlining of their name, but the music remained the same. Loud, in your face Punk R&B, with always outrageous front man Neil Garland a cross between Steve Marriott and Johnny Rotten. They appealed to Scooter Boys, Mods and Garage Rock fans.
Over the time they were together Cass Carnaby gigged heavily all over the UK, recorded 28 studio tracks but only released one well-received 45 single, 'Captain Scarlet'.