Burning Sound
Shining Through ARC186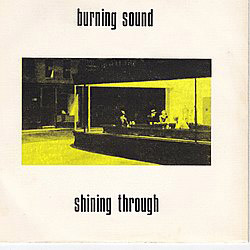 Shining Through
Fit to Burn
Featured Track

Shining Through
Recorded by Liam Henshall at Right Track Studios 1980 Mastered by Steve Street 2010
Line Up
Vocals - Gary Palmer
Bass Guitar - Andrew Hutchings
Guitar - Mark Ely
Drums - Andy Holte
The band started in the winter of 1978. I knew Andrew Hutchins (Hutch), the bass player and main song writer, through going to punk gigs in Bristol (Locarno, Tiffany's, Trinity etc) and hanging out at the amusement arcades in Weston. The first time I saw him he was in the summer '77 - he was wearing black vinyl trousers and a dog collar. In Weston at this time that was akin to walking down the road stark naked. A town where the mere act of wearing straight-legged trousers in the street could get you physically attacked.
The boy was different.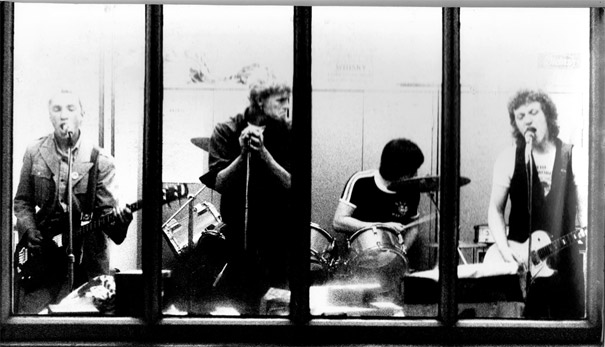 The only live music in Weston during 1977/78 consisted of The Syd Lawrence Orchestra's annual performance at Weston Winter Gardens and also the West Coast influenced rock band Jacques De Van (possibly spelt incorrectly), who played a weekly residence at a local bar called Maxi's (Kansas City it wasn't).
The towns musical heritage as I knew it consisted of Richie Blackmore having been supposedly born there and ofcourse not to forget number 1-chart toppers 'Lay Your Love on Me' Racey. There was also the infamous sound booth in Millets, a local record and musical instrument shop, here you could listen to the whole side of an album and nick the promotional posters off the walls at the same time. A few Weston 'heads' assured me that this is where the Sounds music paper journalist Jane Suck first heard and reviewed Horses by Patti Smith. We would spend our Saturday's, as well as many week evenings at gigs, in Bristol. Getting the bus up and calling into the clothes shop Paradise Garage (Punk and Kit) and then up to Park Street to check out Revolver and spend our hard earned cash.
I got to know another Winscombe/Sandford lad called Mark Garvey who was the guitarist and singer in the only, and possibly first as far as I know, local (local meaning Weston and surrounding villages) punk band called the X-Spurtz.
A small gang of us used to go and see the X-spurtz play at pubs/youth clubs and I'm fairly sure I saw them at The Dug Out a few times. The X-Spurtz split up and the drummer and the bass player later went on to join The Private Dicks. Mark Garvey and Hutch invited me along to a 'jam' session.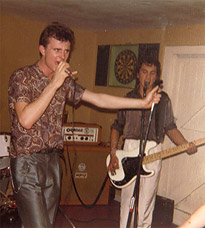 We started jamming anywhere that would let us, we once rehearsed even in a milking parlour on the farm where Hutch worked. Hutch played an' Audition' bass (Woolworth's own brand) and I think we shared a cheap combo amp in which I plugged a microphone in and shouted into. Mark Garvey supplied the songs and the Steve Jones power-chords. Even though we had all gone through Punk I know we didn't want to be a 'Punk' band.
I remember drummers always being an issue and we went through a few. A lot of drummers didn't really like the music we were into – in fact I'm sure some of them didn't like music at all and just liked 'drumming'. The music was rock/pop, reflecting our own interests. This ranged from Disco, Reggae, Pop and a lot of other diverse post-punk influences. We did two cover versions, Bowies 'John I'm Only Dancing' and 'Judy Teen' by Cockney Rebel.
We played our first gig at The Anchor in Weston in 1979. We were then known as Eye on Youth. One of the bars in The Anchor, Flanagan's, was given over to the small but growing punk and post -punk scene that was developing in Weston. The scene included punks, members of 'The Squad', a Weston skinhead gang (identified by having star tattooed on the side of their necks), nascent Goths, Mods and even at one point some visiting Rock-a-Billy's on the run from the police in London.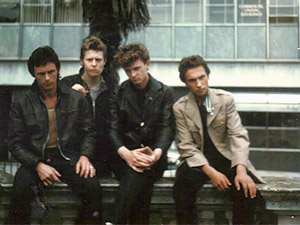 I think it would be fair to say that Flanagan's played a key role in the development of the scene and gave a musical education to those who frequented it, even if it was just for a drink. The music played at Flanagan's was played loud; it ranged from Blue Beat and Dub Reggae to the Cockney Rejects and the Angelic Upstarts. Bowie and Joy Division were played as was the Velvet Underground and PIL. A firm favourite was Suicide's Frankie Teardrop and also Bauhaus, Bela Lugosi's Dead.
Anyone could have a go on the decks at Flanagan's, on reflection it was a really positive scene. There weren't many gigs at there but I remember The Leyton Buzzard's played there one night. We played a few gigs there, including one as support for The Vice Squad. At this time we also played a 'Save the Whale' benefit in Bristol, the Essential Bop and Double Vision also played that gig. This must have been around '79.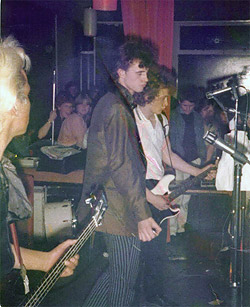 Eventually Mark Garvey left the band, we had a gig lined up and as a favour a sweet Irish guy who was in my class from school, called Cliff More on guitar., Cliff was great and and is – I always like to point out - the brother of guitarist Gary More. Eventually Mark Ely (the wonder kid) joined the band on guitar. He was a few years younger than us, but a very talented musician, I think he joined late 79/ early 80.
Producing music in the town at this time seemed like a criminal activity and at times it felt like the whole town was conspiring against such youthful endeavours. Finding places to practice was a struggle but we managed to squat a disused nightclub. We put mattresses on the windows of the nightclub and hired a petrol generator on a weekly basis. We all had this thing about practising and getting as tight as we could; practising became a bit of an obsession.
We really weren't that interested in playing live gigs but then again there wasn't that many places to play and it proved a lot of work to put on a gig. We were all working in manual jobs but practising about five times a week. During this period we added Tenor and Alto Sax players to the band for a short while. We played a couple of gigs with the sax players, they gave us a really big sound, and at this time we were known as The Cassettes. We played one cover; it was a version of The Box Tops 'The Letter'.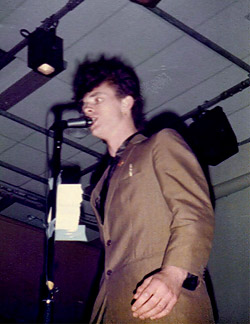 Our drummer left (as drummers do) and I thought it would be a good idea to make a single, mainly to give us something to focus on (well me anyhow) and we did also have a lot of energy at that time.
Hutch, Ely and me went to Bristol to an eight-track studio for 2 days and recorded 'Shining Through' without a drummer. We used a primitive drum machine for the bass drum; Ely played the hi-hat and timpani drums as well as guitar, while the crash drum was an 'improvised vocal interpretation'. In other words we didn't have one so I made the sound of a drum which we then messed about with the EQ.
We decided to re-mix the tune for the b side, we were listening to a lot of dub reggae and disco and white funk stuff and that was probably a factor for this as well as the fact we couldn't afford any more studio time to do another song.
Hutch wrote 'Shining Through', he wrote (and still does write) powerful and romantic anthems about small town life which stick in your head. We tried to push the bass as much as we could on the single and its heavy in the mix, (probably too heavy for most stereo systems around at the time although the ones today seem to cope better with it).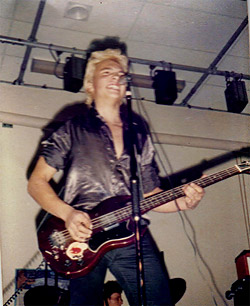 The name 'Burning Sound' was lifted from a reggae label from around that time. We had a 1000 singles pressed and did all the artwork and sleeves ourselves. We stuck them in a few shops and that was it really; there was no proper distribution deal or real promotion. This must have been around 1981– although I'm sure we recorded it at the end of 1980.
We then went on to find a new drummer called Andy Holte and we continued practising, now at his house in the village of Hutton. Andy would later go on to join Clay Town Troupe. Burning Sound had reached a point where we had a strong set of songs, some decent equipment, a good drummer and a single to promote. We were also very tight although we never actually played a gig at this time or with this line up.
Burning Sound, like most of the bands in Weston during that period had no contacts or net work in the wider local music industry. There was a lack of advice or support of any kind except for the local kids who used to come and see us. Resources such as venues, arts centres and of course money, were non-existent.
For many young people at this time Weston was as was often called with dark humour, 'a cemetery with lights'. The same could probably be said and felt about most small towns up and down the country. It was all happening, but not in your town. It was all happening somewhere else, or that's how it seemed. But that would neglect the fact that Weston had a vibrant emergent music scene which included a reggae band, metal bands and several hard core punk bands. The scene was mainly working class, DIY and pretty much cut off from the bigger alternative Bristol music scene.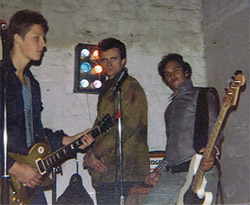 Eventually I left for London in '82, Hutch would later move to London and played the bass with South London anarcho-punk noise merchants Slave Dance, who recorded an independent album with during the mid 1980's. Hutch continues to write songs and record and so I believe does Mark Ely. I have enjoyed writing this and it has made me recall some good memories. I believe everybody should be in a band at some point in their lives, even if it's just for a while, I would recommend it!
Gary Palmer 2010