The Bristol Reggae Explosion
The Bristol Reggae Explosion 1978-1983ARC191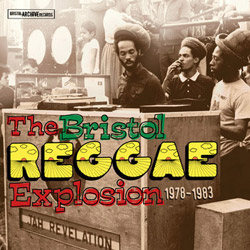 bandcamp
ORDER FORMATS:
VINYL (Limited Pressing) and CD
» Venue Magazine Feature -
BRISTOL REGGAE EXPLOSION
From Pop to Punk, the late seventies and early eighties saw a huge explosion in the number of local bands as more and more people thought they'd give it a go, new studios and independent labels weren't far behind and Reggae wasn't going to be left out of the musical mix.
If the majors were even aware of Bristol they showed minimal interest and it was left to the bands themselves and the handful of indie labels to document Bristol's contribution to what was then a vibrant UK Reggae scene. Working on tight budgets and with no money for marketing campaigns local bands managed to release a small, but steady flow of vinyl, mostly pressed in tiny quantities and often sold direct to fans at gigs, these records, although cherished by those who own them, and sought by those in the know, have been largely ignored by the wider music industry.
Fortunately Bristol music has its own champion in the shape of Bristol Archive Records, a label with a mission to share our great musical heritage with the world, "The Bristol Reggae Explosion 1978-1983" is the first and only attempt to document the local Reggae scene from the late seventies until the early eighties.
The music itself reflects the dominance of the Roots style in Bristol, even today Roots is by far the most popular type of Reggae in both the retail and live scenes locally, Black Roots live up to their name and show why they were the equal of any UK Reggae band in their day, Talisman and Restriction follow in their Roots footsteps, but a real highlight of this release is the inclusion of the ultra rare "Africa Is Our land" from Joshua Moses, a UK Roots classic. Bristol wasn't all about Roots though and the other tracks follow a more mellow template, dealing with love and relationships, Talisman show another side to their music and are joined by tracks from Buggs Durrant and Sharon Bengamin who's "Mr. Guy" is a classic UK Lover's track in the mould of Janet Kay, Carroll Thompson, Louisa Marks et al.
"The Bristol Reggae Explosion 1978-1983" will be released as a eight track Vinyl album, which sits perfectly along side the 14 Track cd version and just to keep things local the sleeve art is a mid-eighties carnival shot from Bristol's own Beezer, (www.beezerphotos.com), featuring a classic image of Jah Revelation sound-system.
This release will shine the spotlight on a long neglected corner of the UK Reggae scene and Bristol's musical heritage, the same music that would help underpin Bristol's musical dominance in the following decade.
» Venue Magazine Feature -
BRISTOL REGGAE EXPLOSION
Vinyl
Cat. No ARC191V Tracks:
Side 1
Bristol Rock - Black Roots 4.18
Wicked Dem (Live) - Talisman 5.38
Four Point Plan - Restriction 4.02
Africa (Is Our Land) - Joshua Moses 5.57
Side 2
Tribal War 12" Mix - Black Roots 4.20
Run Come Girl (Live) - Talisman 7.27
Baby Come Back (Home) - Buggs Durrant 3.35
Mr.Guy - Sharon Bengamin 4.31
CD
Cat. No ARC191CD Tracks:
Black Roots : Bristol Rock (Bunny Marrett) (Arranged by Black Roots) p Nubian Music 1981
Joshua Moses : Africa (Is Our Land) (Joshua Moses 1978) p Copyright Control 1978
Talisman : Run Come Girl – Live (Taylor / Talisman 1980) p Recreational Music 1981
Restriction : Four Point Plan (Restriction 1983) p Unitone Publishing 1983
Black Roots : Tribal War 12" Mix (Black Roots) p Nubian Music 1981
Restriction : Restriction (Restriction 1983) p Unitone Publishing 1983
Joshua Moses : Pretty Girl (Joshua Moses 1979) p Unitone Publishing 1979
Talisman : Wicked Dem – Live ( Taylor / Talisman 1980) p Recreational Music 1981
The Radicals : Nights Of Passion ( John Carley 1980) p Copyright Control 1980
Sharon Bengamin : Mr Guy (Unknown 1980) p Unitone Publishing 1980
Black Roots : Juvenile Delinqent (Black Roots) p Nubian Music
Buggs Durrant : Baby Come Back(Home) (Errol Williams 1983) p Unitone Publishing 1983
3-D Production : Riot (John Carley 1980) p Third Kind Music 1980
Talisman : Dole Age 12" Mix ( Joseph / Talisman 1981) p Recreational Music 1981
Tracks 1, 5, 11 originally released on Nubian Records
Track 2 originally released on More Cut Records
Track 3 and 8 previously unreleased Live Recordings
Track 4 and 6 originally released on Restriction Records 1983
Track 7, 10 and 12 originally released on Shoc Wave Records 1979, 1980 and 1983
Track 9 originally released on The Bristol Recorder 2 1980
Track 13 originally released on Third Kind Records 1980
Track 14 originally released on Recreational Records 1981

Track 1, 5 and 11 Engineered by UK Scientist, Recorded at The Facility, Produced by UK Scientist and Black Roots
Track 2 Engineered by Dennis Bovell, Recorded at Gooseberry Studios London, Produced by Dennis Bovell
Track 3 Recorded Live at Glastonbury Festival
Track 4 and 6 Engineered and Mixed by The Mad Professor, Recorded at Ariwa Sound Studios London, Produced by Restriction
Track 7, 10 and 12 Produced by Gene Walsh, Recording location unknown
Track 8 Recorded Live at Bath University
Track 9 Engineered and Produced by David Lord at Crescent Studios Bath
Track 13 Recording location unknown, Arranged and Produced by Ron Green
Track 14 Engineered by David Lord at Crescent Studios Bath, Mixed by UK Scientist, Produced by Talisman and UK Scientist
All tracks re-mastered by Steve Street, July 2010