Bristol Archive Records is a record label dealing in Bristol post punk, rock and reggae 1977 onwards.
We aim to showcase music from the diverse Bristol Music scene and provide a historical account / document of all things Bristol that should never be forgotten. Many of the artists and releases are rare, unknown or never before released. The material has been lovingly digitally remastered from vinyl, ¼ inch tape, dat or cassette. The original vinyl releases would generally have been limited to runs of 1000 copies or less.
We would like to thank the original label owners and/or the artists for allowing us to share with you their forgotten works and provide a statement of how brilliant bands have always been from the city of Bristol and the surrounding areas.
Enjoy and never forget the talented ones from the past, they deserve to be recognised & remembered.


WBRS Radio

featuring some of the

Wild Bunch

1983
Featured Track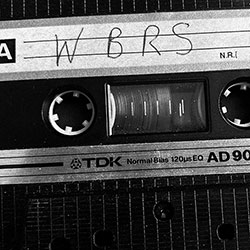 The Wild Bunch
WBRS Radio
It all started in the 80's when we were listening to an American radio station called WBLS on cassettes which friends from the States were sending over for us. At the same time Keith Allen, was running a pirate station out of the UK and he happened to have a transmitter that he was willing to lend us, which gave us the opportunity to try to form a radio station ourselves.
We soon realised that we couldn't broadcast live as this would be classed as a pirate station, so we decided to pre-record our show instead. We did this at a flat off Cheltenham Rd where Dom Thrupp, Rob Smith (Smith & Mighty), Dave McDonald (Portishead) and Sean Miller lived. We wanted it to sound like it was a real station, so we put on fake weather reports which appeared to be coming from a helicopter flying over Bristol using sound effects. We also pretended to do a 'Name That Tune' game with friends in the flat using a land line phone extension pretending to be contestants; bearing in mind that mobiles didn't exist back then.
I can't remember who edited the show, I think it may have been Rob Smith assisted by Charlie Clark. Nellie Hooper, Milo and Grant (Daddy G) did some DJ'ing and Dom T also played some tunes. We ended up with two cassette tapes and when it came to decide when to broadcast, we thought that a Sunday morning would be a good idea.
I was told by Keith Allen that the best way to make it work would be to put a 100-foot cable at the highest point in Bristol and to connect this to a car battery and a cassette recorder. I came up with the idea to get a fishing rod with a weight attached and to cast this over the top of the Bristol Observatory and to use it to haul up the Ariel. I then connected this to the transmitter and the cassette recorder and hid these in some bushes and scarpered hoping it would work.
Meanwhile we put up fliers to promote the show and called the station WBRS which was a play on the USA - WBLS show that had been such an influence on us. As it turned out our ratings were zero, either the system didn't work, or no one attempted to tune in.
You can now hear this broadcast from 1983 for the first time and enjoy the vibes...
Cassette remaster & edit - Charlie Clark (2020)
Andie Vining
(Darth Vader – King of the slide fader)